Kingston Elite Pro CompactFlash
By
The Test System
| | |
| --- | --- |
| The Elite Pro & Standard CF media | Our USB 2.0 Card Reader |
Test System:
Intel Pentium 4 570J (E0 Revision)
ABIT AA8-DuraMax (BIOS 17)
ATI x800 XT 256mb
Seagate 120Gb Serial ATA 150
OCZ PowerStream 520W PSU
17″ Sony Trinitron monitor
Kingston 6 in 1 USB 2.0 Flash Card Reader/Writer (FCR-HS26/1)
Testing Procedure:
All testing was done on a fresh install of Windows XP Professional build 2600 with Service Pack 2 and DirectX 9.0c. All benchmarks were completed on the desktop with no other software programs running. No overclocking was done on the video card unless noted. The audio, Firewire, and lan features were disabled in the BIOS menu for all the testing completed during this review. All memory was set at the timings noted in the graphs. Performance mode was enabled for all modules via the ASUS BIOS.
Sisoft; Sandra 2004 SP2b:
Sisoft Sandra 2004 is designed to test the theoretical power of a complete system and individual components. The numbers taken though are, again, purely theoretical and may not represent real world performance. Higher numbers represent better performance in memory bandwidth.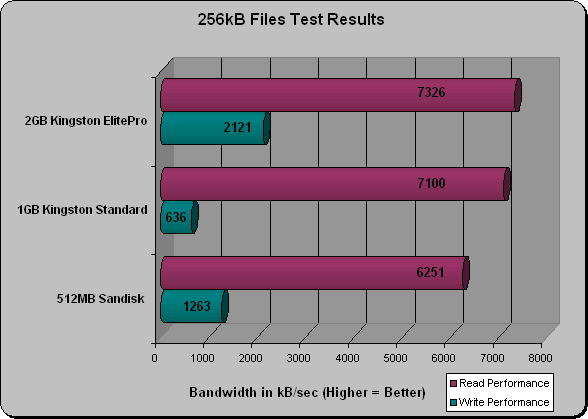 Results: It is clear that on the smaller 256kB size files the read/write performance clearly shows that the Kingston Elite Pro CompactFlash card dominates the pack. The Sandisk high speed compact flash does well in the write test by more than doubling that of the standard Kingston CF card, but the Kingston Elite Pro CF card almost doubles the write performance of the Sandisk media card.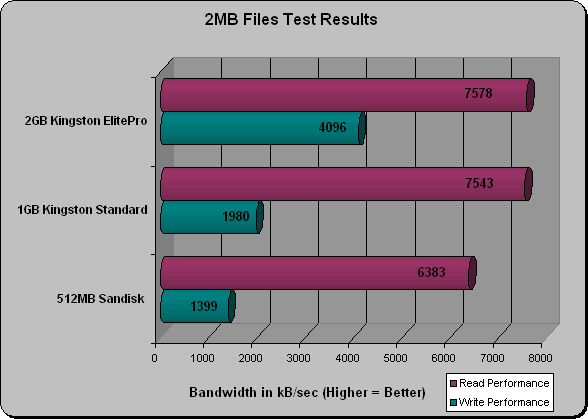 Results: When moving to an even larger file size we see where the 2GB Kingston Elite Pro really starts to shine. The Write speed is over 4MB/Sec and more than double than that of the standard Kingston card. It is clear that when moving larger block sizes that the Elite Pro isn't just marketing fluff.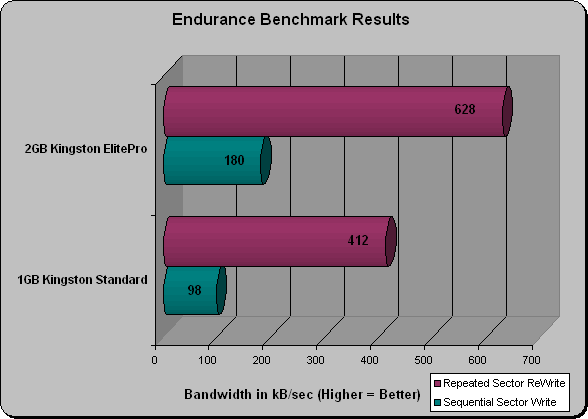 Results: Our final benchmark test was the endurance testing. This is where repeated sector rewrites and Sequential Sector Writes were done using 512 byte sectors. Once again the Kingston Elite Pro doubles the sequential write speed and shows a 34% performance boost for repeated sector rewrites.