Kingston Digital Releases USB 3.0 Flash Drive for Personal Security
By
Kingston Digital Releases USB 3.0 Flash Drive for Personal Security
DataTraveler Locker+ G3 Safeguards Sensitive, Personal Information
USB 3.0 Speeds to Secure Files Faster
Versatile Data Protection Works on Both Mac and PC Systems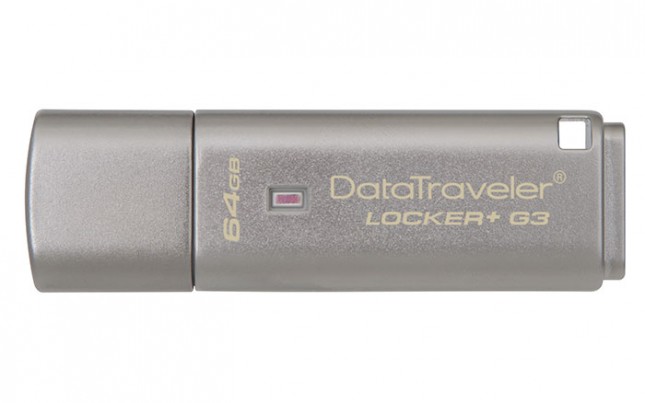 2014 International CES Las Vegas, NV and Fountain Valley, CA January 7, 2014
Kingston Digital, Inc., the Flash memory affiliate of Kingston Technology Company, Inc., the independent world leader in memory products, today announced the launch of the DataTraveler Locker+ G3 (DTLPG3) USB 3.0 Flash drive for personal security. The new, next generation DataTraveler Locker+ G3 offers USB 3.0 speeds and a sleek durable metal casing with a built-in key loop leaving photos, personal documents and other files safe and easy to access.
Kingstons DataTraveler Locker+ G3 password protects and hardware encrypts data giving consumers the best in personal security with USB 3.0 speed. The DTLPG3 boasts higher speeds than the previous generation DataTraveler Locker+ G2, with read speeds up to 135MB/s and write speeds up to 40MB/s. All the security is built in with no application installation required making this drive very secure and easy to use.
We are excited to offer a USB 3.0 drive for personal security where consumers can keep their data safe, said Andrew Ewing, USB Business Manager, Kingston. This is a great product for someone looking to store their sensitive personal documents on a safe, easy to use and nicely designed USB drive all at an affordable price.
DataTraveler Locker+ G3 is available in 8GB, 16GB, 32GB and 64GB capacities and is backed by a five-year warranty, free live technical support and legendary Kingston reliability. For more information please visit www.kingston.com.
Kingston DataTraveler Locker+ G3 Features and Specifications:
Hardware encryption: the best in personal security to keep your data safe
Superior password protection: user sets a password to prevent unauthorized access
Easy to use: no application installation required
Versatile: works interchangeably between Mac OS X and Windows systems
Secure: drive locks down and reformats after 10 invalid login attempts
Stylish: durable metal casing with built-in key loop
Co-Logo Program available*: customize DataTraveler Locker+ G3 by adding your logo and/or digital files and instantly increase your organizations brand recognition. The Customization Program offers unique packaging, custom profiles, color adjustments, content loading and more, all with easy and convenient ordering.
Supports: Windows 8, Windows 7, Vista, XP & Mac OS X
Guaranteed: five-year warranty with free technical support
Capacities**: 8GB, 16GB, 32GB, 64GB
Speed***: USB 3.0 speed: 8GB: 80MB/s read, 10MB/s write

16GB: 135MB/s read, 20MB/s write
32GB64GB: 135MB/s read, 40MB/s write
USB 2.0 speed: 8GB: 30MB/s read, 10MB/s write
16GB64GB: 30MB/s read, 20MB/s write

Dimensions: 60.56mm x 18.6 mm x 9.75 mm
Minimum System Requirements:

– USB 3.0 compliant and 2.0 compatible
– Two (2) free consecutive drive letters required for use****

Operating Temperature: 32F to 140F (0C to 60C)
Storage Temperature: -4F to 185F (-20C to 85C)
* Minimum quantity required. Performed at the factory.
** Some of the listed capacity on a Flash storage device is used for formatting and other functions and thus is not available for data storage. As such, the actual available capacity for data storage is less than what is listed on the products. For more information, go to Kingston's Flash Memory Guide.
*** Speed may vary due to host hardware, software and usage.
**** First free drive letters after physical devices such as system partition, optical drives, etc.
Kingston DataTraveler Locker+ G3
Part Number
Capacity and Features
DTLPG3/8GB
8GB DataTraveler Locker+ G3 USB Flash Drive
DTLPG3/16GB
16GB DataTraveler Locker+ G3 USB Flash Drive
DTLPG3/32GB
32GB DataTraveler Locker+ G3 USB Flash Drive
DTLPG3/64GB

64GB DataTraveler Locker+ G3 USB Flash Drive
| | | |
| --- | --- | --- |
| Operating System | USB 3.0 | USB 2.0 |
| Windows 8.1 | Yes | Yes |
| Windows 8 | Yes | Yes |
| Windows RT | No | No |
| Windows 7 (SP1) | Yes | Yes |
| Windows Vista (SP2) | Yes | Yes |
| Windows XP (SP3) | Yes | Yes |
| Mac OS X v.10.6.x 10.9.x | Yes | Yes |