Kingston Digital Gold microSD UHS-I Class 3 64GB and 32GB Flash Card Review
By
Kingston Digital recently refreshed its microSD UHS-I Speed Class 3 (U3) with the introduction of the Kingston Gold microSD UHS-I U3 series of memory cards. These microSD Flash cards are ideal for 4K recording devices such as GoPro or drones due to the small form factor and high level of Read/Write performance. These new microSD UHS-I U3 cards are available in 16GB, 32GB and 64GB capacities and will allow you to shoot 4K video up to 30 frames per second and capturing footage at 120 frames per second in 1080P HD. And like all Kingston Flash memory cards they are waterproof, shock and vibration proof and backed by a lifetime warranty with free technical support.
We managed to get our hands onto the Kingston Gold microSD UHS-I Class 3 64GB card (Sold under part number SDCG/64GB for $47.73) and the 32GB model (sold under part number SDCG/32GB for $25.68) to do some testing on. There is also the 16GB version (part number SDCG/16GB for $12.59) for those that don't need as much storage space. All three cards are rated at up to 90 MB/s sequential read and 45 MB/s sequential write
We got a chance to try out the cards on our 7th Gen Intel Core i7-7700K powered desktop that uses an ASUS Z270 platform with a Kingston FCR-HS4 USB 3.0 memory card reader ($17.98 shipped). Well be taking a quick look at these cards with CrystalDiskMark 5.2.1, ATTO Disk Benchmark v3.05 and a real world drag and drop test to see how the sequential Read/Write speeds look on our particular test system.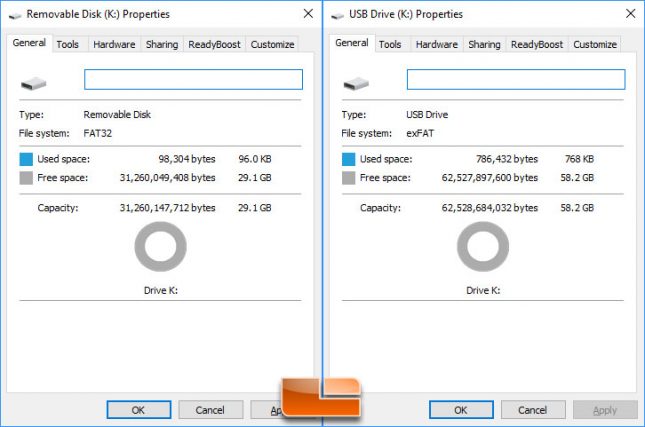 We should point out that the Kingston Digital Gold microSDHC UHS-I Speed Class 3 32GB Flash card comes formatted with the FAT32 file system whereas the larger 64GB microSDXC version comes formatted in the exFAT file system. exFAT is nice as it allows you to store files much larger than the 4GB limited on FAT32 and works with all versions of Windows and the most recent versions of Mac OS X.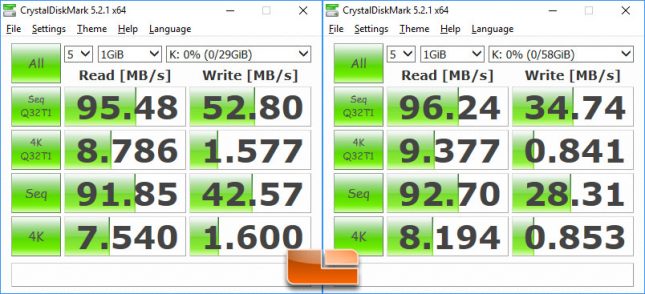 We managed to reach sequential Read speeds of up to 92.7 MB/s and up to 28.3 MB/s Write on the 64GB card and up to 91.9 MB/s Read and 42.6 MB/s Write on the smaller 32GB card. So, we were able to beat the cards rated 90 MB/s Sequential Read speeds, but fell short of the 45 MB/s Sequential Write rating on both the Kingston Digital Gold microSDHC 32GB card and Kingston Digital Gold microSDXC 64GB card. Let's see if we can hit them on another benchmark like ATTO.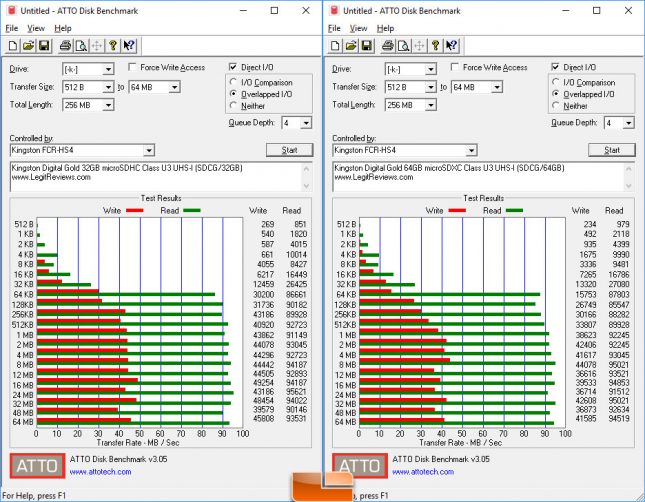 ATTO Disk Benchmark also showed that we were close to the rated speeds as we topped out at 95 MB/s Read and 44 MB/s Write when using the 64GB microSDXC card and then we hit 96 MB/s Read and 49 MB/s Write on the 32GB microSDHC card. These are pretty close to the cards rated speeds, but as you can see from the results you'll need to be transferring larger sizes to see speeds like that. Speeds of course vary depending on the host and device configuration, but this should give you a ballpark idea on what performance you can expect.

The final test we did was to transfer a 2.16GB MKV file of a 1080P movie that we backed up and copied it from our Window 10 systems M.2 PCIe NVMe SSD to each of the Kingston Gold microSD Flash memory cards. The 32GB card topped out at around 50 MB/s and it took roughly 48 seconds to transfer the entire 2.16GB movie. The 64GB card was faster at the start of the transfer and topped out at a higher 52 MB/s and was able to finish the file transfer in roughly 47 seconds. Not bad performance and we are happy to see that each card was able to perform better than the rated 45 MB/s write speed in this test.
Final Thoughts & Conclusions
We found the new Kingston Gold microSD UHS-I U3 memory card series to be offer solid performance, respectable price points and a lifetime warranty. Not all microSD memory cards come with a lifetime warranty, so be sure to keep an eye on warranties if you are shopping around for a new microSD card for your camera, action camera, drone, smartphone, tablet or whatever device you plan on using it in.

You should also keep in mind that the Kingston Digital Gold microSD series is a step up from the Class 4 and Class 10 UHS-I cards in terms of speed, but still is a step behind the UHS-I Speed Class 3 (U3) cards. If you want the fastest Kinston Digital microSD card possible you'll need to look at the UHS-I Speed Class 3 (U3) series as they have up to 80 MB/s write speeds versus the 45 MBs/s write speeds on the Gold Series that we reviewed here today. All three Gold series microSD cards are rated at up to 90 MB/s sequential read and 45 MB/s sequential write.
The problem with the Kingston Gold microSD series is the pricing. These cards came out in March 2017 and here we are in May 2017 and they are priced higher than the faster Kingston UHS-I Speed Class 3 (U3) series that came out back in January 2015 (read our review from 2015). Take a look at the Amazon prices from May 17th, 2017 below.
Kingston Gold microSD Series Pricing:
Kingston microSD UHS-I Speed Class 3 (U3) Pricing:
The older series is over $8 less expensive and has 77% faster write speeds. We'd still recommend going with one of these older cards right now due to the price points, but pricing changes all the time so you'll need to be sure that is still the best value.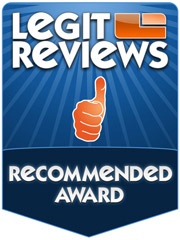 Legit Bottom Line: The Kingston Digital Gold microSD Flash card series looks good, but street pricing has faster Kingston microSD cards available for less.