Kingston A2000 1TB SSD Review
By
Kingston A2000 – Best Budget NVMe Drive in 2019?
Kingston Technology Company has sold millions of SSDs over the past decade and continues to ship a ludicrous numbers of SSDs to this day. In the first half of 2019 they shipped over 13.3 million SSDS alone. Near the end of Summer, Kingston released a new M.2 NVMe drive aimed at the entry-level market, the A2000 series. Kingston is planning on selling millions of these drives down the road and we have nothing to argue with that statement. The Kingston A2000 series is mighty impressive on paper with 250GB ($39.99), 500GB ($59.99) and 1TB ($99.99) capacities available at rock bottom pricing. The best back for the buck would be the 1TB model as it is priced at just $0.10 per GB.
With pricing like that the performance on the A2000 series has to be down in the dumpster, right? Not at the very slightest! Performance depends on what capacity you get, but on the 1TB and 500GB models you are looking at sequential performance of up to 2,200 MB/s read and 2,000 MB/s write! If you opt for the smallest 250GB capacity drive you are looking at 2000 MB/s read and 1,100 MB/s write speeds. Random 4K IOPS are also solid for an entry-level drive as the 1TB drive is rated up to 250K/220K, the 500GB drive is at up to 180K/200K and the 250GB drive is 150K/180K.
Those performance numbers are great for an entry-level NVMe SSD, so what about the warranty and endurance ratings? Kingston went for the jugular and slapped a lengthy 5-year warranty on the A2000 series. They also didn't slouch on the endurance ratings as you are looking at 600TBW (1TB), 350TBW (500GB) and 150TBW (250GB).
Kingston also includes a software license for an OEM version of Acronis True Image that is useful for drive cloning. So, for $99 you are gettng a 1TB M.2 NVMe SSD with over 2 GB/s read/write speeds, a 5-year warranty and drive cloning software.
That is pretty damn incredible and to think this is what an entry-level drive is considered! No corners were cut and the A2000 uses TLC NAND Flash, supports AES 256-bit encryption and does have DRAM on-board. This is not a QLC drive or a TLC drive with a DRAM-less controller design to cut costs. Clearly, owning an NVMe SSD is no longer a privilege reserved for those with money to burn.
How did Kingston pull off such a well-rounded entry-level product? Well, they must have worked out a heck of a deal with the component makers that they are using on these M.2 2280 single-sided drives. Kingston turned to Silicon Motion (SMI) for the PCIe Gen 3.0 x4 controller as they are using the 4-channel SMI 2263ENG controller for the A2000 series. They paired the SMI controller with 96-layer 3D TLC NAND from IMFT and Kingston branded DDR4 as a buffer.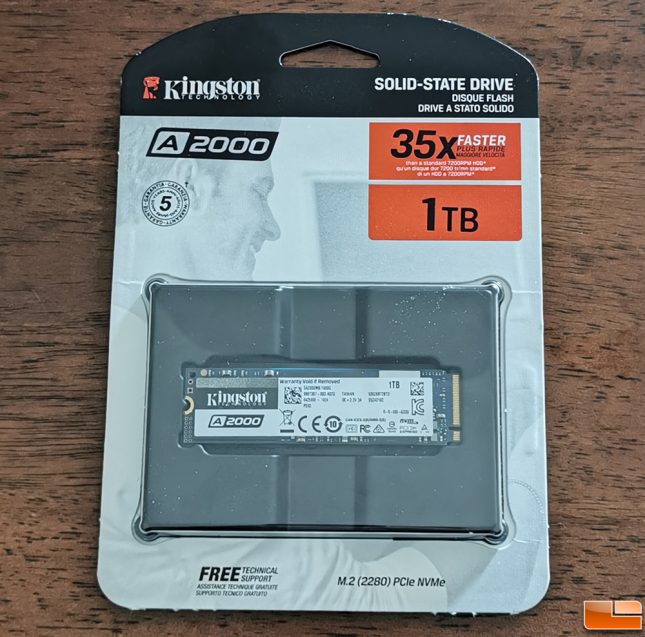 The drive that Kingston sent over to review is the A2000 1TB model. It comes in basic packaging that looks good enough and can be easily recycled.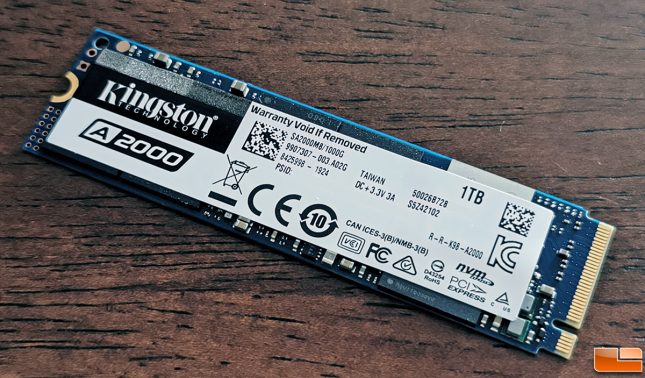 The Kington A2000 drive itself comes on an M.2 2280 single-sided 'gum-stick' that features a blue PCB. It would have been nice to see black used, but maybe they save a penny or something by going with blue and pricing must be kept to a minimum on entry-level drives. The label has all your usual information on it as well as the Physical Security ID (PSID) since this drive supports encryption.

On the back of the drive you'll find no components since it is a single-sided drive. This means that it should fit in all Small Form Factor (SFF) PCs and thin laptops without any clearance issues making system upgrades super easy.
Let's take a quick look at the test system and then see how this drive performs!