Kingston 80GB SSDNow M Series Drive Review
By
Kingston SSDNow M Series Drives
Back at CES 2009 Kingston Digital, the Flash memory affiliate of Kingston Technology, announced that they were launching the first two products in its SSDNow line of solid-state drives (SSD) with the SSDNow E Series and SSDNow M Series. These drives are Intel designed and built products that have been branded with the Kingston name. Re-labeling products is fairly common in the SSD market as dozens of companies offer SSDs, yet very few companies design their own controllers and write their own firmware and wear-leveling algorithms. The drive that we will be looking at today is the Kingston SNM125-S2/80GB, which is a Multi-Level Cell (MLC) SSD that is based off the Intel X25-M 80GB SATA SSD. Actually, the Kingston SNM125-S2/80GB is nothing more than Intel X25-M 80GB SATA SSD with a Kingston label on it! Since Legit Reviews has already reviewed the Intel X25-M we can get right to it.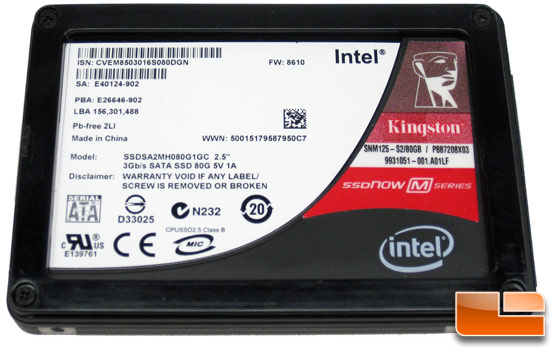 All Kingston SSDNow M Series drives use the 2.5″ form factor (9.5mm thick) used in notebooks, so this drive will work in any notebook. If you wanted to be able to mount it in a desktop chassis with 3.5″ bays you'll be forced to use a 3.5″ Adapter Bracket in order to get it bolted up in the system properly. A little double sided tape will also work to mount one of the SSDs any place you want as these drives have no moving parts and don't make any noise. The Kingston SSDNow M Series drives can read up to 250 MB/s and write up to 70MB/s, which is the same as the Intel X25-M (SSDSA2MH080G1GC) 80GB SSD as that is what this one really is and you can even see the Intel model number on the drive still.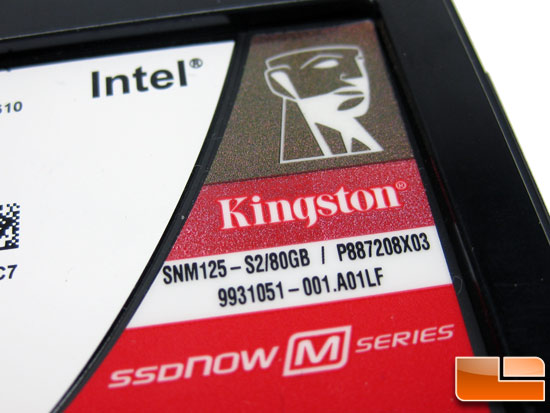 Taking a closer look at Kingston's SSDNow M Series drive we can see that the Kingston label has their part number of SNM125-S2/80GB on it. The Kingston SNM125-S2/80GB retails for $366 shipped, which is actually more than the Intel X25-M 80GB as it retails for $351 shipped. Kingston drives are priced slightly higher than Intel's for unknown reasons, but it should be safe to assume that it is since they have to relabel, package and market the drives after purchasing the drives from Intel.
Kingston SSDNow M Series Features and Specifications:
Fast: 250MB/sec. read, 70MB/sec. write
Durable: no moving mechanical parts, enabling the SSD to handle rougher conditions
Guaranteed: backed by a three-year Kingston warranty, 24/7 tech support and KingstonCare program
Form factor: 2.5″
Interface: SATA 1.5Gb/sec. and 3.0Gb/sec.
Capacity: 80GB
Storage temperatures: -55 C to 95 C
Operating temperatures: 0 C to 70 C
Dimensions: 69.85mm x 100mm x 9.5mm
Weight: 86 grams (+/- 2 grams)
Vibration operating: 2.17 G (7800Hz)
Vibration non-operating: 3.13 G (10500Hz)
Power specs: Active: 0.15 W; Sleep 0.06 W TYP
Life expectancy: 1.2 million hours mean time before failure
Operating shock: 1,000 G/0.5 msec operating and non-operating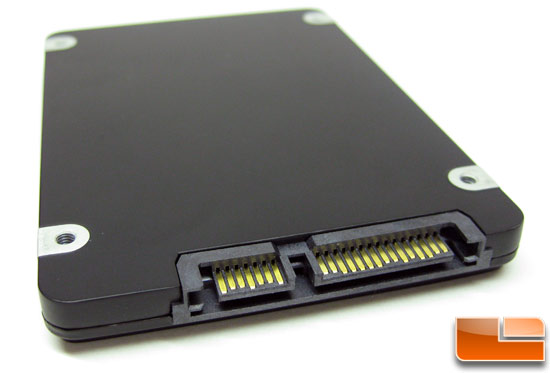 Flipping the Kingston's SSDNow M Series over you get a better look at the SATA II header and the SATA power connector. Kingston states that the SSDNow M Series has a MTBF (Mean Time Before Failure) of 1.2 million hours and can tolerate a force of 1,000 G/0.5 msec operating and non-operating, so this is a tough drive. Kingston backs the SSDNow M Series series with a three-year warranty, which is important to point out as other popular SSDs like the OCZ Vertex come with a two-year warranty. Kingston has a great warranty and RMA program, so you can rest assured that you are covered if something happens to go wrong during the three year period.