Kingston 40GB V Series Boot Drive SSD Review
By
Kingston's 34nm 40GB Boot Drive
Kingston has been offering Solid-State Drives (SSDs) to consumers since they introduced their SSDNow family of drives back at the 2009 Consumer Electronics Show in Las Vegas. The first two products in its SSDNow line of SSDs were the SSDNow E Series and SSDNow M Series. Kingston targeted its SSDNow E Series to the enterprise server environment while the SSDNow M Series was built for the road warrior who demanded the ultimate performance from a notebook PC. The Kingston SSDNow E and M Series use Intels first generation 50nm solid-state drive technology, which was the best on the market back in January 2009. We published an in-depth review of the Kingston 80GB SSDNow M Series drive and found it to be on the same performance level as the Intel X25-M 80GB SSD that we previously reviewed. The SSDNow M and E series drives were fast, but more expensive than what mainstream consumers were willing to pay.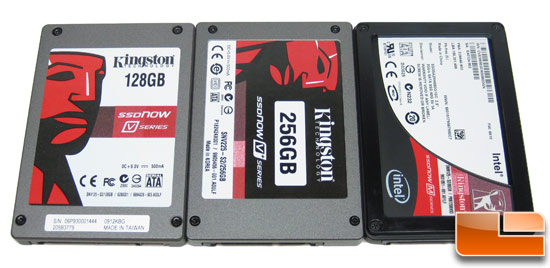 Kingston next went for the mainstream market and launched the SSDNow V Series SSDs with what they called upgrade bundles during Computex Taipei in June of 2009. The SSDNow V series was targeted specifically for mass-market consumers and small and medium businesses. The Kingston SSDNow V Series also featured upgrade bundles for either notebooks or desktop users. These low-cost, value-driven SSD solutions were designed to increase performance on existing desktops and notebooks while giving consumers an easy way to backup their data and to install the drives in their systems. The SSDNow V series had two limitations, though. They only were available in 128GB and 64GB capacities and they also featured the JMicron JMF602 controller that isn't the best performing controller on the market by any means and was known to stutter when multi-tasking. Kingston worked with JMicron and Toshiba to develop a firmware work-around that removed the stutter issue at the cost of some performance. When we reviewed the Kingston SSDNow V Series 128GB drive in July of 2009 we found the drive to be a great value, but the random write performance was a little lacking. With an inexpensive controller and no cache on the SSD, this was to be expected, but it was still a solid and inexpensive SSD that was great for most consumers to get their feet wet with a product they more than likely never owned before.
Just two short months later in August of 2009, Kingston released an SSD known as the SSDNow V+, which features capacities of up to 256GB and higher input and output operations per second (IOPS) thanks to a Samsung controller, 128MB cache, and Samsung MLC NAND components. This drive was priced and targeted at prosumers and enterprise companies looking to increase performance and extend the life of existing systems. This drive fits right in the middle of the Kingston SSD line-up and made the Kingston SSDNow series complete from the top to the bottom. Our review of the Kingston 256GB SSDNow V+ series SSD showed that it was nearly twice as fast as the SSDNow V series and a model was available with a massive 256GB capacity, which is more than any other Kingston SSDNow series drive.
Kingston SSDNow E Series


– (Intel Controller, 50nm Intel SLC NAND, 16MB Cache)

Kingston SSDNow M Series


– (Intel Controller, 50nm Intel MLC NAND, 16MB Cache)

Kingston SSDNow V+ Series


– (Samsung Controller, Samsung MLC NAND, 128MB Cache)

Kingston SSDNow V Series


– (JMicron Controller, Toshiba MLC NAND, No Cache)
This product stack is fairly simple to understand and each series within the SSDNow family differs by their internals, so you know what you are buying. This fairly simple product stack starts to get a little confusing as Kingston announced this morning a new 40GB 'boot' drive in the SSDNow V series that features the second generation Intel controller with 34nm MLC NAND! As many of you might be aware this is the latest and greatest SSD from Intel and is considered by us and many other reviewers as being the best SSD on the market today. In fact, the Intel 34nm G2 SSD series is the only SSD that has ever earned the Legit Reviews Editor's Choice award out of the nearly two dozen drives that we have tried out over the past couple of years.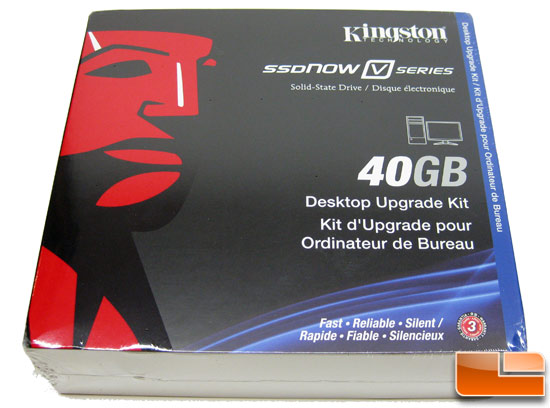 Kingston today announced the release of the SSDNow V Series 40GB Boot Drive, the latest addition to its V (Value) family of solid-state drives (SSD). The Kingston SSDNow V Series 40GB Boot Drive is said to be one of the best and most cost-effective ways to accelerate any desktops boot, shutdown and application load times. The best price of the drive is that it is available for as low as $84.99 after rebates (U.S. only) at e-tailer Newegg.com when it begins shipping on November 9, 2009.
Kingston SSDNow 40GB Boot Drive Features and Specifications:
Sequential Speed: up to 170MB/sec. read and up to 40MB/sec. write
Performance: enhances productivity; makes users more efficient
Innovative: 2.5″ form factor; uses NAND Flash memory components
Silent: runs silent and cool with no moving parts
Reliable: less likely to fail than a standard hard drive
Shock Resistant: no moving parts; handles rougher conditions than a hard drive
Supports S.M.A.R.T.: Self-Monitoring, Analysis and Reporting Technology
Guaranteed: three-year Kingston warranty, 24/7 tech support
Capacity1: 40GB
Storage temperatures: -40 C to 85 C
Operating temperatures: 0 C to 70 C
Vibration operating: 2.17G (7-800Hz)
Vibration non-operating: 20G (20-2000Hz)
Power specs: Active: 0.15W (TYP); Sleep: 0.06W
Life expectancy: 1 million hours MTBF
The SSDNow V Series 40GB Boot Drive comes rated with impressive sequential read speeds of up to 170MB/sec. and mediocre write speeds of up to 40MB/sec. This drive should not be mixed up with the original Kingston SSDNow V series and it should really be called the SSDNow M+ Series, but hey, LR doesn't get to make the names up. The drive has all new internals and is a much better and improved drive, but let's take it apart and test it before we jump to conclusions!