Kingston 256GB SSDNow V+ Series SSD Review
By
The Kingston SSDNow V+ SSD Series
If you want a massive Solid-State Drive (SSD) you really don't have too many choices on the market today. In fact if you head over to Newegg.com and do a quick advanced search for SSDs the largest capacity is 256GB and only have eleven drives to pick from. Prices range from $590 to $740, so you better have a fairly good idea of what you are buying as the average price of the 11 drives would be $677, a considerable price to pay for any storage drive. Today, we will be looking at the Kingston SSDNow V+ Series 256GB SSD. The Kingston SSDNow V+ 256GB SSD is priced at $699 and happens to be one of Kingston's most recent offerings as the drive was just released on August 10, 2009. When the drive was originally launched it cost a cool $992 MSRP, so you can see that the price has come down nearly 30% in just a little less than three months time.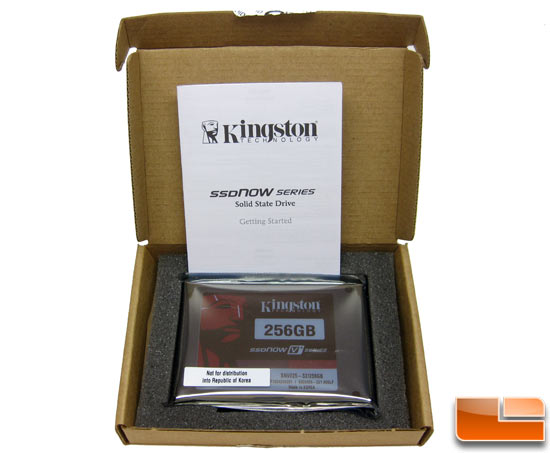 According to Kingston Technology Company, the SSDNow V+ is the ideal solid-state drive for power users, system builders, system integrators, and in demanding corporate environments where efficiency and performance are important as more system resources are in use. The SSDNow V+ comes rated with impressive random 4K read speeds of up to 6,300 IOPS, and random 4K writes of up to 291 IOPS. The Kingston SSDNow V+ has a blazing sequential read speed of up to 220MB/sec. and write speeds of up to 180MB/sec. Don't mistake this drive with the original Kingston SSDNow V series that we reviewed back in July 2009 as the V+ series has all new internals and is a much better and improved drive.
Kingston SSDNow V+ Series Offerings:
Kingston SSDNow V+ Series SNV225-S2/64GB – $184.99
–

220MB/s Read, 140MB/s Write, 84 IOPS Random 4K Write

Kingston SSDNow V+ Series SNV225-S2/128GB – $362.98
–

220MB/s Read, 170MB/s Write, 158 IOPS Random 4K Write

Kingston SSDNow V+ Series SNV225-S2/256GB – $699.99
–

220MB/s Read, 180MB/s Write, 291 IOPS Random 4K Write
The V+ is currently available in 64GB, 128GB and 256GB capacities, but today we will be looking exclusively at the 256GB version, which comes with part number SNV225-S2/256GB. Depending on what size drive you purchase, the price of these drives ranges from $184.99 for the 64 GB kit up to $699.99 for the 256GB kit.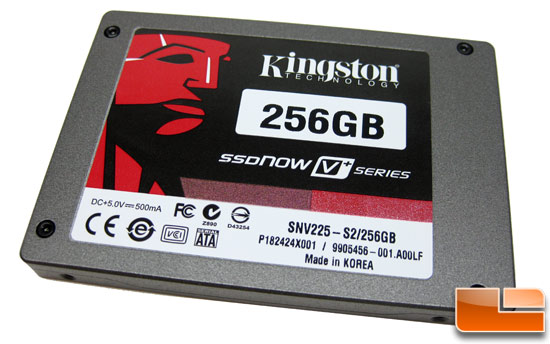 The Kingston SSDNow V+ Series 256GB SATA drive uses the 2.5″ form factor used in notebooks, so this drive will work in any notebook. If you wanted to be able to mount it in a desktop chassis, be sure to get some adapter rails as with 3.5″ drive bays you'll be forced to use 3.5″ adapter brackets in order to get it bolted up in the system properly. The SSDNow V+ Series uses less power than traditional hard drives as it consumes just 2.6 Watt during active use and 0.15 Watt in an idle state. This is good news for laptop and netbook users as you will see better battery life and desktop users will see less heat and more power savings.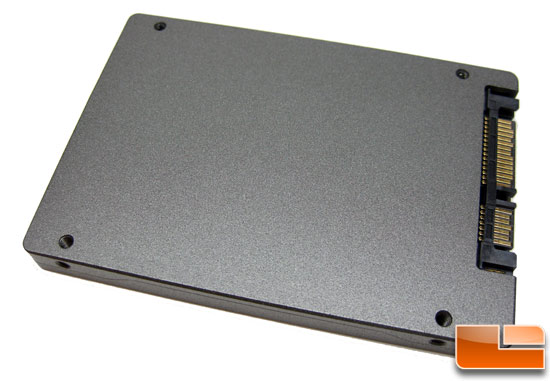 Flipping the Kingston SSDNow V+ Series 256GB SSD over you get a better look at the back of the drive. Notice that it has threaded mounting holes on both the bottom and sides to fit in various cases.
Here is a better look at the SATA II header and the SATA power connector. The SATA 2 storage interface is backwards-compatible with SATA 1. For maximum performance, Kingston recommends installing V+ series SSDs on a SATA 2 controller and enabling AHCI mode in the BIOS. Kingston also states that the SSDNow V+ Series has a MTBF (Mean Time Before Failure) of 1.0 million hours and features a 3 year warranty with 24/7 tech support.
Let's take a look inside the drive and see what makes it tick.