K40 RLS2 Portable Radar Detector Review
By
I've been an avid radar detector user for nearly 20 years, but I've always bought them locally. Back in the day I'd go to Circuit City and walk out with one of the mid-range Cobra or Whistler models that would run between $100-$150 and they seemed to work well. Over the years many of the local brick and mortar electronic stores went out of business, but luckily the local Walmart always had multiple Cobra brand radar detectors in-stock. The last one I purchased was the Cobra SPX7700 from Walmart in late 2014 and it was by far the worst radar detector that I had ever used, let alone purchased. My particular Cobra SPX7700 would constantly have false alarms at the highest level every few minutes and then fail to detect pretty much every police car that was doing radar. That one purchase ruined my long running faith in radar detectors and was tossed in the closet while I drove around with no radar detector for the first time in my life. Sure Cobra is considered a lower tier brand that was recently bought out by Escort, but not everyone wants to spend over $200 on a radar detector. The silence was nice, but having a radar detector does give you peace of mind and that was missing during spirited driving.
I later learned that many of the false alerts might have due to new car technologies that are wreaking havoc on lower-end radar detectors. Cars like the Audi Q7 or Mercedes-Benz E-Class use radar-based safety features when their active cruise control is engaged and that is picked up by many radar detectors that aren't filtering those signals. Most car manufactures now offer some form of collision avoidance or active cruise control and rely on lasers to detect the presence of other vehicles. Most radar detectors can't separate the 'noise' from all these new technology packages on vehicles, but manufactures have been 'fine-tuning' their solutions to do a better job at it. The vehicle safety systems rely on radar receivers operating at the same short-range 24 GHz frequency bandwidth as police K-band radar guns. Radar detectors are designed to scan the 24.050 24.250 GHz bandwidth to report the use of police radar. Thats where the false positives come from unless the radar detector manufacturer offers a specific filtering technology to address this.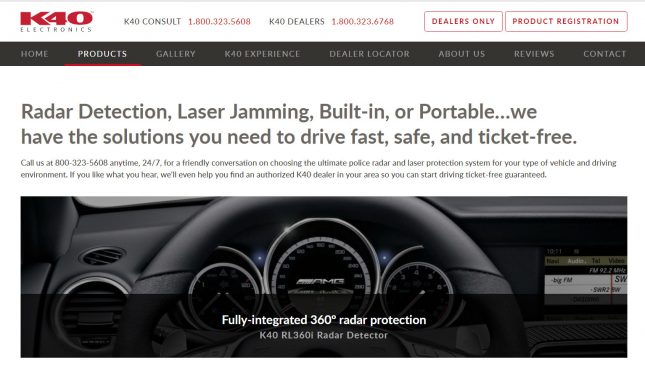 When Legit Reviews was approached by K40 Electronics to do a review on one of their radar detectors we were intrigued. K40 claims to have 'the most advanced radar detector and laser jamming system in the world' on a fully-integrated 360 radar protection solution called the K40 RL360i. A full car installation wasn't something we were interested in, but K40 does make a couple portable radar detectors. There is the K40 RLS2 all-band radar and laser detector with GPS technology ($299.99 shipped) and the K40 RD950 Radar and Laser Detector ($249.99) that doesn't have GPS connectivity and fewer bells and whistles.
Both have advanced K-Band filtering to help eliminate false alerts from OEM radar-based accessories (adaptive cruise control or lane departure warning systems). The use of GPS technology allows The K40 RLS2 to offer four programmable settings to ensure you remain focused on real threats:
Mark to Mute Silence regularly encountered non-police radar locations.
Mark to Alert Mark speed traps, cameras, school zones, and any other location of particular interest.
Quiet Ride Silence warnings under a pre-selected speed (default is 5 mph). Great for mall areas as well as long highway speed road trips.
Speed Monitor Alerts if selected speed is exceeded. Good reminder for teen drivers!
The model that we will be taking a look at today is the K40 RLS2 Portable Radar Detector (product page), which is the flagship portable model made by K40 Electronics. Priced at $299.99 with free shipping on Amazon, we'd classify this model as being an upper mid-tier model.
K40 RLS2 Protection Features:
Detects all North American-approved police radar bands
GPS-based "Mark to Alert" and "Mark to Mute" allow you to mark specific threats and to filter specific locations
three selectable modes for highway or city driving
digital voice and audio tone alerts for radar, laser, and POP
K-band filter rejects alerts from vehicles with radar-based safety systems
traffic sensor filter allows filtration of K-band traffic flow sensors
display includes signal strength meter
dim and mute modes
Three Filter Settings:
Level/Mode
Sensitivity
Recommended Use
1. Highway
Detects all North American police radar (X, K, and Ka-Band) and laser signals at full sensitivity.
For highway travel or in any area in which you are
unfamiliar with the types of radar used.
2. City
50% reduction in X-band sensitivity. This is because it is the most common source of non-police radar
signals. K, Ka, and Laser will remain at full sensitivity.
When traveling in an urban area with minimal non-police radar signals.
3. Filter
Eliminates X-Band detection completely. Reduces
K and Ka-Band sensitivity by 50%. Laser detection will remain at full sensitivity.
When traveling in a congested traffic area with a high concentration of non-police radar signals.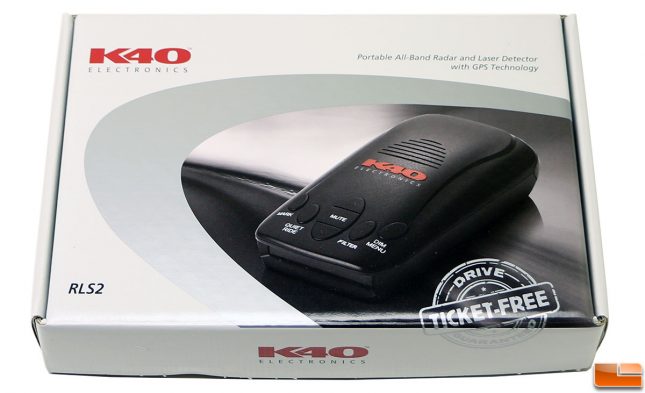 The retail packing for the K40 RLS2 Radar Detector is fairly simple with a 'Drive Ticket-Free' logo on the front edge of the box. If you get a speeding ticket (except in school or construction zones and/or due to a DUI or DWI violation) K40 electronics will reimburse you for the ticket. Simply send them a copy of the radar or laser speeding ticket, your proof of payment of the ticket, and your receipt for your K40 purchase. K40 Electronics also backs their products with a 100% performance guarantee that allows you to return it within 30 days if it doesn't meet your expectations and if you want to keep it there is a one-year warranty that covers any repair or replacements of a defective product. K40 Electronics has without a doubt one of the best ownership guarantees around.
Update 10/22/2016: After posting this review K40 electronics contacted us and also posted a statement in the comment section in this review saying that they will not honor any warranties, guarantees, and/or services for K40 products purchased from most all online stores. Basically they are 100% supporting their Authorized Dealer network. In St. Louis there are only six K40 dealers in a 100 mile radius, so if you live in a rural are you'll likely have to drive to a major city and pay more to get a warranty and any guarantees. We called a couple of the St. Louis distributors only to find them closed on the weekend and will update when we find out what local pricing is.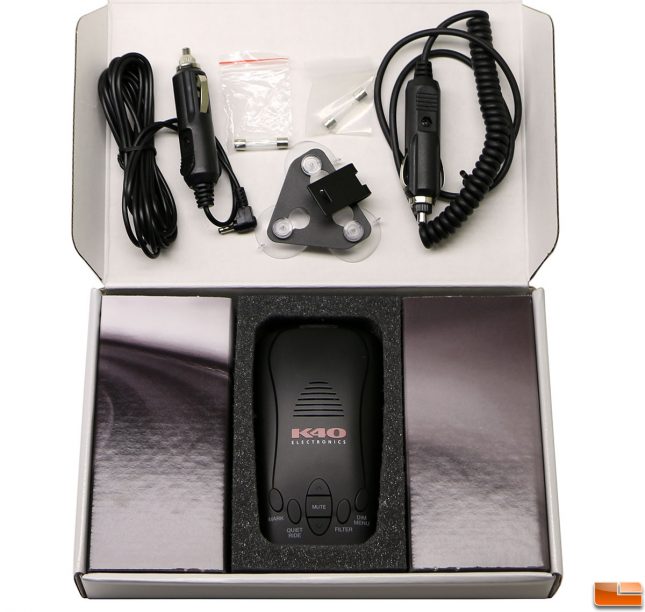 Inside the packaging you'll find the RLS2 portable radar detector, mounting bracket, suction cups, hard wired power adapter cord, coiled power adapter cord, extra fuses for each power adapter and the typical paperwork. It was a bit odd that the cigarette lighter power adapters used different fuses, but it is certainly nice to have the option of two cables. We wish the K40 RLS2 came with an extra set of suction cups as those always fail 1-2 years down the road any they are not the standard sizes you'll find at a local Walmart or Home Depot type big box retail stores.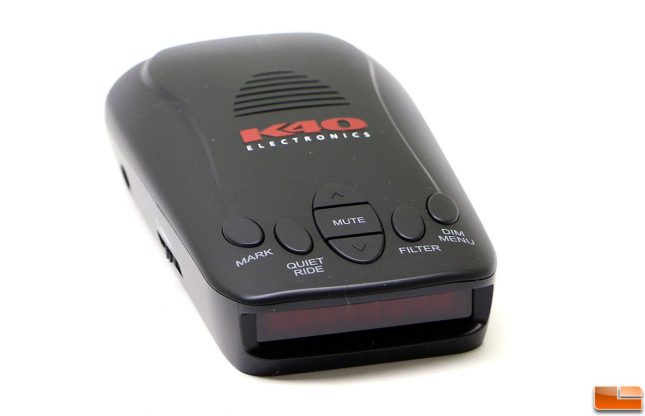 The K40 RLS2 utilizes a simple dot matrix display that is easy to read during the day or night and you do have the ability to adjust the brightness levels. This model has seven buttons on the top:
MARK Button: Press and hold to mark specific locations for alert. Press and release to mute specific radar / laser alerts in a location.
QUIET Ride Button: Press and release to confirm speed setting and enter Quiet Ride menu
MUTE Button: Press and release to mute audio for 30 seconds or the duration of the alert. Press and hold for 3 seconds to engage a 5-minute mute.
UP & Down Buttons: Navigation in MENU mode
Filter Button: Press and release to select level of alert sensitivity
DIM / MENU Button: Press and release to adjust display brightness, or hold for 3 seconds to enter MENU mode.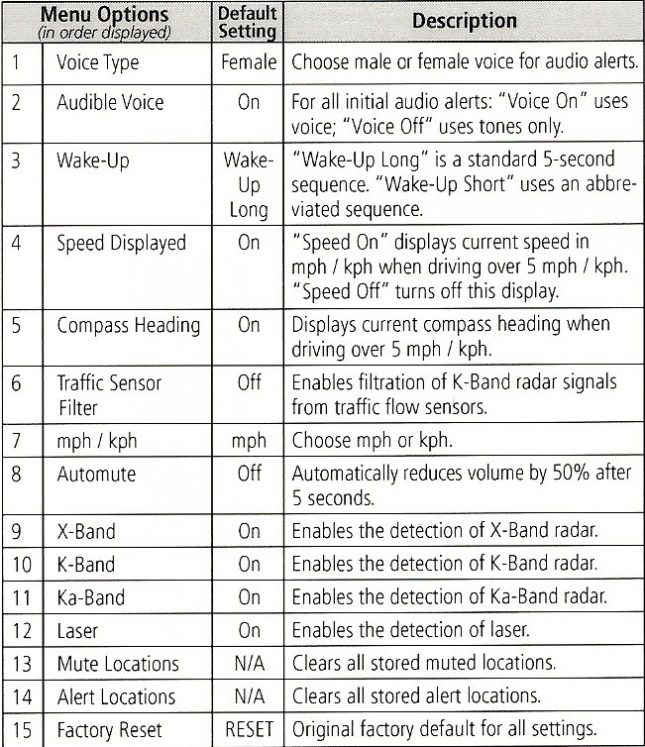 When it comes to programmable features there are 15 to select from and rather than explaining them all we scanned in a copy of the RLS2 quick reference guide that comes with the radar detector that you can keep in the car if you want.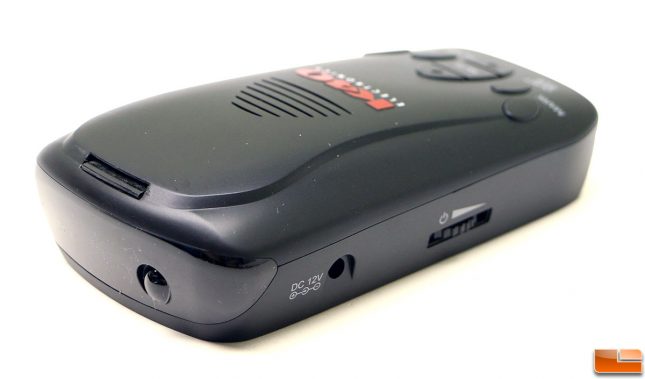 On the side of the K40 RLS2 you have the power port and the volume wheel. We were a bit shocked to learn that there was no USB port, WiFi or Bluetooth functionality with the K40 RLS2. This means that the firmware isn't upgradeable. We asked K40 Electronics about why they made this design decision and you can read the response below.
The firmware isnt upgradeable and doesnt need to be upgraded as we dont maintain any kind of database of locations. To us, we give the driver the power to control/select such via GPS marking instead of having to constantly update to get the latest information. – K40 Electronics
The screen is easy to read and below you can see what it looks like when you the RLS2 picks up a Ka-band signal. The RLS2 shows the type of band detected on the left, the strength of that band in the middle and then your speed in either mph or kph. The radar signal strength ranges from 1 being the low to 9 being the highest.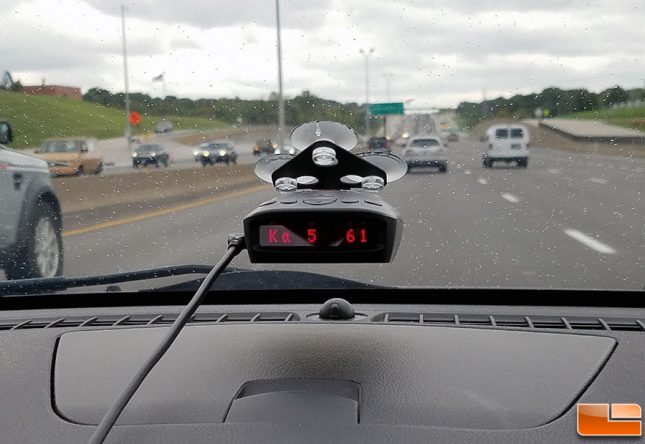 The real test of any radar detector is actually using it. I've been using the K40 RLS2 radar detector daily in St. Louis, Missouri and have been more than impressed. As I mentioned in the introduction, I've been a long time user of Cobra radar detectors up until all the cars with collision avoidance technologies became wildly popular in the past year. All the false alerts were so annoying it drove me to not use a radar detector at all. The K40 RLS2 has very good K-Band filtering and I've actually gone for short 10-20 mile trips around the metro area on the highway with no false alarms whatsoever. In fact, the K40 RLS2 was so quite that I was worried it wasn't working properly the first few days that I was using it. Finally, after several days of seeing no police doing radar I finally got to see it in action and 99% of the time it detects the radar signal well before I see the police car. On previous detectors there were times where you'd see the car on the side of the road ahead and then the radar detector starts going off. That is not the case with the K40 RLS2 unless they are doing spot radar and then there is nothing you can do about that. I'm also very impressed with how well it detects cross-street radar when the officer is doing radar along a main road from a side street. Many local police do that around my home and the K40 RLS2 does a very good job picking that up before I get there even when there are no cars ahead of me to reflect the signal. The Quiet Ride and other GPS features make $50 price premium on the RLS2 over the RD950 worth it in my opinion.
Before using the K40 RLS2 there is no way I'd ever spend $300 on a radar detector as the lower cost models worked and got me by. After using a higher-end model like the K40 RLS2 it showed me what I was missing and that was a quality detector that didn't have a zillion false alarms. It almost makes me wonder what the top-dollar models perform like as the Valentine One Radar Detector runs $499.98 and the Escort Max 360 Radar Detector demands $595.00.
The K40 RLS2 is currently priced available for $299.99 with free shipping on Amazon (MSRP $399.95). It may not have all the features that the competitors have, but it has solid range performance and it is night and day better than the lower cost models that you can pick up at local brick and mortar stores.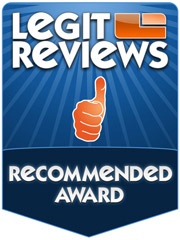 Legit Bottom Line: K40 Electronics might not be the first brand that comes to mind when you think about radar detectors, but the K40 RLS2 was found to be a solid performer that worked as advertised.