Interviewing Palit Microsystem's Darren Polkowski
By
Getting To Know Darren Polkowski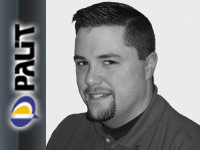 What company do you work for and what position do you hold with them?
I am the Public Relations Manager for Palit Multimedia for the North and Latin America regions.

Could you give us a brief history of Palit Multimedia? What market's do they have an established presence in and which markets are they seeking to develop?
Palit Multimedia is the NALA presence for Palit Microsystems. Palit is one of the largest graphics manufacturers worldwide. We currently have 2 million units per month production capacity. Our primary business is graphics cards which we sell under the Palit brand and several others. Palit has 60% market share in Asia and over 40% in Europe. Last year Palit Microsystems was launched into this market. Before the year ended we reached Nvidias Authorized Board Partner status, the fastest any partner has achieved this status in North America. We seek to build our branding in both North and Latin America.
Palit produces a large quantity of custom PCBs for the enthusiast market. What does Palit like to focus on with their custom cards? Are you seeking lowered prices with un-diminished quality, higher quality at similar prices, or a blend?
Being a leader in the manufacturing space, we have the opportunity to build custom cards for each segment. Additionally, we are not an AMD or Nvidia only business. This allows us freedom to move with the technology as it is developed. We have a full line of cards from both sides of the fence and that gives us the advantage of providing the best graphics solutions for each segment, not just the lineup we have from one GPU vendor. This means we can offer the best in class at all price points. Being Nvidias largest single customer for graphics chips and AMDs 2nd gives us the cost advantage that many of our competitors cannot equal. Economies of scale helps Palit drive the price down for the end consumer as you can clearly see at e-tail shopping websites.

Does Palit have a defined naming scheme for their video cards? I've noticed a slew of suffixes added to cards like Super+ and Sonic, is there specific pattern the consumer should keep in mind?
There are a couple specific naming themes we keep for our cards. The Super+ is reserved for our graphics cards that have 1 GB of memory. Our Sonic edition cards are overclocked. Many of our Sonic models have 1 GB of memory in addition to being overclocked. I would like to make the point that Palit is the only graphics manufacturer that has entire 1 GB cards across its AMD and Nvidia product lines.