Intel Swift Canyon NUC Shown At IDF with Skylake-U CPU and DDR4 Memory!
By
Earlier this summer our friends over at FanlessTech leaked out a slide that showing that Intel was going to be releasing a pair of Skylake-U power NUCs in the second half of 2015. Other than seeing that leaked Intel roadmap slide three months back we've yet to see any real images of the two new Intel Skylake-U based NUCs that are internally codenamed 'Swift Canyon' by Intel. The slide got us excited about the imminent release of the Intel 6th Generation Core series NUCs as we'd love to have a little 4″ x 4″ system packing the power of the Intel Skylake-U CPU along with Intel Gen9 graphics (Intel HD Graphics 520) and up to 32GB of dual-channel DDR4 memory support!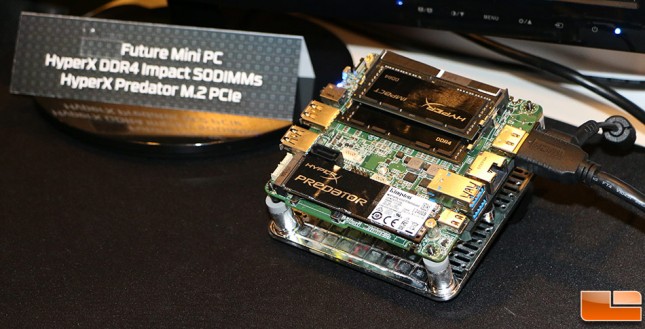 When we were at the Kingston booth at IDF 2015 we spotted a 'Future Mini PC' that featured HyperX DDR4 Impact series memory modules. It was pretty clear to us that this future product was really an early Swift Canyon model without the full chassis!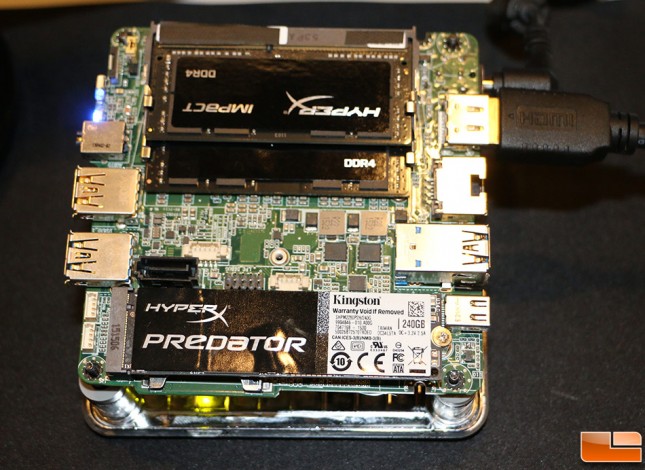 On one side of the board you can see the mini-DisplayPort 1.2 connector, two SuperSpeed USB 3.0 ports, Gigabit LAN, HDMI 1.4a header and the systems power port. You can also see that Intel went again with a M.2 slot for the PCIe storage devices. The 802.11ac wireless card with Bluetooth support is likely soldered to the board under the M.2 drive and can't be seen in the image above.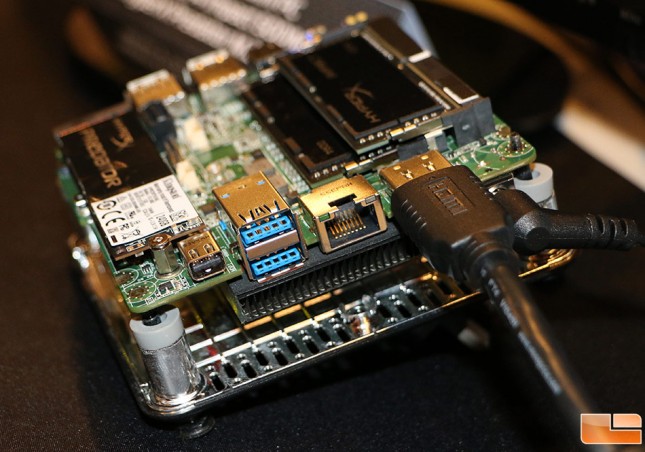 On the other side you'll see the IR sensor, 3.5mm audio jack and the other two USB 3.0 ports. The yellow USB 3.0 port is for charging demands. There is an internal header on the other side of the board that we couldn't show you that had the internal header for two additional USB 2.0 ports.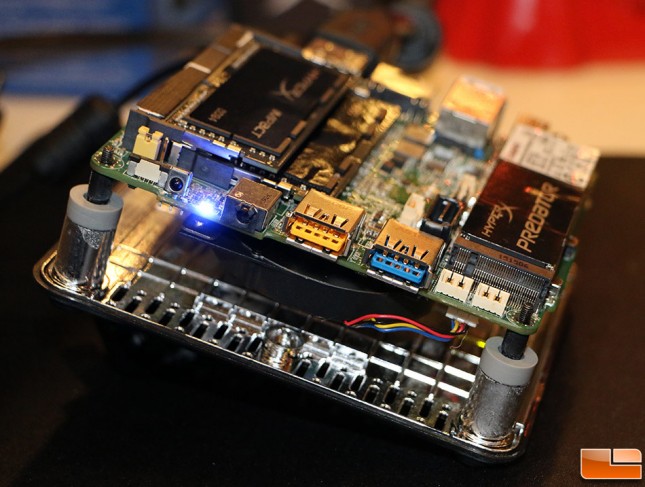 Kingston had the Windows Task Manager open and showed the Intel Skylake-U processor in this Swift Canyon NUC was clocked at 2.28GHz, so we assume this is the Intel NUC Kit that will be sold under part number NUC6i5SYK. Actually, it could be powered by either the Intel Core i5-6200U or the Intel Core i3-6100U as both have a base clock frequency of 2.3GHz, so it might be the Core i3 SKU as well. The Kingston HyperX Impact DDR4 SODIMM 16GB (2 x 8GB) kit was running at 2133MHz with 13-13-13-35 Timings with a 1T Command Rate!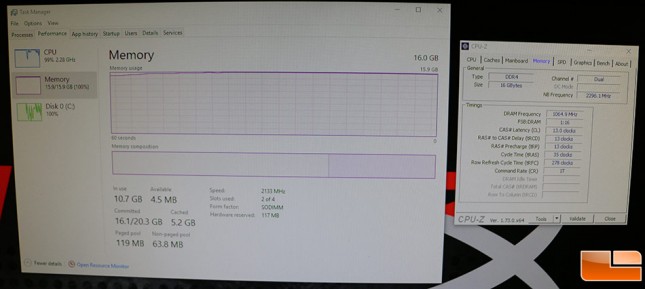 Skylake powered Intel NUC? Yes, please with some eDRAM on top! We are looking forward to see the Intel Skylake-U based NUCs coming out later this year! The two Skylake-U Swift Canyon NUCs coming from Intel include a Core i5 model (NUC6i5SYK/NUC6i5SYH) and a Core i3 model (NUC6i3SYK/NUC3i5SYH).