Intel SSD Roadmaps Leaked – Shows 2TB 2.5-inch SSD Coming in 2014
By
The gang over at Myce have posted up a number of leaked Intel SSD Roadmap slides that are worth taking a look at. The slides talk about Fultondale, Plesantdale and the upcoming Temple Star (Intel SSD Pro 2500) Solid-State Drive families. The Intel Pro 2500 Series (Temple Star) will be available in the standard 2.5-inch notebook drive size or as an M.2 form factor drive in 42mm, 60mm and 80mm lengths. In terms of capacity, The Intel SSD Pro 2500 Series will be available in 80GB , 180GB, 240GB and 480GB for 2.5-inch drives and the M.2 drive will be available in 180GB, 240Gb and 360GB depending on the size of the PCB being used. The slide shows that the performance is solid with sequential read/write at 540/490MB/s and random r/w at 42k/54k IOPS. It is suspected that Intel will be using the LSI SandForce SF3700 flash controller for these drives.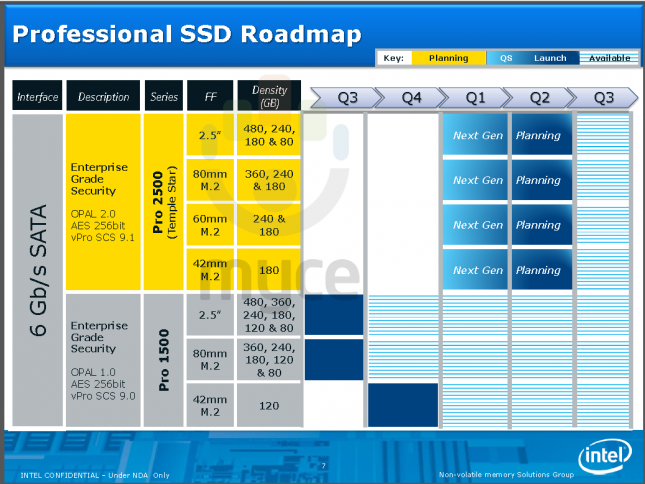 Enthusiasts will be excited by the Intel SSD DC P3700 Series (Fultondale)as they will be available as either 2.5″ or PCIe form factors and in capacities from 200GB all the way up to 2TB. These drives will use 20nm High Endurance Technology (HET) MLC NAND flash memory and blazing speeds of up to 2800/1700MBps sequential read/write and 450/150k read/write when it comes to random 4K operations. Those are very impressive speeds and Intel shows that the drive can sustain 10 drive writes per day over 5 years, so it has good endurance as well. Intel could be using a pair of LSI SandForce SF3700 flash controller for these upcoming PCIe SSDs.
Lastly, the Intel SSD DC P3500 Series (Pleasantdale) is basically the same thing as the the SSD DC P3700 Series, but without the high-end 20nm HEC MLC-NAND. The sequential performance remains the same, but the random 4K read/write speeds are down to just 450/40k now. The endurance of the drive is also much lower with an endurance rating of just 374TB. Both the Intel SSD DC P3700 and SSD DC P3500 Series are backed by a 5-year warranty and consume around 10 Watts of power at idle and 25 Watts in a write operation.
It looks like Intel has some pretty good SSDs on the roadmap and Temple Star, Fultondale and Plesantdale are all scheduled for Q2 2014 if all goes as planned. You can take a look at all of the slides published by Myce below.