Intel Shows PCI Express 4.0 Means Nothing For Gamers
By
PCI Express 4.0 is getting ready to debut when AMD releases Ryzen 3000 series 'Zen 2' processors alongside the new AM4 platform using the AMD X570 chipset. AMD's upcoming Radeon 5700 series of graphics cards powered by the Navi GPU will also be the first to support PCIe 4.0. PCIe Gen4 doubles the bandwidth of PCIe Gen3, so the adoption of this new standard seems like it will be a big deal for gamers. We will also see the market shift to GPUs and SSDs that support the PCIe Gen4 interface once this new platform is released.
We recently sat down and talked with Ryan Shrout, Intel Chief Performance Strategist, about the impact of PCI Express 4.0 right now and in the. Right off the bat the message from Intel was that gamers wont see any tangible real-world performance benefits from PCIe Gen4 right away. To drive this point home we were shown the chart below that shows the total signal bandwidth (Gbps) for those using 1920×1080, 2560×1440 and 3840×2160 gaming displays.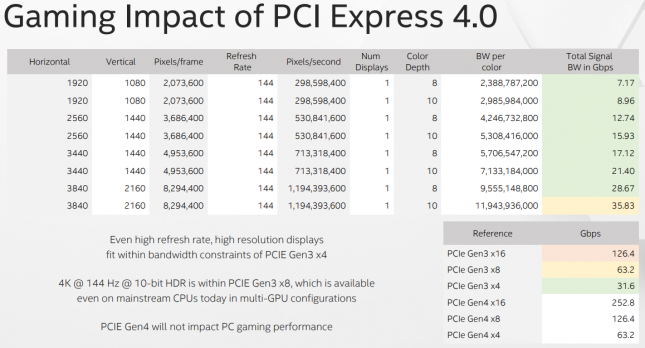 It shows that none of these popular display resolutions fully saturate the PCIe Gen3 x16 interface. Those with a 4K 144Hz 10-bit HDR setup will need to run at PCIe 3.0 x8, let alone PCIe 3.0 x16. This is why many of the initial PCIe Gen4 'real-world' demos are being done on workstations doing content creation on an 8K display with a 120Hz refresh rate. Current gaming platforms and even the first generation PCIe Gen4 gaming platforms just aren't pushing enough data to make for good demos.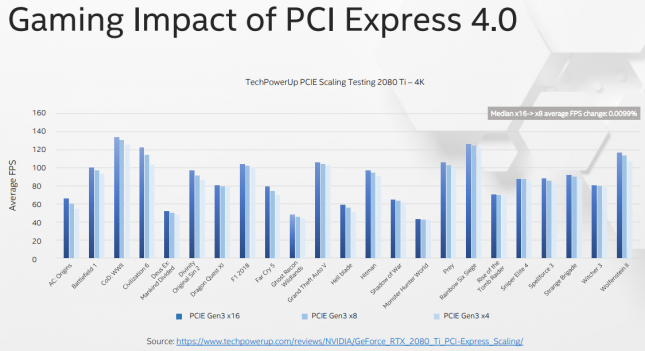 Intel also directed us to outside testing done by sites like TPU where they tested over a dozen games on different PCIe Gen3 lane configurations. As you can see from the chart above there was only very small performance gains to be had from moving from the PCIe Gen3 x4 (31.6Gbps) interface to the PCIe Gen3 x16 (126.4Gbps) interface with a 4K display. Moving up to the PCIe Gen 4 x16 (252.8Gbps) interface will likely only offer small performance gains if any for those gaming on 4K or lower displays.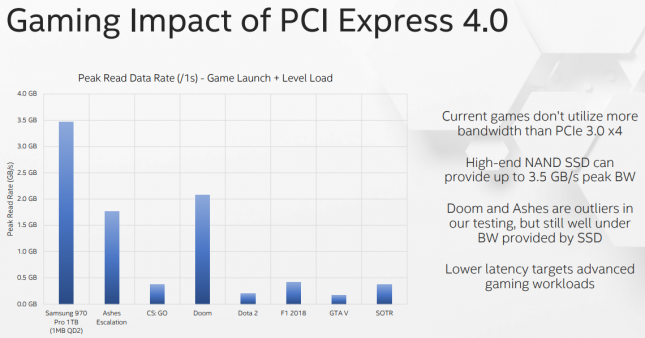 The one area where PCIe 4.0 seems ready to dominate is for storage. PCIe Gen4 will without a doubt improve sequential read and write performance and Intel is not challenging that. Sadly, Intel doesn't think it will mean much for PC gaming. Intel has discovered that launching games and loading levels doesn't even saturate the PCIe 3.0 x 4 interface. Intel looked at a handful of games using internal testing utilities and found that most games are hitting peak read speeds of under 500 MB/s during launch and level loads. DOOM for PC used over 2 GB/s, but that was still far below the capabilities of the Samsung SSD 970 PRO 1TB NVMe drive that they used for testing. It looks like PCIe Gen4 just isn't going to matter for gamers.
Intel is clearly trying to get the message out that PCI Express 4.0 sounds really good, but doesn't really mean much for the average gamer right now or anytime in the near future. This is disappointing to hear, but it is also coming from a company that won't have a desktop platform supporting PCIe Gen4 this year. Intel will be releasing platforms supporting PCIe Gen4 sometime in 2020 from what we've been told about their roadmap. That gives the PC community plenty of time to see if there are any real-world gains to be had or not.
We also know that Intel loves new interconnects and more bandwidth, so when they roll out PCIe Gen 4 down the road it will be interesting to see how they handle it!