Intel Shows Off 512GB Optane Drive With 3D XPoint Technology That Fits in DDR4 Slot
By
Yesterday afternoon at Storage Visions Bev Crair, Vice President and General Manager, Storage Group at Intel Corporation was speaking and just happened to hold up an early mechanical sample 512GB NVDIMM that utilizes 3D XPoint (Intel's upcoming non-volatile memory technology) on the DDR4 memory interface to communicate directly with the CPU. This was particularly exciting for us as it was the first time that we have seen and were actually able to touch a product that was using 3D XPoint.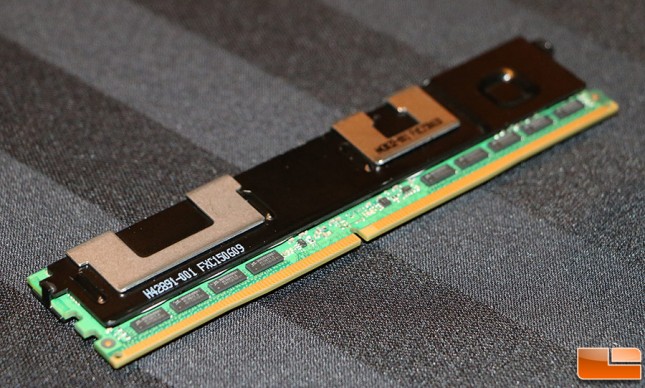 Intel stated that they are working on 128GB, 256GB and 512GB 3D XPoint NVDIMM DIMMS that are aimed for the server/enterprise market. Note the raised FPGA section in the middle of the heatsink.

Intel's recently acquisition of Altera makes more sense now after seeing this product as Intels leading-edge products and manufacturing process with Alteras leading field-programmable gate array (FPGA) technology are a pretty good fit for one another. Altera has a FPGA-based SSD controller and it will be interesting to know what Intel us using under that heat spreader.
We expect to see Intel 3D XPoint technology being sold under the name Optane in the second half of the year. With Intel Kaby Lake CPUs and Optane drives due up later this year it is looking like it will be an exciting time and a great time to build a new system. Intle has hinted that Optane products will offer speeds over seven times faster than traditional SSDs (we are guessing that means SATA III SSDs), that means we could be in for a real treat!