Intel RTS2011LC CPU Water Cooler Shown at IDF 2011
By
Intel and Asetek Team Up For Liquid CPU Cooling
The Intel Developer Forum kicked off this morning and when it comes to desktop hardware all the focus is on the companies upcoming X79 chipset and the new LGA 2011 socket that will debut along with it. When the platform launches it will usher in the first Sandy Bridge-E processors and we know these high-performance will suck down some power. We heard rumors months ago that the TDP of these processors would be 130W and that Intel would be shipping many of their retail boxed processors without CPU coolers as they would be offering an optional CPU water coolers for overclockers and enthusiasts.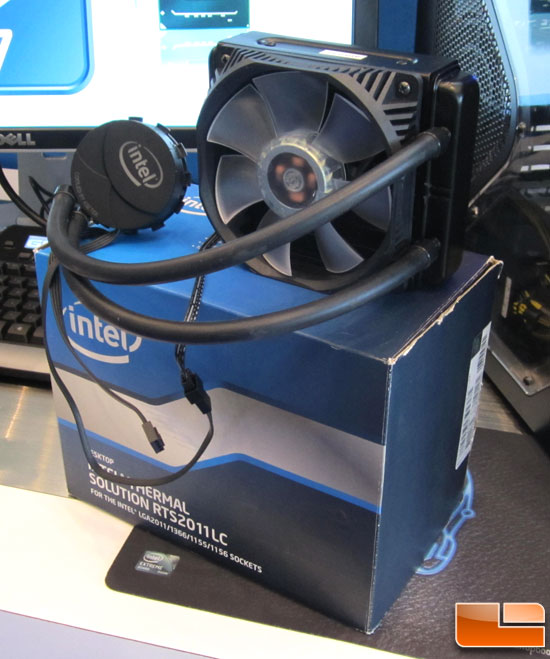 It appears that those rumors were true as we just were introduced to the Intel Thermal Solution RTS2011LC for Intel LGA2011 and also LGA1366/1155/1156 sockets. The retail packaging is already done and the CPU Cooler is said to be in production and Intel had numerous of these liquid coolers running in their demo systems at IDF.

The box that was sitting out had the label still on it which shows that it supports processors with a TDP rating of up to 130W. We can assume that the Intel Sandy Bridge-E processors was correctly rumored at being 130W or less. The product code for this cooler is BXRTS2011LC.
The water block and pump cover clearly states that the water cooler was developed Asetek, which has been in the liquid cooling business for a long time. Asetek has teamed up with Corsair and Antec in recent years and jointly brought out liquid coolers with them, so this should be a quality cooler.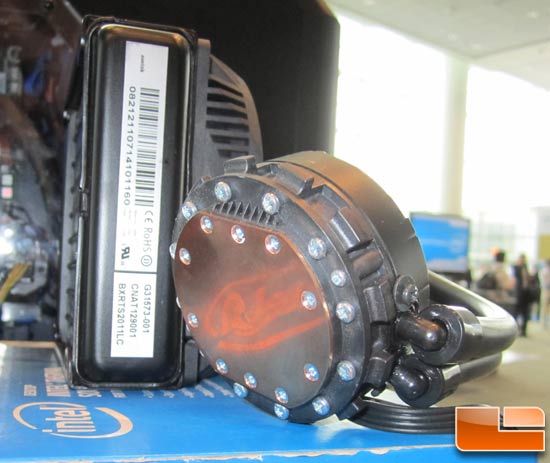 The copper base on the water block looks very familiar and is virtually identical to what we saw on the Corsair H50 when it first came out a number of years ago.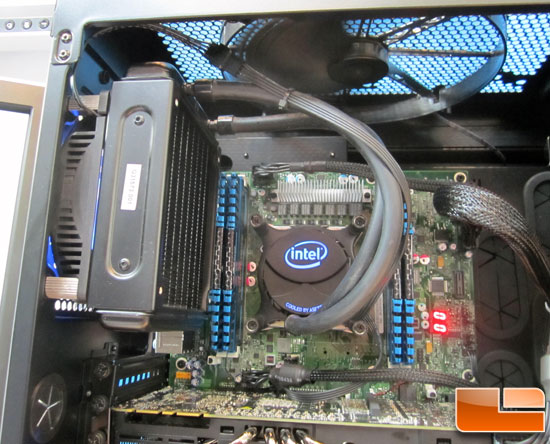 Intel was kind enough to remove the side panel of one of the test systems for us to take a closer look at one installed. They also went on to say that base design is similar to the Asetek design that Corsair used on their Hydro H70 series cooler, but that they changed the radiator, water pump and custom design a 120mm cooling fan. Intel also went on to say that the Intel Thermal Solution RTS2011LC with a single fan will perform better the Corsair H70 with its dual-fan shipping configuration!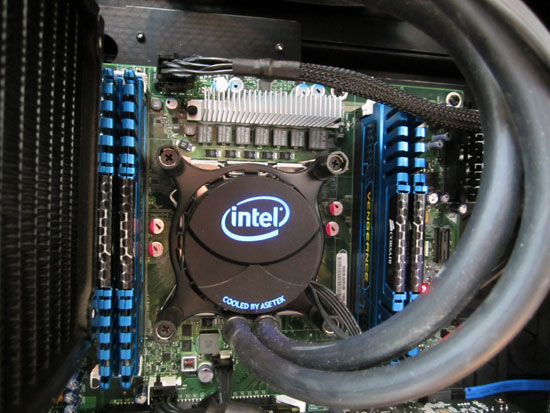 Intel also even added some bling to the cooler as they have the Intel logo and 'cooled by Asetek' back lighted with blue LED lights.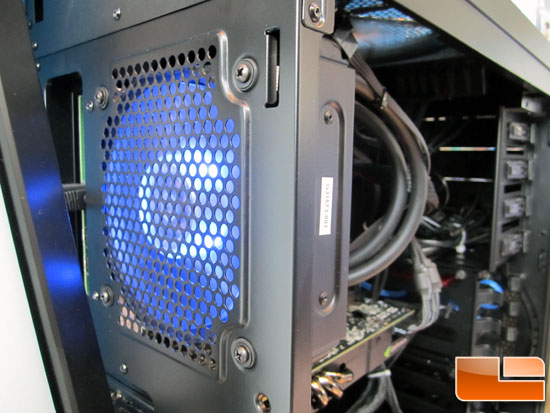 The 120mm fan uses seven clear blades and is also lit up with blue LED lights. Intel said there is no was to turn off the lights, so you'll be glowing Intel blue with one of these CPU Coolers. Intel went on to say that these coolers will be put into the pricing system this week and will be in the channel when socket LGA2011 comes out later this year. You'll have to buy it separate from a processor and we would guess that it will retail in the $100-$125 price range. The Intel Thermal Solution RTS2011LC will also be backed by a three year warranty.
Asetek has come a long with with their water cooling solutions when we first saw the Asetek LCLC back at IDF 2006! Talk about how time flies!
Check back later for more IDF 2012 coverage!