Intel Optane Memory Arrives With Crazy Low Queue Depth Performance
By
Intel Optane technology is something that we've been talking about and waiting on for years to reach the client market and it appears that we are finally just weeks away from that important milestone! Intel Optane technology is a unique combination of 3D XPoint memory media, Intel Memory and Storage Controllers, Intel Interconnect IP and Intel software. Intel Optane technology is coming to market in consumer Solid-State Drives, Data Center solutions and even as add-in M.2 system accelerator cards! Today, we'll be focusing on Intel Optane Memory, which would be the add-in M.2 add-in accelerator card.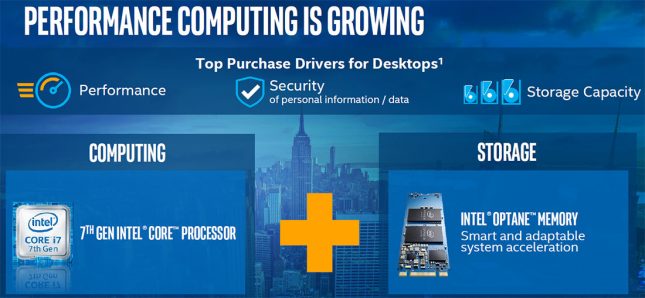 When combined with a large rotational primary OS drive, the Intel Optane memory M.2 module accelerates computer performance, while maintaining capacity. The kicker is that to use Intel Optane memory you'll need to be using a 7th Gen Intel Core i-series 'Kaby Lake' processor along with an Intel 200 series motherboard. This is not a technology that will be supported by older processors or motherboard series. For those that have a 7th Gen Intel Core processor and Intel 200 series motherboard with an open M.2 PCIe NVMe 1.1 port you should be able to pop one of these Intel Optane memory modules into your system to get an improved PC experience with shorter boot times, faster application launches, quicker game loads and a responsive web browsing experience. You'll also need Intel Rapid Storage Technology RST 15.5 drivers on the system to properly enable Intel Optane Memory. The good news is that you don't have to re-install the OS to get the performance benefits of Intel Optane Memory!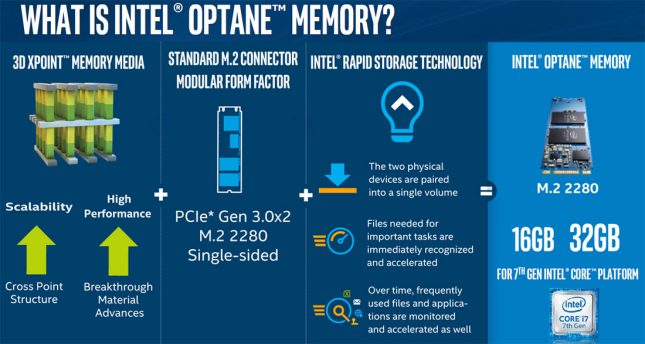 You can basically think of Intel Optane Memory modules as a high-speed caching drive. This ideas isn't really 'new' as Intel released Smart Response Technology (SRT) in 2011 on the Z68 chipset. When you dig deeper into Intel SRT versus Intel Optane Memory you'll see that they are virtually identical on a high-level as they are basically SSD caching devices, but Intel Optane Memory features the new 3D XPoint memory chips, is connected on the PCI Express interface and has new Intel RST software for improved performance,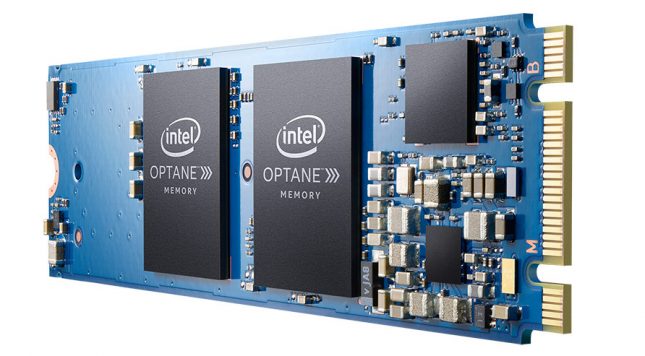 Intel Optane Memory M.2 modules will be offered in a 16GB module for $44 ($2.75 per GB) and a 32GB module for $77 ($2.41 per GB). The price per GB is rather high, but Intel pointed out that it less expensive than an SSD. The WD Blue 1TB 7,200 RPM 3.5″ desktop hard drive runs $49.99 shipped, so you'd be able to get a 1TB HDD with a 16GB Intel Optane Memory M.2 Module for $93.99 together. Intel thinks that having a high-capacity hard drive and high-speed caching drive will be able to offer a nice performance boost without breaking the bank.
Model Name
Intel Optane Memory Series Memory
Capacity (GB)
16GB, 32GB
Components
Intel Optane memory module with 3D XPoint memory media
Intel Controller and Firmware
Intel Rapid Storage Technology 15.5 or later
Interface
PCIe 3.0×2 with NVMe interface
Form Factor
M.2 2280-S3-B-M
Latency (avg sequential)
Read: 6 s (TYP)
Write: 16 s (TYP)
Height/Weight
Up to 1.5mm / Up to 40 grams
Reliability
1.2 million hours Mean Time Between Failure (MTBF)
1 sector per 1017 bits read Uncorrectable Bit Error Rate (UBER)
Temperature
Operating: 0 to 700c
Non-Operating: -40 to 85c
Performance @ QD 4
Sequential R/W: Up to 1200/280 MB/s
4KB Random R/W: Up to 300k/70k IOPS
Power
3.3V Supply Rail
Active: 3.5W
Drive Idle: 900mW to 1.2W
Endurance Rating
100GB Writes Per Day
Operating System Support
Windows 10 64-bit
Supported Platforms
7th Gen or newer Intel Core Processor-based Platforms
Compliance
NVM Express 1.1
PCI Express Base Specification Rev 3.0
PCI M.2 Hardware Specifications
Ecological: European Union (ED) RoHS Compliance Directives
Software Tools
Intel Optane Memory Software
Intel Rapid Storage Technology Software
Intel SSD & Memory Toolbox
Note that the Intel Optane Memory module has an impressive endurance rating of 100GB of writes per day!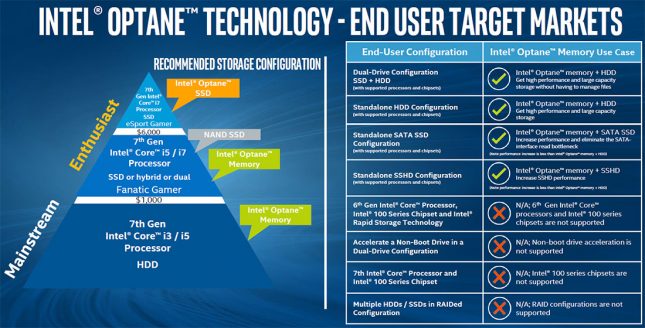 Who is Intel targeting with Intel Optane Memory? Most of our readers are enthusiasts and Intel Optane Memory is not targeted to you. Most all of our readers are using NAND based SATA and PCIe SSDs already, so an Intel Optane Memory solution won't give you much of a performance boost to make it worthwhile. Notice on the chart Intel believes that the hardcore enthusiast will be looking at using Intel Optane SSDs as Intel does have 3D XPoint based PCIe SSDs coming in the 2H of 2017! The chart above shows that Intel Optane Memory M.2 Modules can not be used to accelerate systems that have multiple drives in RAID, on an Intel 100 series chipset platform with an 7th Gen Intel Core processor, to accelerate a non-boot drive in a system with multiple drives or on a 6th Gen Intel core processor when using on an Intel 100 series or 200 series motherboard. Intel Optane memory does work when a PC is using a standalone HDD/SSHD/SSD or in a system with a dual-drive setup (SSD and HDD).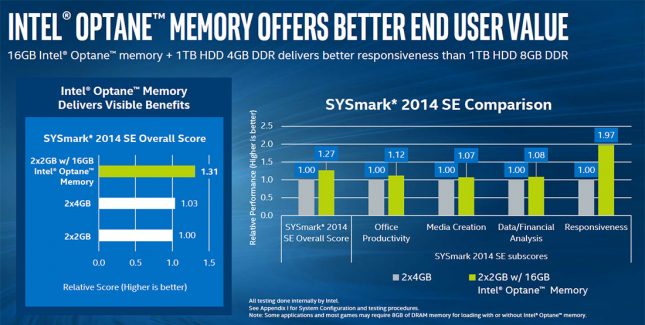 Intel tries to sell the value of investing more intro Intel Optane memory than system memory in the slide above where they look at a system with 8GB of memory and a hard drive versus a system with 4GB of memory and a 16GB Intel Optane Memory solution. They saw higher scores in SYSmark 2014 SE with less system memory and the Intel Optane memory module. By showing a 97% increase in system responsiveness they believe that end users can safely reduce the money they put into DRAM and put it towards Intel Optane Memory for a better overall system. This is something that we look forward into looking at when we get our Intel Optane memory samples as running 4GB of memory in a brand new system here in 2017 does seem a bit silly.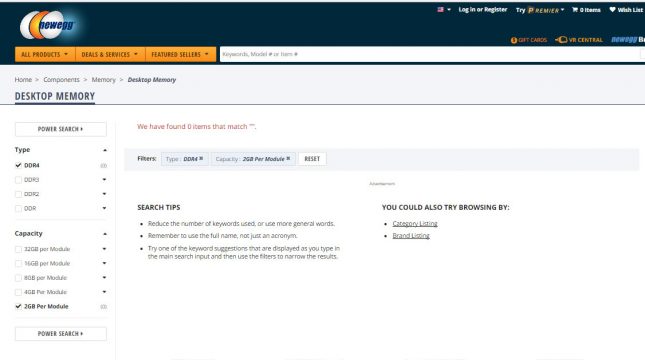 In fact, we looked and we couldn't even find any desktop DDR4 modules that were 2GB in capacity available for sale on Amazon or Newegg! You can get 2GB DDR4 SO-DIMM kits for Intel NUC desktop PCs, but Intel's value message is a bit strange as we don't see too many systems being shipped by the big box retailers that have less than 8GB of memory in them.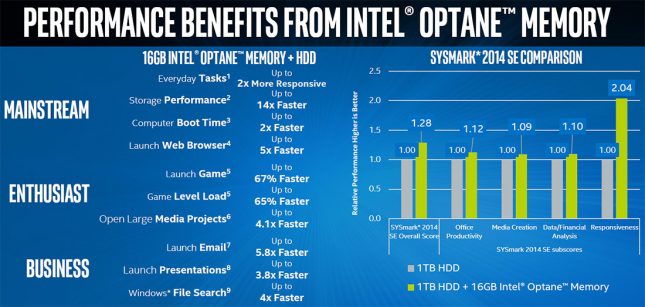 When it comes to the performance benefits from using Intel Optane Memory this is the money slide. Intel compared a system with a 1TB HDD by itself and then again with a 16GB Intel Optane Memory module inside and found pretty massive performance gains. They got up to a 67% performance boost when launching a PC game and a 65% performance boost when loading a game level! Those scores are impressive for PC gamers, but Intel also noted that they are getting up to 14x faster storage performance, up to 2x more responsive in every day tasks 5.8x improvement in launching e-mail, up to 2x in boot times and up to 5x faster in web browsing. These are monster improvements, so let's see how Intel was able to pull this off.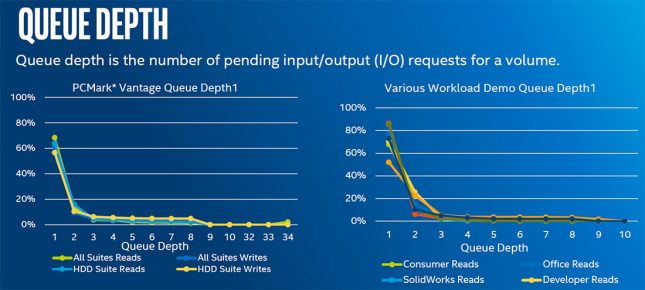 A lot of the performance gains Intel is seeing is coming from improved low Queue Depth (QD) performance. QD is the number of I/O pending requests (SCSI commands) that can be queued at one time on a storage controller. Each I/O request from the host's initiator HBA to the storage controller's target adapter consumes a queue entry. The slide above shows the QD depths found in PCMark Vantage and you'll see that most are under QD8 with the majority taking place at QD1 and QD2.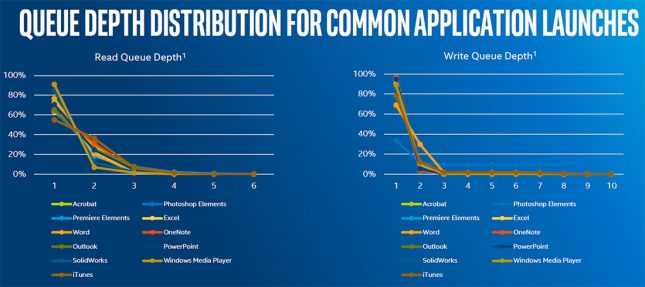 Here is look at 11 real-world applications and the read-write queue depths when opening each of these applications. Notice that almost all read/write queue depths take place at a depth of 3 or less! The point here is why are storage drive makers and reviewers looking at drive performance up at QD depths of 32, 64, 128 and beyond when pretty much no client applications ever get that high on a desktop computer?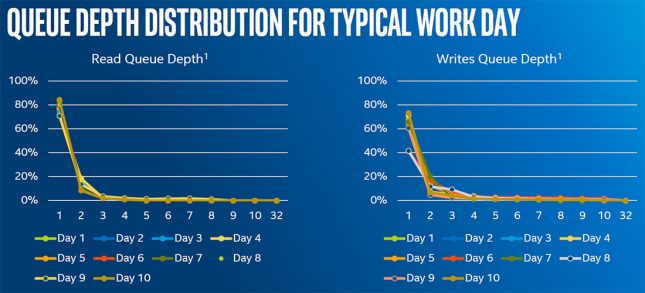 To further drive the message home one Intel employee ran an internal Intel queue depth trace analysis on his work PC for 10 days and again showed that most everything takes place between QD1 to QD4, but there were times that he was hitting up to QD10 at times.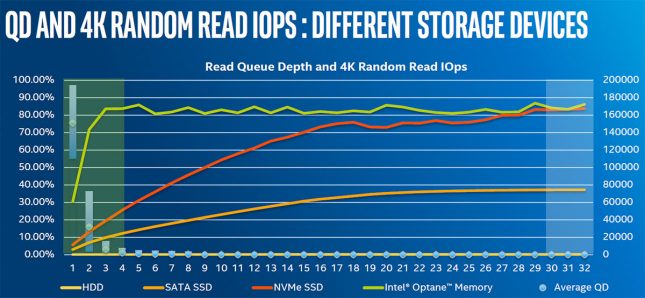 So, low queue depth performance matters and luckily for Intel that is where Intel Optane Memory really excels and comes to live. The slide above shows QD and 4K random read IOPS and how Intel Optane Memory destroys HDDs, SATA SSDs, PCIe NVMe SSDs in the area that matters most for client workloads and that is in the QD1 – QD4 range that the trace data showed was most heavily used. That is how Intel was able to get up to 14x improvements as at very low queue depths the older storage technologies can't compete with Intel 3D Xpoint memory. This is a very good sign for those that are waiting for Intel Optane SSDs!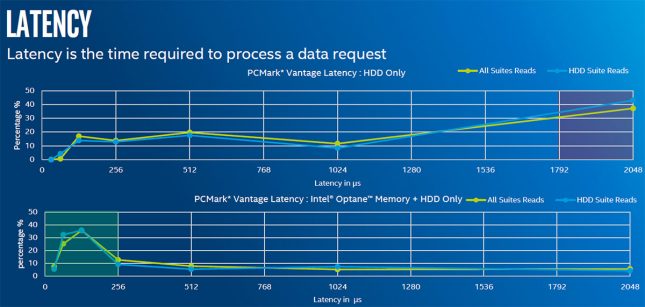 Intel also claims victory with regards to latency and shows that the Intel Optane Memory in conjunction with the hard drive greatly reduces the latency seen when running the PCMark Vantage benchmark suite.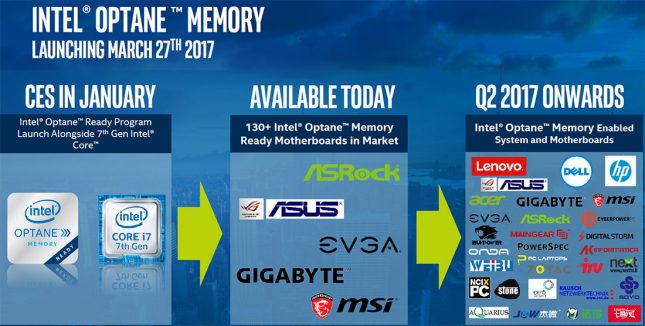 Intel Optane Memory should be available to pre-order later today and will run you $44 for the 16GB module or $77 for the 32GB module. Intel Optane Memory isn't an upgrade option for people with older systems, so we see the bulk of Intel Optane Memory modules selling through system builders like Dell, Lenovo, HP, CyberPowerPC and others. If you are buying a new $500+ desktop PC with a hard drive it would make sense to include one of these with the purchase of the system as it will speed it up. If you are building a higher-end gaming PC with SATA or PCIe NVMe SSDs a caching drive might not be for you. Hardcore enthusiasts should be excited though as the low queue depth performance of the Intel Optane Memory modules thanks to 3D XPoint memory is impressive. That means with the larger capacity Intel Optane SSDs ship later this year we should see some impressive performance numbers.
We'll hopefully have an Intel Optane Memory module or two to try out here soon and we'll report back our findings as soon as we can!