Intel Optane DC Persistent Memory Coming To Desktop Workstations
By
One of the more impressive demos at the Intel Memory and Storage Day 2019 in Seoul was one involving Intel Optane DC Persistent Memory Modules (DCPMM). Intel DCPMM are available in 128GB, 256GB, and 512GB at 2666 MT/Sec and have been primarily aimed at enterprise users in the data center. What made this demo really exciting is that it was one 512GB "Apache Pass" module on a development board for workstations and/or high-end desktop PCs.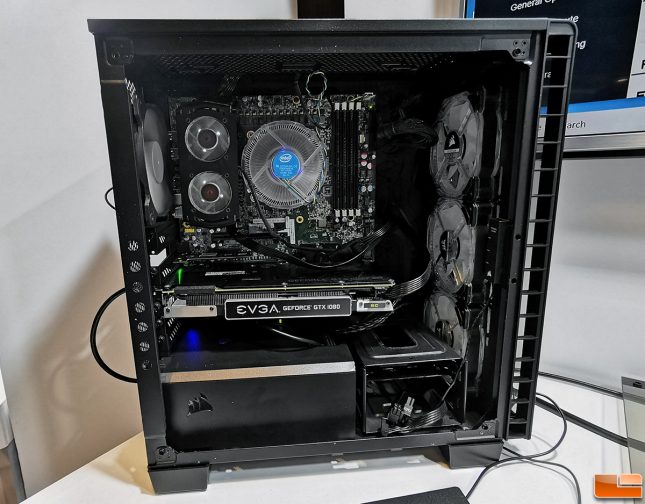 Where is the Intel Optane DC Persistent Memory Module? The lone module was seated into the DDR4 DIMM slot closest to the CPU under the active cooling that is needed to keep the module cool.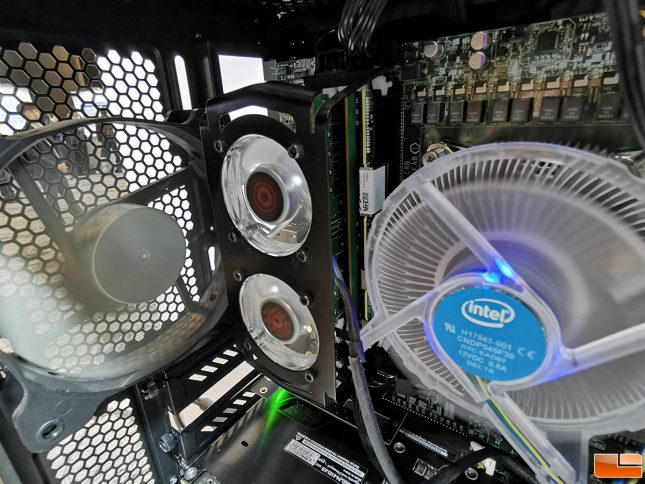 So, under the Windows 10 System menu you'll see the 535 GB of installed system memory (RAM) as there is a 512GB Intel Optane DC Persistent Memory Module along with 32GB (16GB x2) of regular DDR4 memory.
Intel DCPMM can be run in App Direct mode (for persistent storage), Memory Mode (for use as DRAM-like media), or as Mixed Mode (where both modes are used.) The demo that Intel was doing was run in App Direct mode and the benchmark used was SPECworkstation 3.0.1. They ran SPECworkstation once on the systems internal Intel Optane 905p SSD and then again on the Intel Optane DC Persistent Memory Module.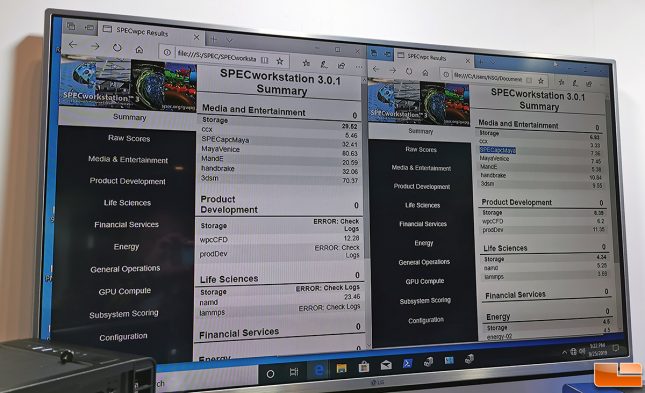 The benchmark results were impressive. In the SPECapcMaya workload the 905p NVMe SSD scored 7.36 whereas the Intel Optane DC Persistent Memory Module finished with a score of 32.41. This is an improvement of 4.4x on that workload. On the handbrake workload it went from 10.84 to 32.06, which is nearly 3x faster. Bringing persistent memory to client systems will bring major performance gains to many areas! Intel believes this is a game changer for those that work with large data sets on workstations.
If you look at the Product Development and Life Sciences sections, there was an error. Intel using Microsoft Windows 10 Pro for Workstations for the demos and is working some of the final bugs out. Intel is working with the ecosystem and will let folks know when DCPMM is ready to come to Windows powered workstations. DCPMM actually runs great on Linux OS builds out of the box since this product was originally launched for servers.
The last benchmark that we can show you is CrystalDiskMark 7 run on the single Intel Optane DC 512GB Persistent Memory Module in the test system. Intel will only let us publish this image if we remind you that this is a prototype and the results do not reflect actual product performance, but rather a technology demonstration. Final product performance can and will likely differ from this: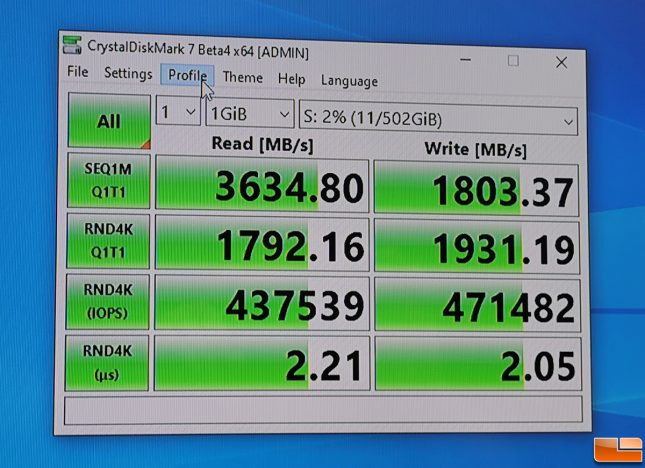 Here are our results at QD1 on the Apache Pass drive. We were seeing 3600 MB/s read and 1800 MB/s write for sequential performance. Random 4K Read/Write QD1 performance was sitting around 440,000 IOPS Read and 470,000 IOPS Write. That is wicked fast performance at QD11
How much would one expect to pay to add an Intel Optane DCPMM to workstations?
CDW is currently selling a single Intel Optane DC 256GB Persistent Memory Module (part number: NMA1XXD256GPSU4) for $1,998.99. They also have the 128GB module available for $1,866.99. This is an impressive Intel-only technology, but is still extremely expensive and that will certainly limit sales. It wouldn't be a big shock to us that Intel would release a new line of Optane Persistent Memory Modules aimed for clients that will be available for less around the time a new version of Windows comes out.