Intel Launches World's Best Gaming Processor – Core i9-9900K
By
Intel announced their 9th Gen Intel Core desktop processors today at a launch event in New York City! The three 9th Gen Intel Core processors unveiled today include the Core i9-9900K, Core i7-9700K and the Core i5-9600K. The flagship model is the 9900K with 8-cores and 16-threads and clock speeds of up to 5.0 GHz for on single-core turbo frequency. Intel is already calling the Core i9-9900K processor, the worlds best gaming processor.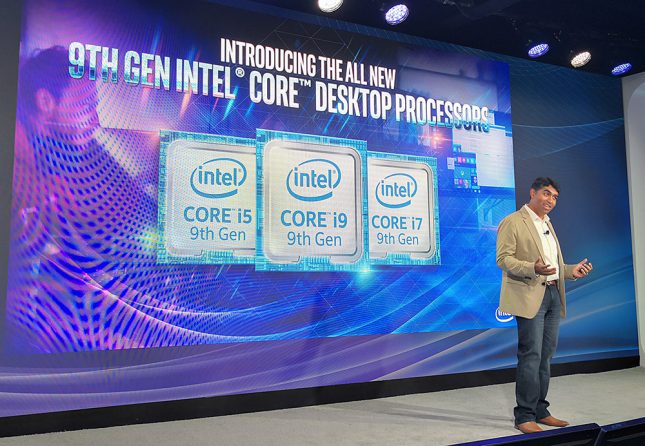 Pricing starts at $262 for the Intel Core i5-9600K 6-core processor, moves up to $374 for the 8-core Core i7-9700K and then tops out at $488 for the Core i9-9900K processor that has 8-cores and 16-threads.
| | | | | | | |
| --- | --- | --- | --- | --- | --- | --- |
| | Cores / Threads | Base Clock | Boost Clock | Cache (L3) | TDP | Price |
| i9-9900K | 8 / 16 | 3.6 GHz | 5.0 GHz (1/2 Core) | 16 MB | 95W | $488 US |
| i7-9700K | 8 / 8 | 3.6 GHz | 4.9 GHz (1 Core) | 12 MB | 95W | $374 US |
| i5-9600K | 6 / 6 | 3.7 GHz | 4.6 GHz (1 Core) | 9 MB | 95W | $262 US |
The Intel Core i9-9900K is Intels first first mainstream 8-core processor and has a number of improvements that the enthusiast community has been asking for. One of those improvements is that Intel is bringing back Solder Thermal Interface Material (STIM) after taking it away over half a decade ago. The delidding community might be upset, but everyone else is rejoicing.This should better remove the heat away from the CPU die and allow for better overclocking.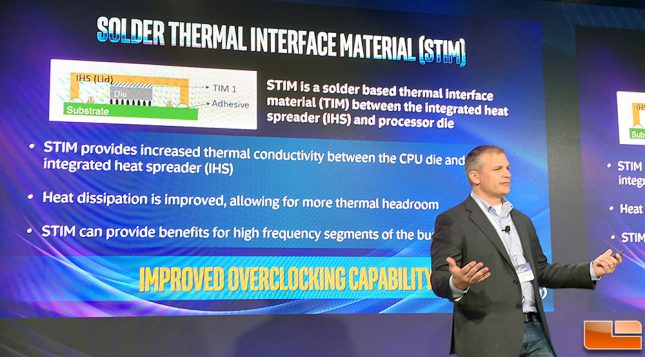 Intel has already made the bold claim that the 9th Gen Core i9 9900K is the World's best gaming processor! That is a powerful statement, so let's take a closer look at some of the performance data that they shared with us today.
The Intel Core i9-9900K is said to be up to 11% faster in internally tested game titles when compared to the Intel Core i7-8700K processor. When you compare it to an Intel Core i7-6700K processor in a system from a few years back you are looking at up to 45% more FPS!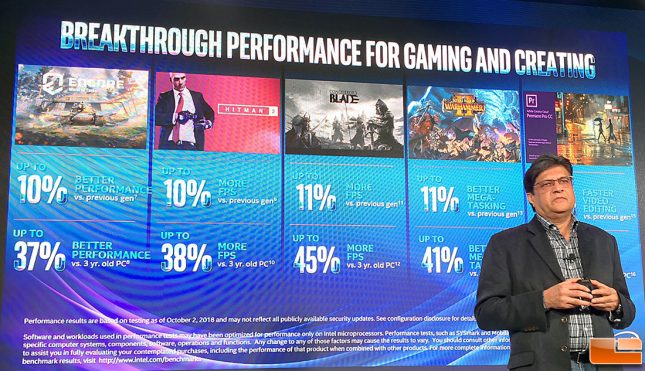 Intel showed the power of the Intel Core i9-9900K by running PUBG and World of Tanks at the same time on one PC. They did this demo by setting up two virtual machines. This demo shows is fun to see, but it doesn't solve a problem that gamers were having.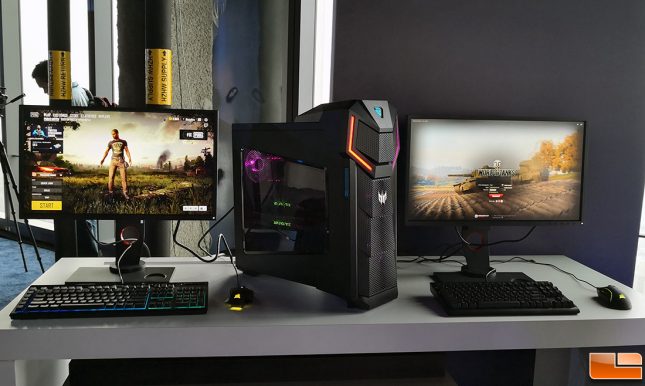 It also looks like AMD put some pressure on Intel to compete a bit on product packaging and they have re-designed the packaging big time. They have this new dodecahedron looking packaging that will certainly get ones attention.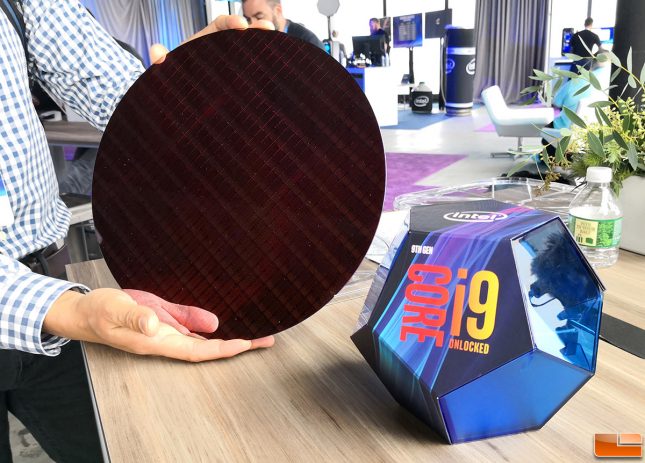 When you open up the packaging you'll find box inside that contains the processor. The Intel Core i9-9900K doesn't come with a CPU cooler, so you'll need to provide your own to cool this 95W TDP chip.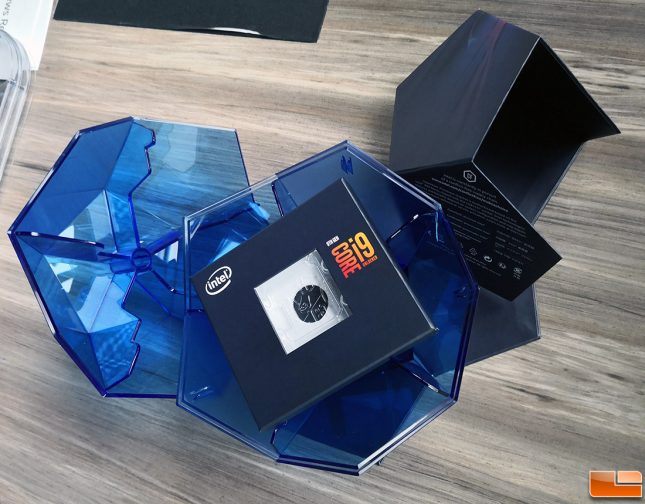 We should mention that all three of these 9th Gen Core processors will work on all Intel 300 series motherboards after a BIOS update. That is great news for those with an Intel X370 platform as you don't have to get a new motherboard in order to run on of these brand new CPUs.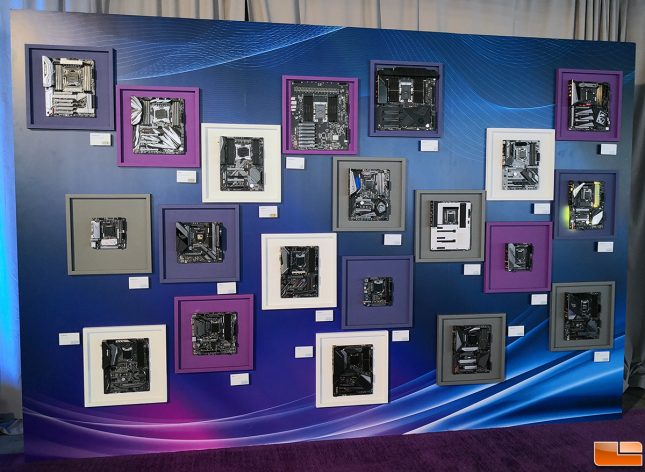 The new Intel Z390 platform that is launching alongside the boards brings integrated Intel Wireless-AC support and USB 3.1 Gen 2 to the chipset. These are great features to have in the chipset, but certainly not ones that are going to leave Intel Z370 motherboard owners feeling like they are missing out on something. Besides, most of the Intel Z370 motherboards we've seen aren't including an antenna kit and using the wireless feature as it adds cost, complicates product rollout due to FCC compliance in various regions and would confuse their product stack.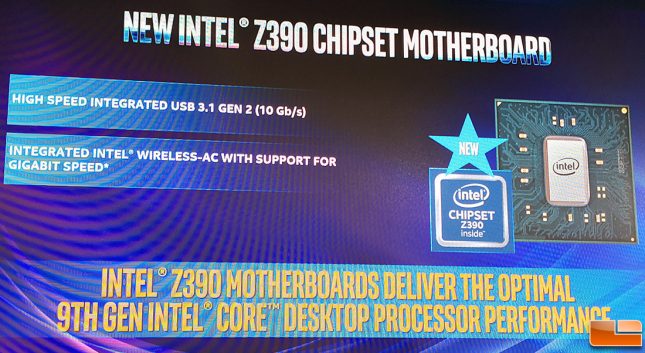 Here is a quick video that Intel made promoting the 9th Gen Intel Core i9-9900K processor that is aimed at gamers.
Intel launched more than just the mainstream 9th Gen series at the launch event. They also introduced new High End Desktop (HEDT) Core-X processors that were once led by the Intel Core i9-7980XE. A total of 7 new processors were released with the flagship being the Core i9-9980XE. The 9980XE is an 18-cores , 36-threads part with clock speeds of up to 4.5GHz for $1,979. Improved manufacturing process techniques have allowed Intel to get higher clock speeds and that is where much of the performance gains over the last generation are to be had for this series. Also, take notice that all of the new Intel Core X-Series processors have support for up to 68 PCIe lanes. We have a feeling this is to better compete against AMD's 2nd Gen Ryzen Threadripper processors. All seven of these processors have a 165W TDP and will work on existing Intel X299 motherboards after a BIOS update!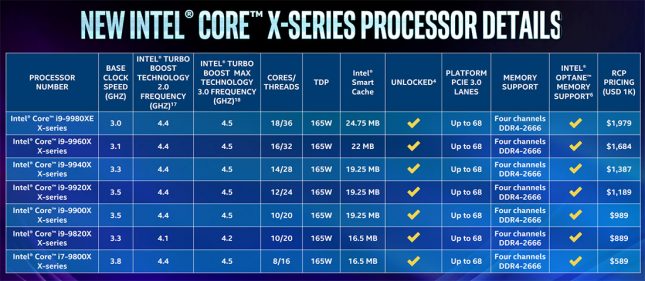 This is all looks and sounds really good and we can't wait to bring you benchmarks of the Intel Core i9-9900K on October 19th!