Intel Launches TRIM Firmware For 34nm SSDs
By
Intel Releases TRIM Firmware for SSDs
When
Intel announced their second generation SSDs
we gave the 160GB SSD (SSDSA2MH160G2)
a full review
and found it to be the fastest and most advanced SSD that we have ever tested. The newly designed controller and the 34nm MLC NAND Flash memory components left competitors in the dust, but TRIM support was missing and we thought that feature would be significant once Windows 7 was launched. Well, Windows 7 was launched last week, and
this
week, Intel has announced a new firmware version for their 34nm drives to support TRIM and has other nice surprises as well.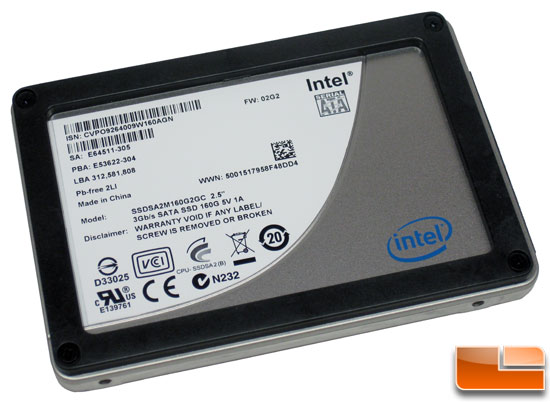 Not only will the firmware support the Trim attribute of the ATA Data Set Management Command for 34nm X25-M owners, but those that have 160GB SSDs will be getting a performance boost! Once the firmware update has been installed you will see an instant performance boost on the sequential write speeds as the speeds have been increased to 100MB per second, which is a 40 percent performance improvement over the existing firmware version. We asked Intel why 80GB SSDs aren't getting any sequential write speed improvements and Intel responded by saying that while both the 160GB and the 80GB drives use the 10 channel controller architecture, that the 160GB has twice the number of NAND die as the 80GB and can therefore take advantage of the firmware changes for higher sequential write performance.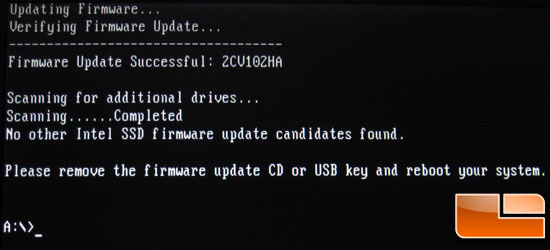 Upgrading an Intel SSD from the current firmware version of 02G9 to version 02HA, which came out today, on the Intel G2 drives is easy and non-destructive! The firmware upgrade can be found here and the Intel SSD Toolbox and Optimizer here. In order to install the firmware update we had to change from ACHI to IDE mode in the BIOS for the update utility to work. After the update was done, we re-booted the system, changed back to ACHI mode and was back on the desktop like nothing happened in seconds. Intel said that end users should not have an issue with just upgrading and running trim, so wiping the drive and starting over from scratch is not needed.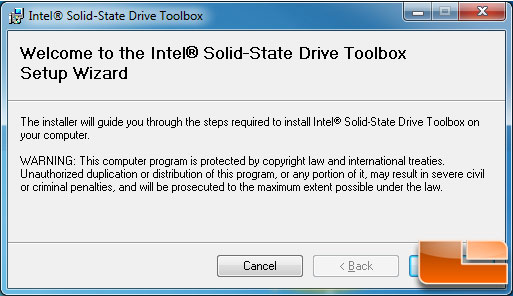 Once we have firmware 02HA installed on our SSD, we can install the Intel Solid-State Drive Toolbox and optimize our Gen 2, 34nm SSD for the very first time. The Intel SSD Toolbox and Optimizer works in AHCI or RAID mode, but only in RAID mode if the drive that needs to be trimmed is not in the RAID Array. Intel said that these drives really shouldn't be run in IDE mode as anyone who knows enough to get a tool to TRIM a drive will certainly know about NCQ and other performance enhancements of either the IMSM AHCI driver, or the msft AHCI driver. Our test system was uses the AHCI driver for the best possible performance, so let's go ahead and run the TRIM command!