Intel LANFest SoCal 2013 Local Gaming & Fun
By
LANFest Returns to the Local Scene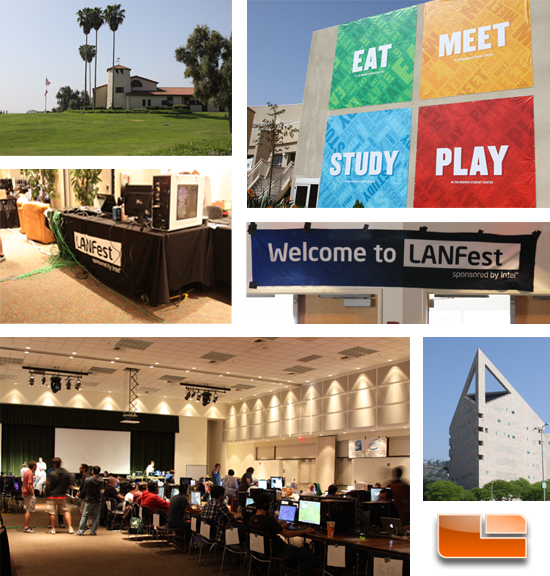 This past weekend during April 26 through 28, Legit Reviews returned to Cal Poly Pomona in Southern California to attend the second Intel LANFest SoCal. Last years summer LANFest SoCal occurred alongside the GIGABYTE ESport LAN. While GIGABYTE's invitational tournament did not return this time, a good portion of the GESL volunteer staff returned as LANFest SoCal 2013 gamers or volunteers. A big thank you SoCal ESports and LANFest for working so hard for the guests; you made my weekend and Im sure everyone else who attended is just as appreciative as I am.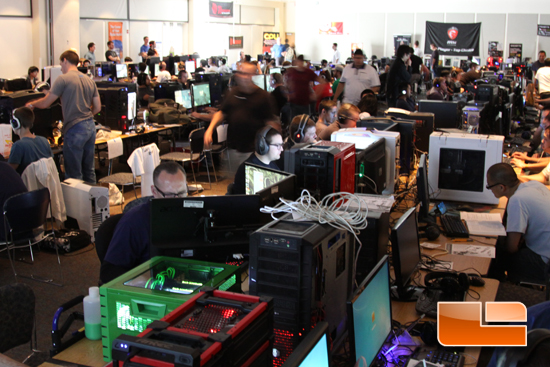 A few really cool computer case mods appeared at LANFest, but not nearly as many as last years event. There was a bigger variety of gamers and enthusiasts who showed up. Old-school LANgoers and the younger E-Sport gamers were seen bumping elbows. The most popular game this time around was Counter-Strike: Global Offensive, though DOTA 2, League of Legends, and Battlefield 3 were also popular.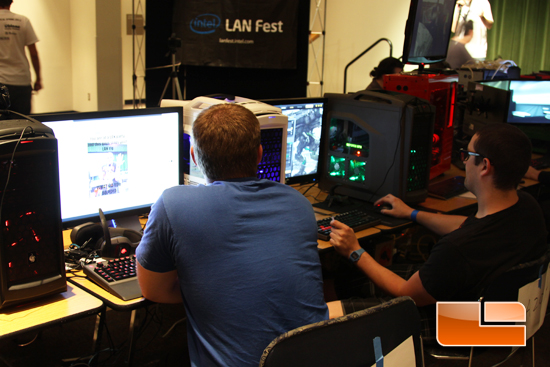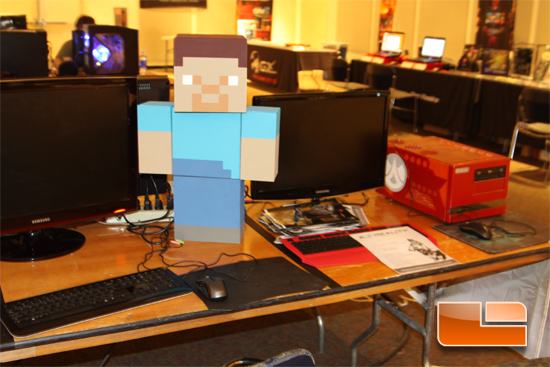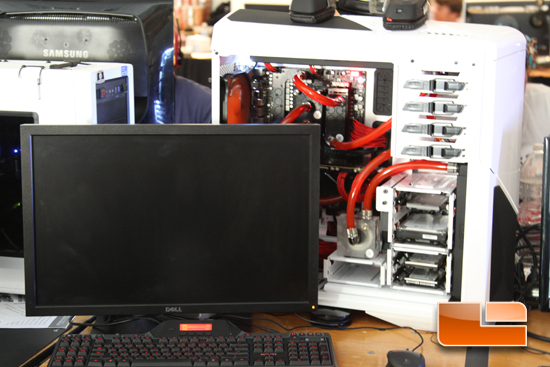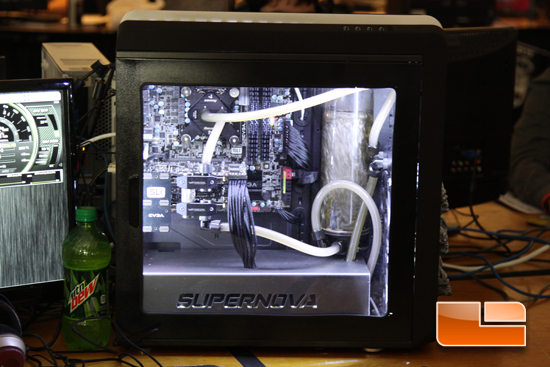 Proceeds for LANFest SoCal 2013 were donated to the local Boys & Girls Club of Fullerton. All 150 seats were sold out and Day 2 saw tons of intense gaming action including big games during the two pay-to-play tournaments.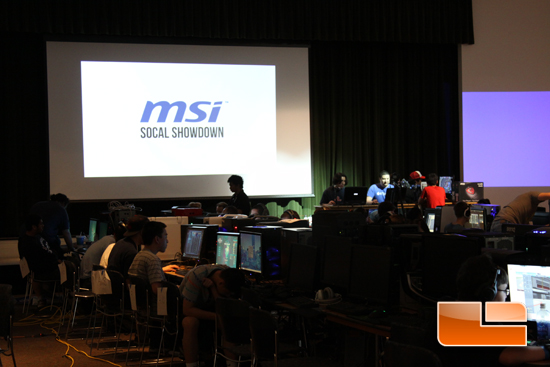 The Starcraft II: Heart of the Swarm Tournament was sponsored by MSI with payout to the top 8. The top 3 prizes ultimately went to three local grandmaster players. ppgBubbles won the grand prize of $500 and an MSI GTX 650 Ti, while 2nd and 3rdrespectively went to Mystik with $250 and an MSI Z77A-G45 GAMING motherboard and giX with $100 and an MSI ZH77A-G43 motherboard.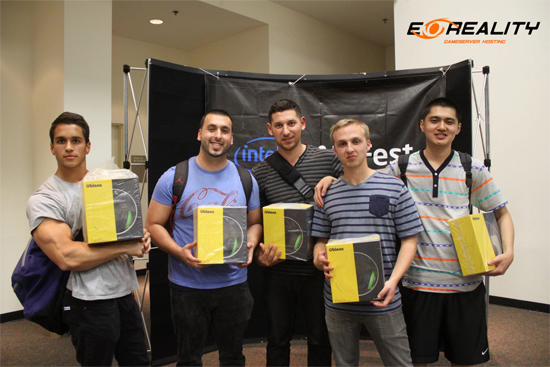 The Counter-Strike: Global Offensive tournament was sponsored by Oblanc, an audio equipment manufacturer Ive at least never heard about until LANFest. EG.n0thing and his buddies on Team UMAD claimed first place for $1000, the 2nd place team walked away with $75 and each player on the top three teams walked away with an Oblanc U.F.O. headset.
Additionally, there were three free-to-play tournaments with Battlefield on Day 2 sponsored by Tt Esports and Day 3 saw the DOTA 2 and League of Legends sponsored respectively by AZiO and NXZT. Some big name players showed up for DOTA and LoL, including Blitz, Purge, Eosin, and LiNk!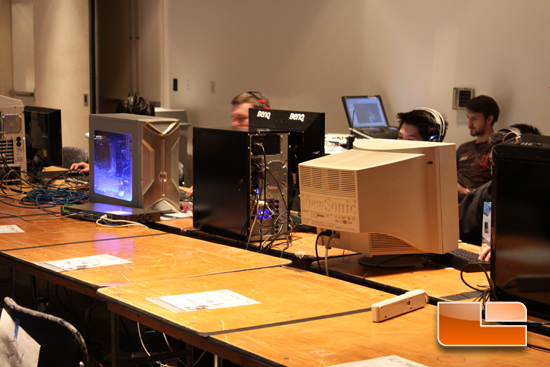 Everyone was having fun and the venue was comfortable. The university internet was blazing fast, the air-conditioning kept everyone and their computers cool, and the volunteer staff were incredibly friendly. A few problems did spring up, but all were eventually controlled. The onstage Starcraft II casting had every imaginable technical issue at small points along the time continuum which delayed the tournament. Some guests tripped over cables including myself when my slipper caught the Ethernet bundle by the IT desk. Power once went out to an entire row and I saw one person receiving some medical attention from a university medic.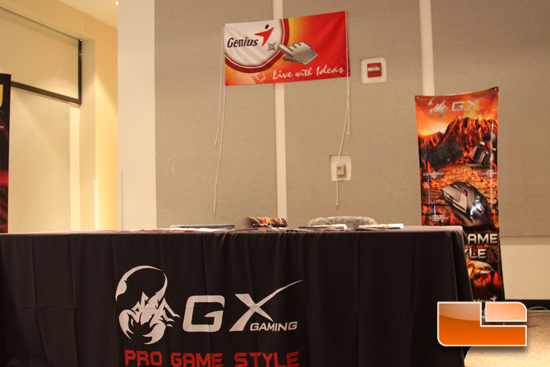 Genius, despite being LANFests newest proud sponsor and having a North American office in a city next-door to Pomona, never had a representative at the table set up for them.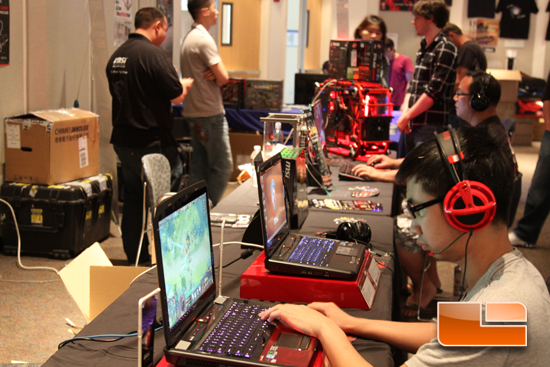 MSI was showcasing their GT70 and GT60 gaming laptops and Z77 MPOWER motherboard.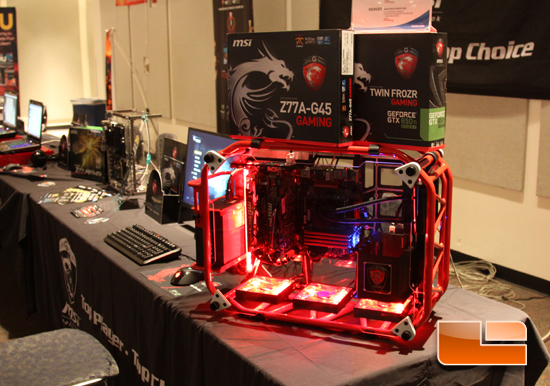 The big highlight on MSI's table was a show rig featuring an MSI Z77A-G45 GAMING motherboard and two MSI GeForce GTX 650 Tis in SLI all mounted on an IN-WIN D-Frame case.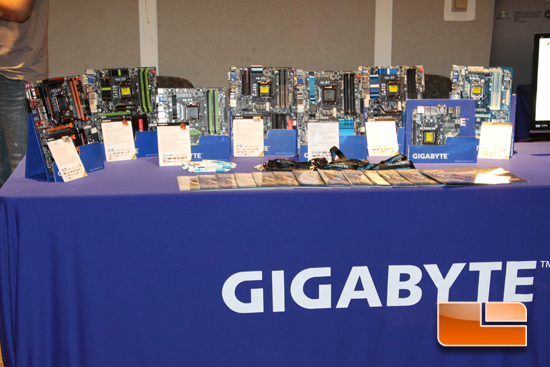 GIGABYTE was right next to rivals MSI which at times led to some amusing trash talk between the reps. GIGABYTE had a variety of their motherboards on display and were more than willing to have a friendly chat with curious guests.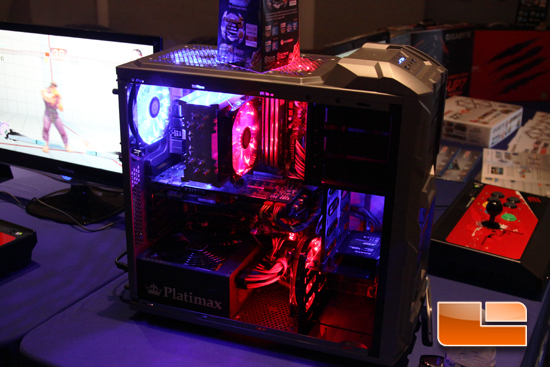 At the opposite end of GIGABYTEs table was a show rig which also featured Enermax parts. The Super Street Fighter IV demo was highly popular throughout the weekend when gamers needed to take a break from their own PCs.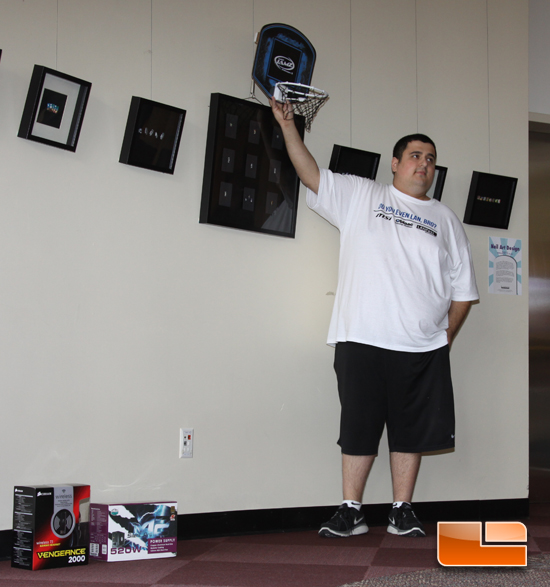 At times during LANFest, contests were held for prizes. Seen above is the mini-basketball challenge with a Corsair Vengeance 2000 wireless headset and Cooler Master Silent Pro M2 520W power supply for prizes. The other contests were the rock-paper-scissor challenge, Nerd Jeopardy, and the paper airplane toss.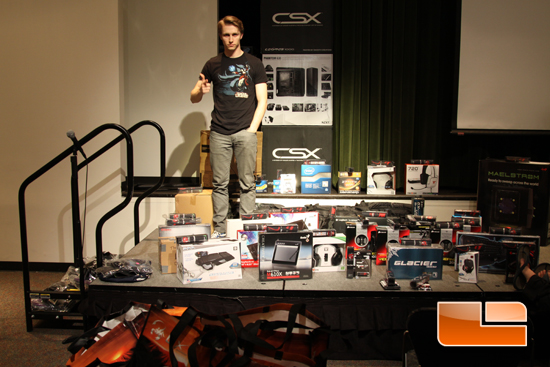 Each day, gamers turned their heads for the raffles. The prize pool was massive and in the photograph above, you can see the sponsor goodies being given away on the final day.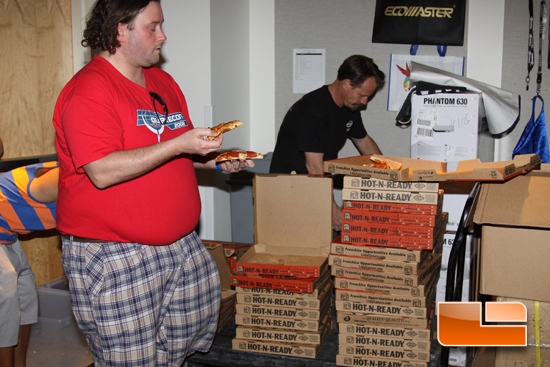 to whoever stole my bag of rice crackers on Day 2, I hope you enjoyed them. Theyre delicious and I would have loved to have savored those alongside the free drinks from Monster Energy and Intel sponsored pizza dinner.