Intel IGCC Update Includes New Skins, Power Menu and More 1-Click Game Optimizations
By
A new build of the Intel Graphics Command Center was made public this morning. Intel has updated IGCC to version 1.100.1241.0 with several new features including:
New display information page
New system power configuration page
New background themes: Ice lake, Gamer, Creator and Waves
Improved display color calibration
More games added to auto-detect and 1-click Optimization libraries
Various UI and stability improvements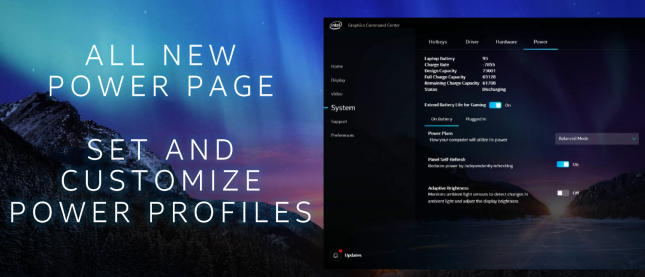 PC gamers and enthusiasts will be happy to see that Intel has added a system power configuration page to IGCC that can be found under the system menu. This page allows you to set what Windows power plan you are currently running, and be able to enable or disable the panel self-refresh and adaptive brightness settings. You can also change the graphics quality and dim bright images to enhance the power efficiency of your device. This is important on laptops where battery life is critical. Now that Intel Project Athena has been announced we understand why these options are in IGCC as the company is going to great lengths to improve battery life. Down the road we hope that Intel lets us look under the hood a bit more on the power page and maybe show the power state of discrete graphics card. It would be neat to see how much power it is using, what state it is currently in and so on.
Intel now has four background skins available for use. Each skin (Ice lake, Gamer, Creator and Waves) is shown below in order.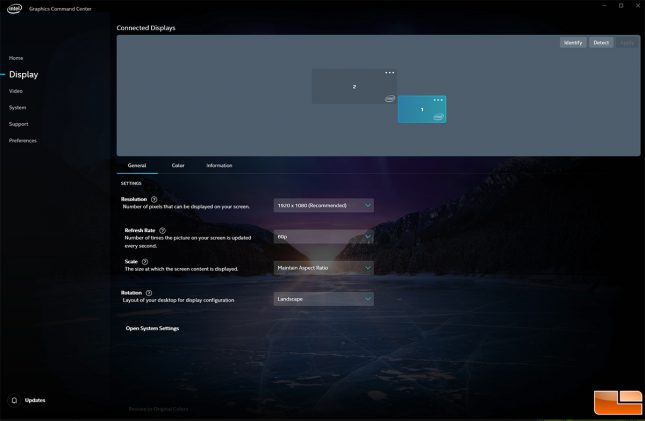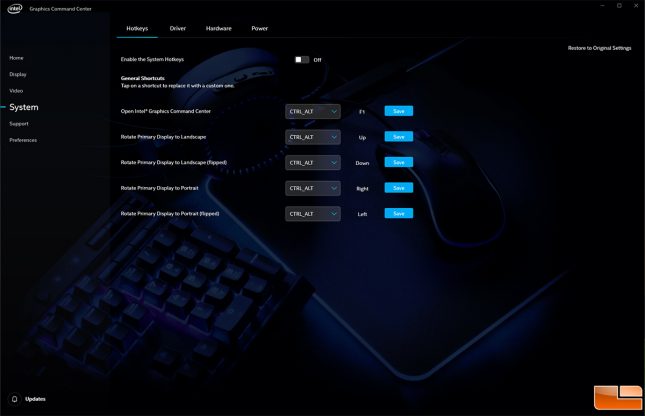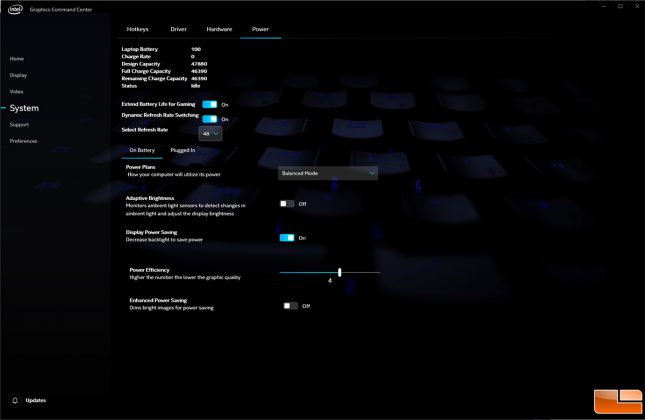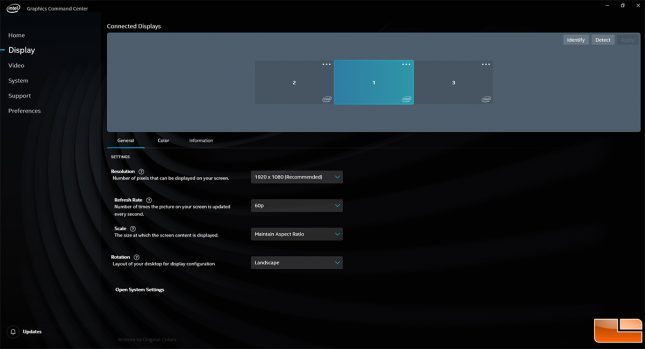 Being able to customize the background for IGCC is a nice touch to help personalize the application. We aren't sure if Intel will let users apply their own skins locally, but it feels like that would be a simple and logical thing to allow down the road.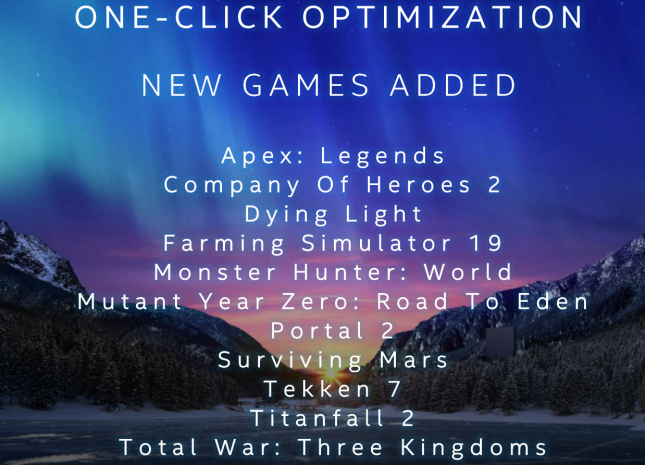 Intel is now up to 44 game titles now that support 1-click optimization libraries. Over 10 new games have been added with this update and Intel says they are hard at working on additional titles to be included in the next update.
One click supported games in IGCC (New Titles Added in BOLD):
Dying Light
Portal 2
Tekken 7
Titanfall 2
Monster Hunter: WorldFarming Simulator 19
Mutant Year Zero: Road to Eden
Apex Legends
Company of Heroes 2
Surviving Mars
Total War: Three Kingdoms (since 5/23 game launch)
American Truck Simulator
Anno 1800
Battlefield 1
Battlefield 4
Battlefield V
Borderlands 2
Call of Duty WWII
Counter-Strike: Global Offensive
Destiny 2
DiRT Rally 2.0
DOTA 2
Euro Truck Simulator 2
Fallout 4
Far Cry 5
FIFA 18
FIFA 19
Fortnite
Grand Theft Auto V
Hearthstone
League of Legends
Left 4 Dead 2
Overwatch
Paladins
Path of Exile
PLAYERUNKNOWNS BATTLEGROUNDS
Rocket League
The Sims 4
Smite
Tom Clancy's Rainbow Six Siege
Warframe
Witcher 3
World of Tanks
World of Warcraft