Intel Ice Lake CPUs Coming in June, Tiger Lake Arrives in 2020 and 7nm Coming 2021
By
Intels 2019 Investor Meeting took place yesterday and there were a ton of great announcements for PC enthusiasts. For starters, it was confirmed that Intel's first volume 10nm CPU, code-named Ice Lake, will begin shipping in June 2019 with systems on the shelf by the holiday season!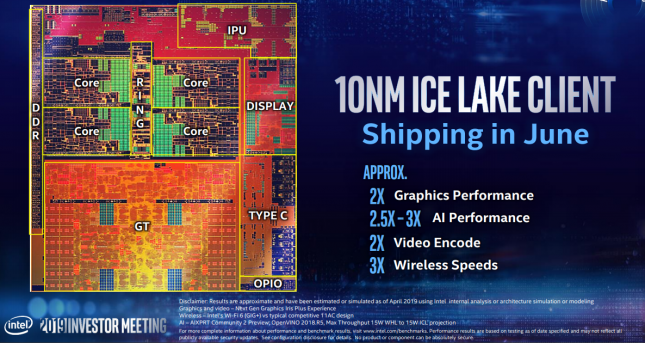 This next-generation CPU will bring the usual IPC gains, but also has new IP on it. For example the new Intel Gen 11 graphics engine delivers up to 2x more performance than what is currently being delivered for better gaming and 4K video playback. It also has triple the AI performance thanks to DL Boost and 3x faster wireless speeds thanks to WiFi6 (11AX) being integrated for the very first time.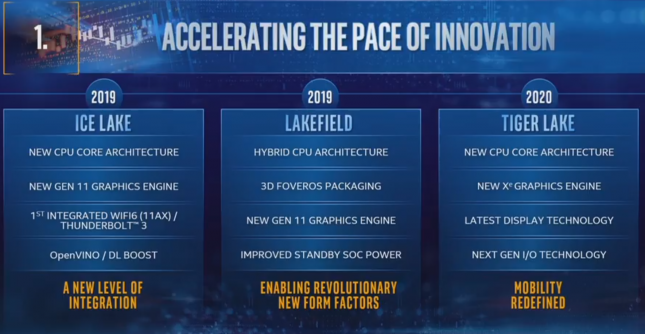 Intel also has a new Lakefield CPU product that will be in production by the end of the year. Lakefield features a hybrid CPU architecture with 3D Foveros packaging that has allowed Intel to develop the smallest motherboards they have ever made. Gregory Bryant, Intel Senior Vice President and GM of the Client Computing Group, held up one of the tiny 'PC like' motherboards in the palm of his hand to give everyone an idea of the size. Intel is working with their customers to come up with new form factors for exciting new single- and dual-screen products.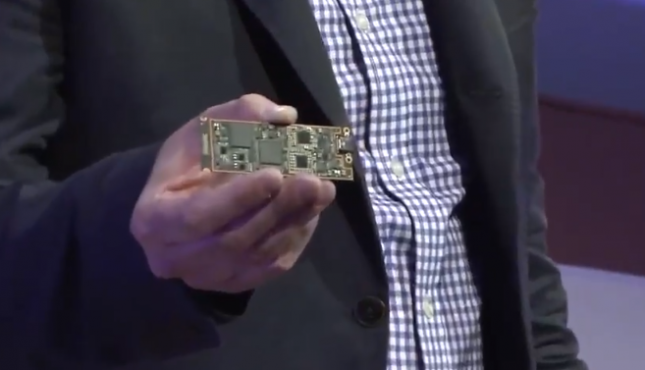 Lastly, Intel is now talking about Tiger Lake processors built using the 10nm+ manufacturing process that are due to come out in 2020. Intel plans on making advancements on every vector thanks to a new CPU core architecture along with the new Intel XE graphics engine. Intel already has Tiger Lake silicon back and has been able to boot Windows and Chrome in the test labs.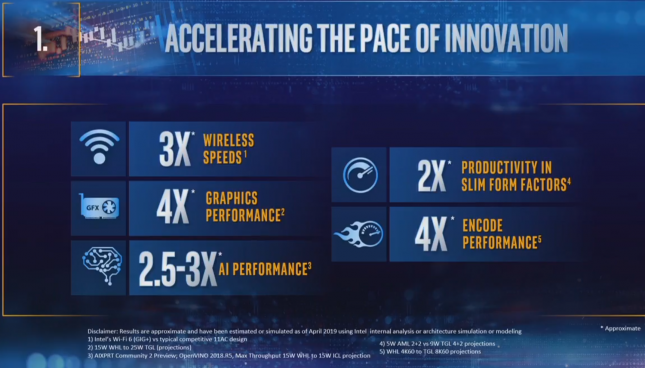 Intel is not talking about incremental performance gains of 5% or 20% with these new products. They are talking about massive performance gains from these new process and architectural improvements that will impact how users use PCs. Intel touted that end users will see approximately 3 times faster wireless speeds with Wi-Fi 6 (GIG+) versus 11AC, 4 times faster video encode speeds on 4K60 to 8K60 video, 2 times more productivity in slim form factors and 4x greater graphics performance (15W WHL to 25W TGL).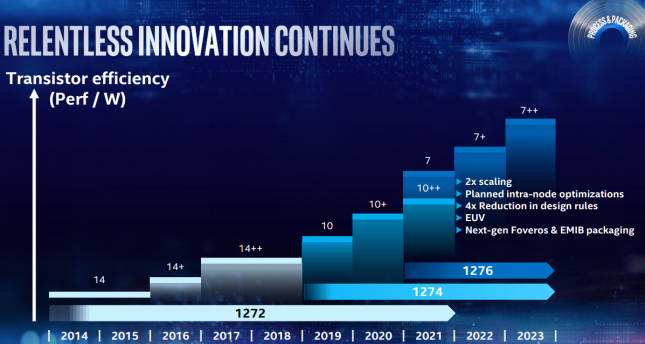 Another interesting bit of information came came from Dr. Murthy Renduchintala, Intel's chief engineering officer and group president of the Technology, Systems Architecture and Client Group. He shared a manufacturing process roadmap that shows Intel will begin transitioning from 10nm to 7nm in 2021. This is big news as it is the very first time that Intel has shared any details on the companys 7nm process technology. Renduchintala said that Intels 7nm process technology will deliver 2 times scaling and is expected to provide approximately 20 percent increase in performance per watt with a 4 times reduction in design rule complexity. The first Intel 7nm product is expected to be an Intel Xe architecture-based, general-purpose GPU in 2021. Intel's first discrete GPU is still on track to debut in 2020 as it is not being built on the 7nm process.
Intel's first discrete GPU coming in 2020: https://t.co/s9EPeFifBp pic.twitter.com/n5zmUY2Mc2

— Intel News (@intelnews) June 12, 2018
So, Intel had some major announcements during their annual investor meeting. The take away message here is that Intel 10nm CPUs will begin shipping in June 2019 and the first 7nm products will be coming in 2021. They also believe that the new 'Tiger Lake' 10+ nm CPU coming in 2020 will advance every major vector and redefine the mobile PC platform.
Good stuff and if you'd like to know more details or watch some of the Intel 2019 Investor Meeting you can do so here.