Intel Haswell-E Halo Platform Will Have 8-Cores, DDR4, X99 Chipset and More
By
The Intel 2014 enthusiast halo platform called Haswell-E is looking like it is going to some major changes when it debuts in the second half of 2014. This processor will bring the first 8 core desktop CPU for the first time and will have Hyper Threading and up to 20MB of L3 cache. The maximum TDP is say to be in the 130-140W range for these upcoming 22nm processors.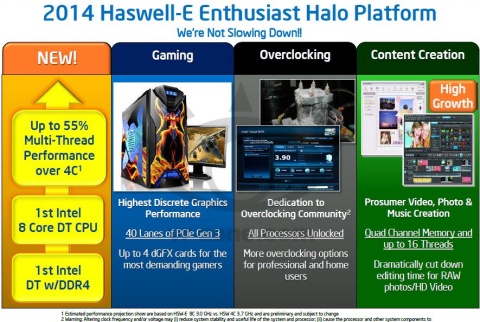 The Intel Haswell-E CPU and Intel X99 chipset will support 288-pin DDR4 quad-channel memory kits, which is great news as performance they use just 1.2V and get more done per clock cycle than current DDR3 modules.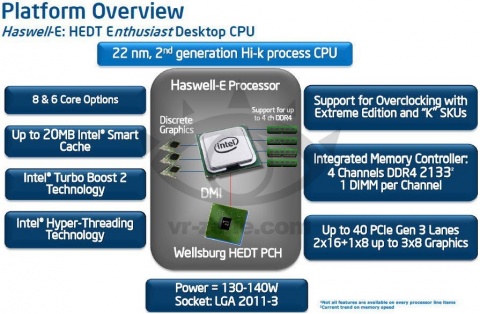 The Intel roadmap shows that these use the LGA 2011-3 socket, so it does look like a socket change will take place. The XY dimensions of the socket is the same (58.5×51.0mm), so we are hopeful that existing CPU coolers for the LGA 2011 socket will continue to work on LGA 2011-3. The processor keys have changed, so there is no way to use say an Ivy Bridge-E processor in a Haswell-E socket.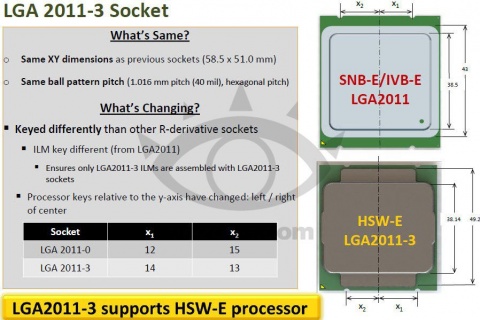 Lots of changes coming and they all look good!
With Haswell-E, Intel will introduce their new Wellsburg family of motherboard chipsets. The biggest new feature (and its really big) is the support for DDR4 RAM clocked up to 2133 MHz (of course, you can overclock and take it much further than that). The Wellsburg X-PCH will support a number of connectivity options:
Up to 6 x USB 3.0 ports

Up to 8 x USB 2.0 ports
Up to 10 x SATA 6 Gbps ports
Integrated Clock support
TDP of 6.5W