Intel DX79SI Motherboard Revealed – X79 Express Chipset
By
Intel DX79SI Motherboard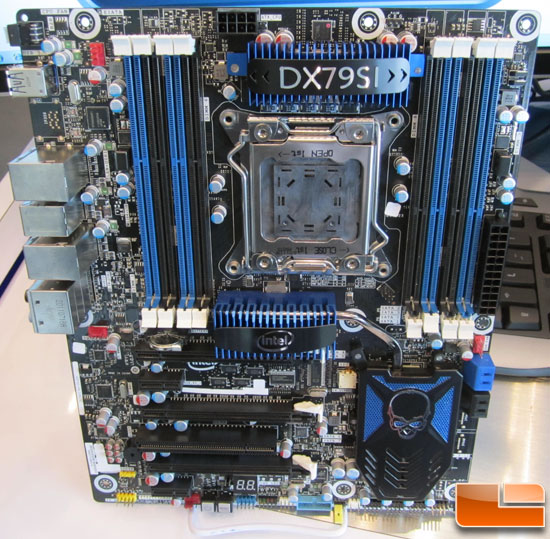 Intel is getting ready to launch SandyBridge-E processors and the company was showing off the Intel DX79SI desktop ATX motherboard at IDF 2011. The Intel X79 Express chipset is the successor to the X58 Express chipset that is more than due for an update. This means that the Intel X79 platform with the LGA2011 socket will become the flagship platform for Intel customers.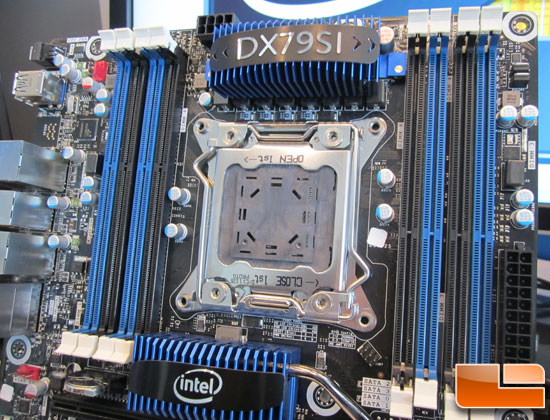 Intel will be supporting quad-channel memory on this platform and we you'll find not four, but eight DDR3 DIMM slots on this enthusiast motherboard. The LGA2011 socket has a backplate with threaded holes, so mounting most aftermarket CPU coolers should be a breeze as you shouldn't have to remove the socket or the backplate. Notice that the CPU socket is surround by passive heat sinks on two sides and then memory modules on the other sides. Running tall or large aftermarket CPU coolers might be an issue with this design, so it doesn't surprise us that Intel has announced the Intel RTS2011LC CPU Water Cooler as that solves the clearance issue.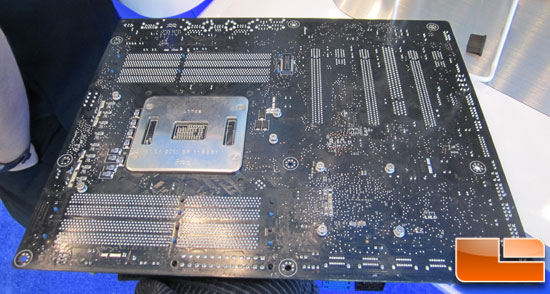 The back of the board is pretty bare, but we took the shot as we wanted to show you the CPU back plate that is part of the LGA2011 CPU socket.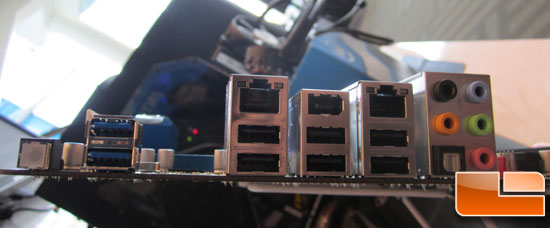 The Intel DX79SI rear I/O panel has a total of two SuperSpeed USB 3.0 ports on the I/O panel, six USB 2.0 ports, a Firewire port, five audio ports with an optical SPDIF output, two Intel Gigabit LAN ports and a clear CMOS switch.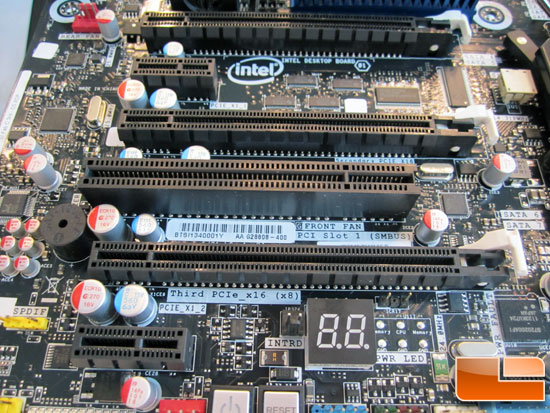 Intel is using three PCI Express x16 slots, two PCIe x1 slots and a legacy PCI slot on the DX79SI motherboard. Intel says that this board will support PCI Express 3.0, but since no devices are out using this interface they can't yet certify the board. From what we have been told all Intel X79 boards will be ready to support the PCIe 3.0 standard when the time arrives and video cards are released from AMD and NVIDIA.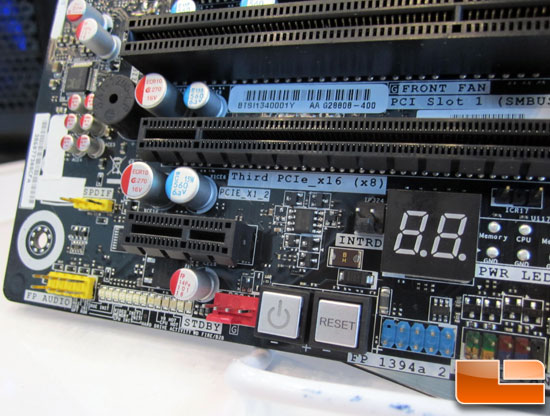 Intel didn't forget that this was an enthusiast board and included both power and reset buttons with the LED post indicator to help quickly diagnose any boot issues.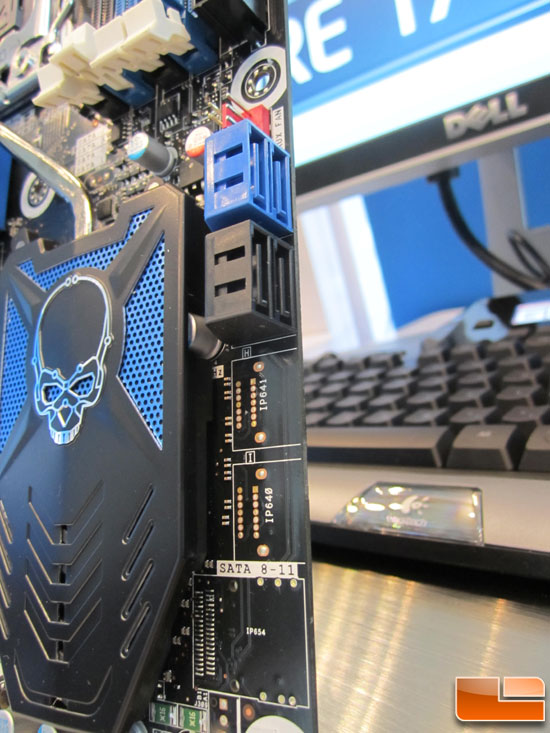 Intel was forced to remove SAS support from the X79 motherboard and that might explain why so many SATA/SAS ports aren't being used on this board. The Intel DX79SI features two SATA 3 6GBps ports and two SATA 2 3Gbps ports.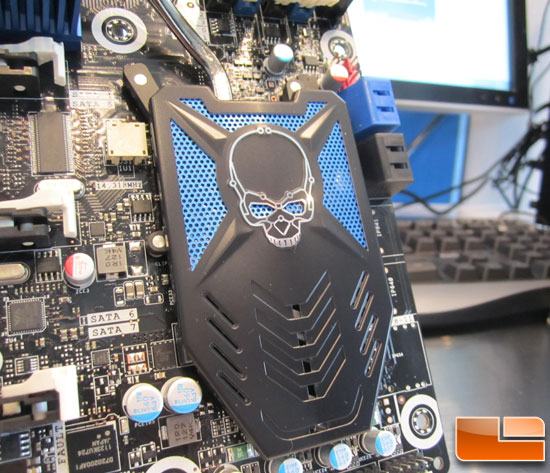 Intel had the skull head on their motherboards for the past several generation and it remains on the X79 platform as you can see in the image above.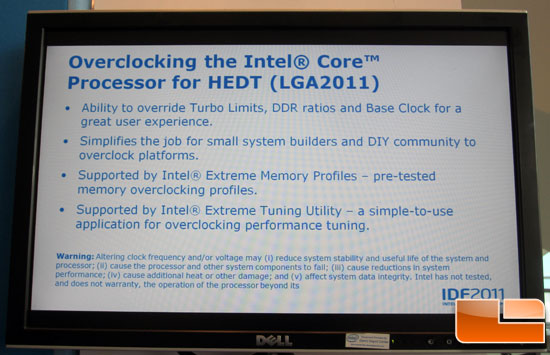 Intel also had a slide posted above this board that talks about overclocking LGA2011 for HEDT (High End Desktop) that shows Intel is paying attention to the needs of overclockers. It looks like Intel is pretty close to launching LGA2011 and Sandy Bridge-E processors! We've heard some buzz about 22nm Ivy Bridge processors here at IDF 2011, but those are still slated for the first half of 2012.
Stay tuned for more IDF 2011 coverage here on Legit Review!