Intel Dual Core: Multi-Tasking Benchmarking
By
Final Thoughts on Multi-Tasking
Test #7
Last but not least we wanted to load up the system with four applications involved in the test. First, we ripped the song Strong off our demo CD by the local ST. Louis band GreenWheel and placed it on our hard drive. We then converted it from a .WAV file to an .MP3 file using EZ CD Ripper. We timed how long it took to convert the song for the benchmark results. At the same time we ran one instance of folding, Norton 2004, and DVD Shrink encoding the movie Training Day.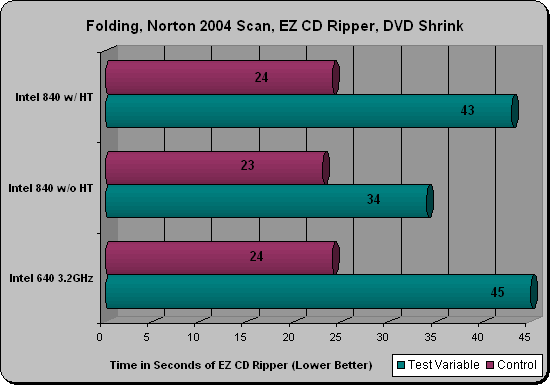 Results: Running our "control" test all processors were within one second of each other. The Intel 840 w/ HT enabled was able to beat out the Intel 640 by a couple of seconds. Again we see the Intel 840 with HT disabled fly by the competition and take the win by more than 11 seconds.
Nathan Kirsch's Thoughts:
After testing the Dual Core Intel 840 processor versus the equally clocked Single core Intel 640, it is clear that the dual core processors offer a significant performance improvement when multi-tasking. Dual core processors are the future of computing and to be honest it does make a noticeable difference when running multiple applications at the same time. Our thoughts on dual core were only increased after completing the benchmarks used on this article.
Intel at first is going to offer four threads on the Extreme Edition processors, while the Pentium D's are only going to offer a total of two. We were shocked to find that our Extreme Edition with HT disabled won every multi-tasking test we threw at it. Reader feedback after our initial dual core article questions the performance difference between having 2 and 4 threads, but from the software used in our testing the additional threads only hurt performance although less than a single core processor.
After looking at the above numbers, enthusiasts should be looking forward to the Intel Pentium D 2.8GHz processor as it will be entering the market under $250 US and with a multiplier of 14 it should be another fun processor for overclockers. Our 3.2GHz processor can hit over 4GHz, so it will be interesting to see what the other processors without HT abilities can do. Dual core is looking better every day and the days are counting down for the public can buy one! The Intel Pentium 840 Extreme Edition is still on track for being on shelves this month last we heard from Intel!