Intel Devil's Canyon and Anniversary Pentium Processor Pricing Appears Online
By
Intel's Devil Canyon and 20th Anniversary Edition Pentium have appeared at several online retailers that have already begun listing these processors. These processors are expected by many to be released at Computex 2014 next month. Bottom Line Telecommunications is the online retailer that has posted up pricing and specifics on each of the three upcoming processors that are supported by both Intel 8 and 9 series motherboards.
Intel Core i7-4790K: Base freq 4.0GHz, Turbo Boost freq 4.4GHz, 4 cores/8 threads, 8MB cache, TDP of 88W
Intel Core i5-4690K: Base freq 3.5GHz, Turbo Boost freq 3.9GHz, 4 cores/4 threads, 6MB cache, TDP of 88W
Intel Pentium G3258 20th Anniversary Processor: Base freq 3.2GHz, 2 cores/2 threads, 3MB cache, TDP of 53W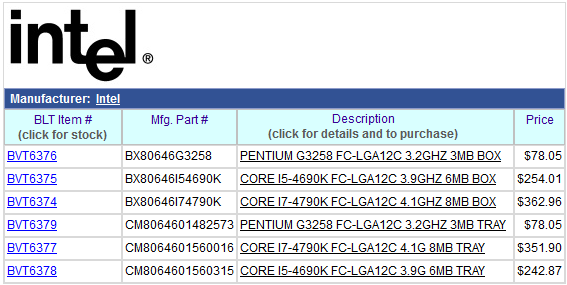 When it comes to pricing you are looking at around $75 for the Intel Pentium G3258 20th Anniversary Processor, which is an unlocked dual-core LGA1150 processor that has a base clock of 3.2GHz. The Intel Pentium G3258 uses the Haswell microarchitecture, so that CPU should be affordable to those that want to try overclocking without breaking the bank. The processor doesn't have HyperThreading, Turbo Boost, VTd virtualisation, AES or AVX instructions. Chinese site VR Zone has posted up a GPU-Z screenshot of the Intel Pentium G3258 20th Anniversary processor that can be seen below.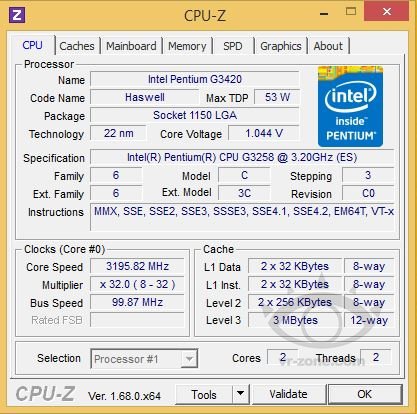 The Intel Core i7-4790K and Core i5-4690K make up the Devil's Canyon series of highly culled processors that were selected for their overclocking potential and use a different thermal interface material between the processor die and the integrated headspreader (IHS). The early rumors of Intel going back to soldered on lids was wrong, but Intel did improve the TIM being used. All Devil's Canyon processors are fully unlocked. The flagship Intel Core i7-4790K is a quad-core processor with HyperThreading. HD 4600 graphics, 8 MB of L3 cache, and clock speeds of 4.10GHz base and 4.40GHz Turbo. BLT has the Intel Core i7-4790K for around $350. For those looking to spend around $240 there is the Intel Core i5-4690K. The Core i5-4690K is also a quad-core processor, but it doesn't have HyperThreading, has lower clock speeds and less cache. The 6 MB of L3 cache and clock speeds of 3.50 GHz base and 3.90 GHz Turbo Boost will still be plenty for most gamers, overclockers and enthusiasts.
Expect to hear more about these processors in about a week and a half as that is when Computex kicks off!