Intel Desktop Processor and Chipset Roadmap Leaked For 2013 and 2014
By
A number of interesting slides have been posted online that are supposedly show the Intel desktop processor roadmap for the next year. If you are curious about the Haswell refresh that appears to be happening in Q2 2014, the upcoming Intel Z97 chipset or some of the new processors that are coming out, this is a must read!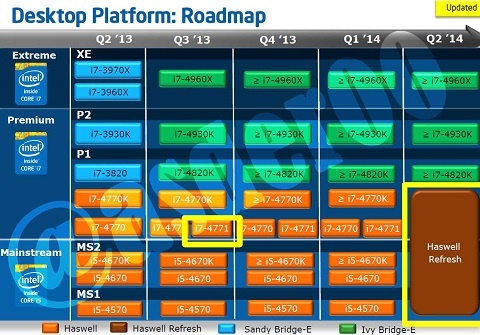 At first glance it doesn't look like Intel has too much going on when it comes to desktop processors, but take a closer look. Intel will be busy launching the next generation of Core i7 Extreme processors (Ivy Bridge-E) in Q3 2013. This is good news for Intel LGA2011 fans as they will be able to upgrade to the Intel Core i7-4820K, i7-4930K and i7-4960X. Also in Q3 2014, the just released 4th Generation Intel Core 'Haswell' line of processors will see the addition of the Core i7-4771. We have no idea what this could be, but could it be an LGA1150 processor with Intel Iris Pro graphics? We can only hope! It also looks like Intel will have a speed bump on the Intel Core i7-4770K in Q3 2013!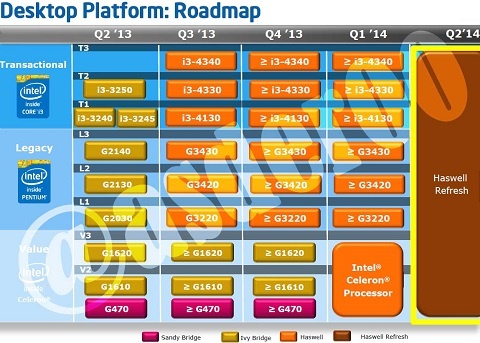 The mainstream Intel processors are also going to get a refresh with the introduction of the Core i3-4130, i3-4330 and i3-4340. The first two CPUs are going to replace recently launched Core i3-3240 and i3-3240/i3-3245 and the top tier Intel Core i3-4340 is in a whole new class. It also appears in Q3 1023 that the Intel Pentium G2030, G2130 and G2140, all based on Ivy Bridge architecture, will be updated to the Pentium G3220, G3420 and G3430 processors with Haswell architecture. Intel will be refreshing the entire mainstream processor lineup in Q2 2014 with the Haswell refresh.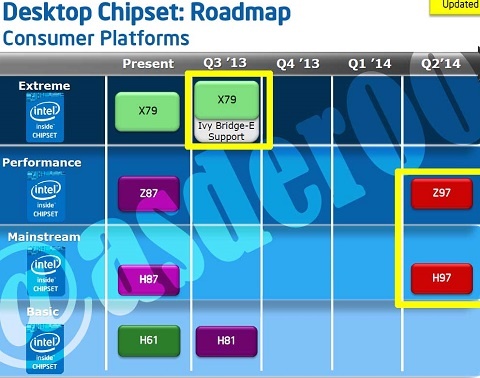 The desktop chipset roadmap shows that the Intel Z87 and H87 chipsets will be the latest and greatest chipset available until Q2 2014. It appears that when the Haswell refresh happens in Q2 2014, that Intel will simultaneously launch the Z97 and H97 chipsets to coincide with the refresh. The mainstream Intel H61 chipset will be replaced in Q3 2013 by the Intel H81 chipset to coincide with the launch of the new processors. Who said desktop PCs are dead? Looks like they have plenty of life left in them!