Intel Core M 5Y70 Broadwell-Y Benchmark Numbers Run At IDF 2014
By
Intel has officially revealed the Core M processors, the first fifth-generation Core processors that use the 'Broadwell-Y' microarchitecture. We've told you about Broadwell-Y before, but we've never been allowed to see detailed performance numbers, let alone run benchmarks ourselves on the reference platform. That all changed today when we were able to run benchmarks on the Llama Mountain reference tablet that was powered by the Intel Core M-5Y70 Broadwell-Y Processor!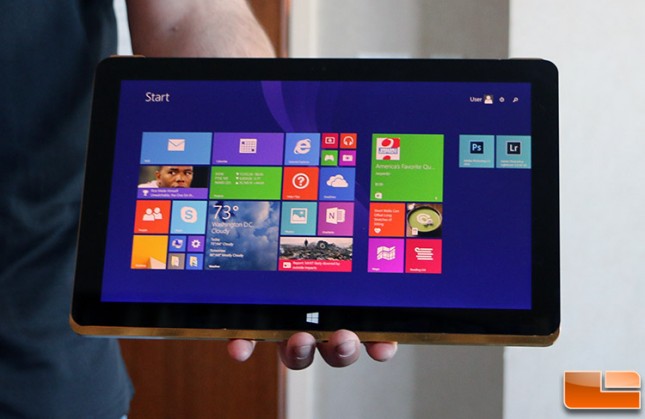 Llama Mountain is what Intel calls the Core M reference design tablet and we got a chance today to spend some time with the 7.2mm thick tablet that weighs in at 670 grams Intel will be offering three Core M series processors when they are launched October of this year: The Intel Core M-5Y10, the 5Y10a, both clocked at up to 2GHz and the vPro enabled M-5Y70, clocked at up to 2.6GHz that is aimed at business users. All of the processors are dual-core processors with Intel Hyper-Threading.
The Llama Mountain tablet that we got to hold in our hands and run benchmarks on was using the Intel Core M 5Y70 dual-core processor with Intel Hyper-Threading technology. Since this is an Intel reference tablet and not a pre-production retail channel product we'll be showing you several benchmark results that we ran on the tablet and let you draw your own conclusions from them.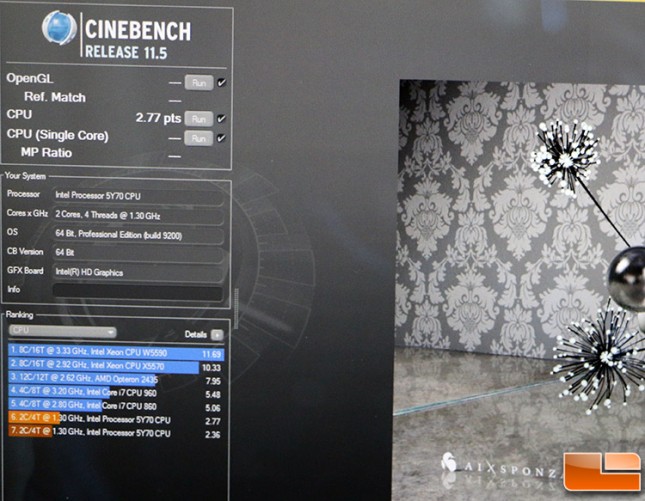 First up we have the Cinebench R11.5 multi-threaded benchmark where we scored 2.77 in the multi-threaded CPU benchmark. The shot we later ran of the OpenGL test was out of focus, but we found the Intel HD Graphics 5300 was able to turn in a score of just under 17 Frames Per Second (FPS).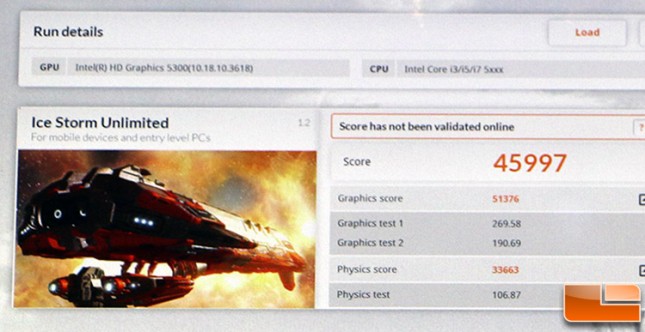 Next up we have Futuremark 3DMark and the basic Ice Storm Unlimited test that is aimed at mobile devices and entry level computers. The Broadwell powered tablet was able to score tablets score of 45,997 overall as shown above. The FPS in Graphics Test 1 were 269.58 FPS and 190.69 in Graphics Test 2. It looks like this tablet is too fast for the Ice Storm Benchmark, so let's move up to Cloud Gate and see what the Intel HD Graphics 5300 can really do!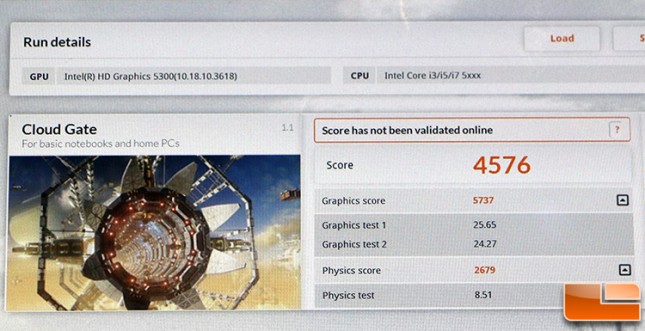 In 3DMark Cloud Gate we found the overall score of the reference tablet to be 4,576 points, which is better than Windows-based tablet that we have ever benchmarked. Intel said that they are about two times faster on gaming and three times faster on most of the other applications than the Qualcomm Snapdragon 801 or 805 processors. Intel also noted that the 14nm Core M processors will offer 50% more CPU performance as well as 40% faster graphics performance when compared to last year's Intel Core i5-4302Y. Intel feels strongly that they have ARM, AMD and Qualcomm beat for raw processor performance.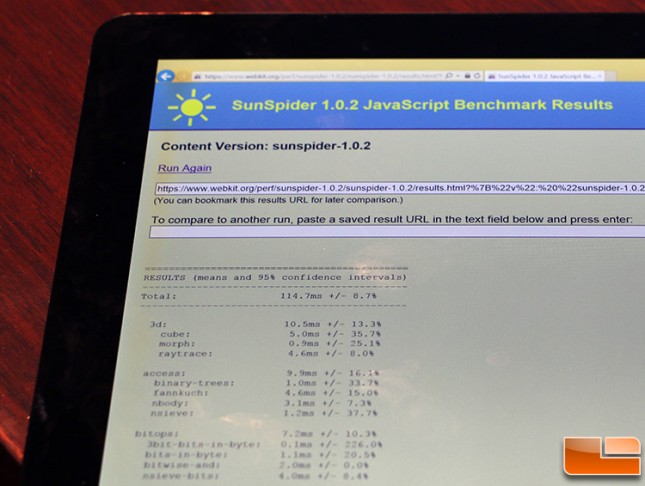 In the SunSpider v1.0.2 JavaScript benchmark we got a score of 114.7ns with Internet Explorer on the Windows 8.1 powered tablet. This score is wicked fast and better than many desktop computers!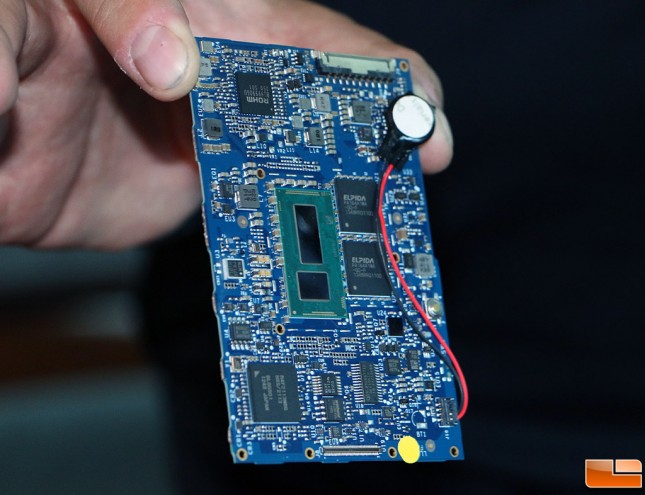 During our time with Intel running the benchmarks we were shown the Llama Mountain reference board that powers the tablet. The PCB is surprisingly small! We were once told that this was smallest fully functional motherboard in the world, but we aren't sure if that is still true as we were told that several months ago. It should be noted that at the edge of the board there is a connector for a daughterboard that holds the NAND Flash used for storage and the wireless solution. We were shown that card today, so we just have an image of this card for you today.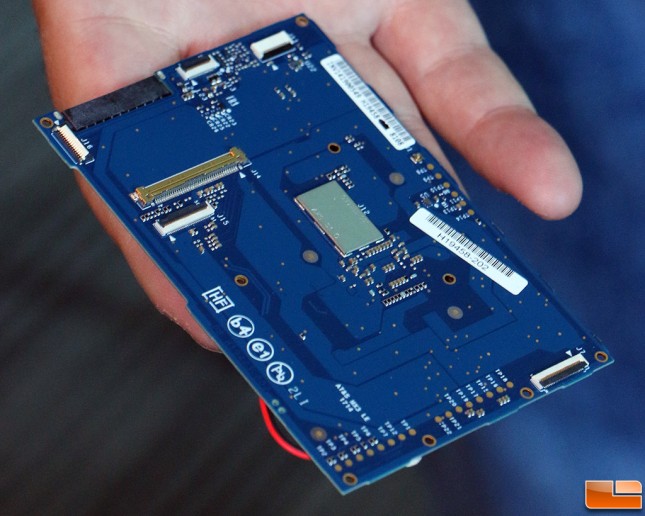 The Llama mountain reference board is considered to be a single-sided board, but you can see some ribbon connectors on the reverse and a small PCB right under the SoC. The Core M processors use Intel's 2nd Generation Fully-Integrated Voltage Regulator (FIVR) technology with 3DL for increased power delivery efficiency and performance. The FIVR design requires external inductors to be placed on the bottom of the package and the height of the inductors was keeping Intel from going as thin as they wanted. Intel engineers and architects came up with something called the 3DL PCB. It is basically an external PCB for the inductors that mounts below the SoC and in a cutout in the board that the SoC is being attached to. This cuts the z-height of the Intel Core M (Broadwell-Y) SoC by almost half of what it was on Haswell-Y. This design was a major breakthrough when it came to thickness.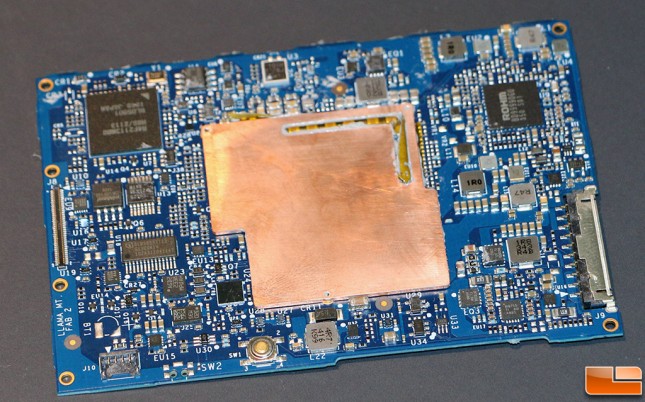 This is a look at a the Llama Mountain board with the copper heatsink it uses to help dissipate heat away from the SoC and the low power DDR3 memory ICs. This copper plate makes direct contact with the aluminum housing of the tablet, so essentially the table housing itself is one gigantic heatsink.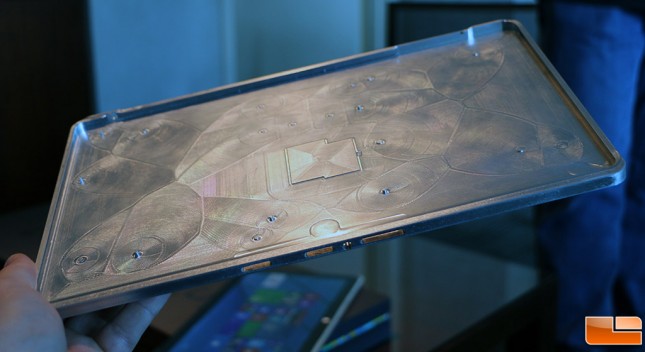 Here is a look at the inside of an aluminum cover that we were shown for Llama Mountain and you can see in the middle where the SoC heatsink makes contact with the tablet housing. The end result is a fanless tablet thanks to the 4.5W TDP that can last for up to 9 hours while doing normal computing tasks with a 34Wh battery.
Is it October yet?
We can't wait to see how the retail production models look and are very interested in seeing what price points this will come to market at. Hopefully we'll be able to get one in October and run a full suite of performance tests on it!