Intel Core i9-9900KS Coming This Week for $513
By
Intel Core i9-9900K Special Edition
Intel today announced more juicy details on the upcoming 9th Gen Intel Core i9-9900KS Special Edition processor that they are calling the new Worlds best gaming processor. For starters the 9900KS Special Edition 8-core, 16-thread processor with a 5.0 GHz all-core turbo frequency will be available to purchase starting October 30th, 2019 for $513.
From what we have been told, the Intel Core i9-9900KS special edition processor will only be available for a limited time only. Legit Reviews asked Intel about how many they have made and how long they think they will be on the market for and Intel declined to answer. From what we gather this is a VERY limited part and a testament to that is the fact that it it only comes with a 1-year warranty. For boxed processors, Intel typically offers a 3-year limited warranty.
Intel Core i9-9900KS Key Features and Capabilities:
Up to 5.0 GHz all-core turbo frequency; up to 4.0 GHz base frequency, which allow games to run faster when they scale across more cores for higher frame rates
Eight cores, 16 threads, 127W TDP, 16 MB Intel Smart Cache, and up to 40 platform PCIe lanes
Compatible with existing Z390 motherboards
Up to 27% faster mega tasking when you simultaneously game, stream and record compared with a 3-year-old PC
Up to 35% more frames per second compared with a 3-year-old PC
Up to 17% faster 4K video editing compared with the previous generation and up to 78% faster compared with a 3-year-old PC
One-year warranty
Overclock confidently with new and enhanced features like Intel Performance Maximizer, which makes it easy to dynamically and reliably custom-tune the unlocked processor based on the processors individual performance DNA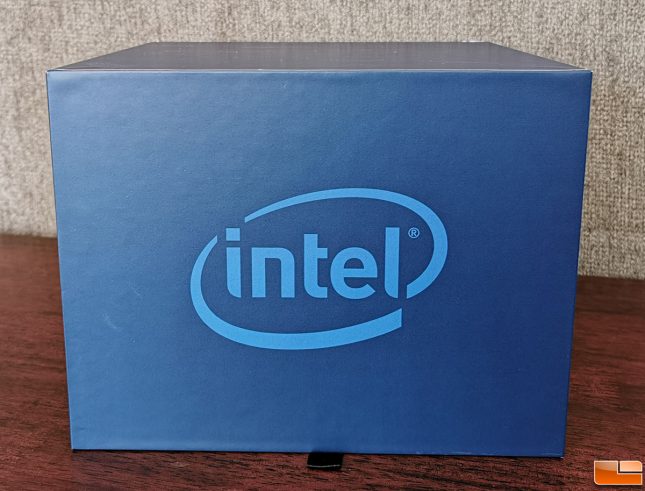 Legit Reviews does have an Intel Core i9-9900KS processor for benchmarking and testing and it showed up in the box above.
When we opened up the box, we found the Intel Core i9-9900KS processor resting in a foam cutout in the same packaging as retail 9900K processors come in.
Intel Core i9-9900K
The brand new Intel Core i9-9900KS is a fully unlocked 8-core, 16-thread chip with up to a 4.0 GHz base frequency and a 5.0 GHz all-core turbo clock. This CPU has 16 MB of Intel Smart Cache, support for up to 40 platform PCIe lanes and a 127W TDP rating.
The Intel Core i9-9900K that was launched in Q4 2018 has a base clock of up to 3.6 GHz and up to a 5.0 GHz turbo clock with a 95W TDP rating. Both processors are using Intel's integrated UHD Graphics 630 engine that can boost up to 1.2 GHz and have support for up to 128GB of dual-channel memory at DDR4-2666.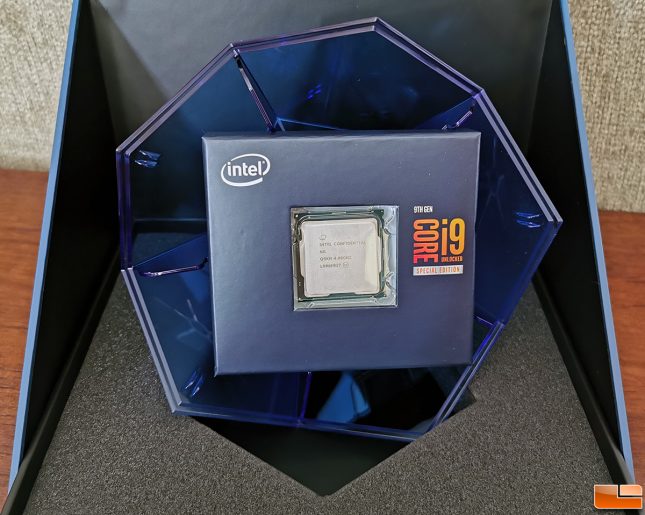 At the Recommended Customer Price (RCP) of $513, the 9900KS Special Edition is priced $28 higher than the 9th Gen Intel Core i9-9900K processor that it is based on. That isn't a big price mark-up for a chip that is more than likely better at gaming and overclocking. Last year, the Intel Core i7-8086K sold for $75 more than the Core i7-8700K that it superseded.
So, for a higher-quality bin than the 9900K and possible collectors appeal for a limited-edition piece of history has the markup actually feeling reasonable for once.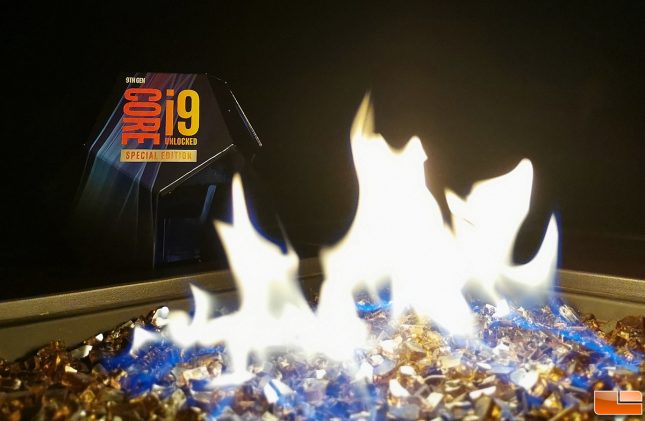 Legit Reviews will have a review up on the 8C/16T Core i9-9900K on October 30th as all we are able to show you today is processor packaging! The exact time they will become available to purchase is on 10/30 at 6am PT.
| | | |
| --- | --- | --- |
| Product | Core i9-9900KS | Core i9-9900K |
| Socket | LGA 1151v2 | LGA 1151v2 |
| TDP | 127W | 95W |
| Architecture | Coffee Lake R | Coffee Lake R |
| Process | 14nm++ | 14nm++ |
| Cores/Threads | 8 / 16 | 8 / 16 |
| Frequency Base / Boost | 4.0 / 5.0 GHz | 3.6 / 5.0 GHz |
| Memory Speed | DDR4-2666 | DDR4-2666 |
| Memory Controller | Dual-Channel | Dual-Channel |
| Cache (L2+L3) | 16MB | 16MB |
| Integrated Graphics | UHD Graphics 630 (up to 1200 MHz) | UHD Graphics 630 (up to 1200 MHz) |
| PCIe Lanes | x16 Gen3 | x16 Gen3 |
| Price (RCP) | $513 | $489 |