Intel Core i7-3960X Sandy Bridge-E Processor Review
By
Intel Sandy Bridge-E LGA 2011 CPUs Arrive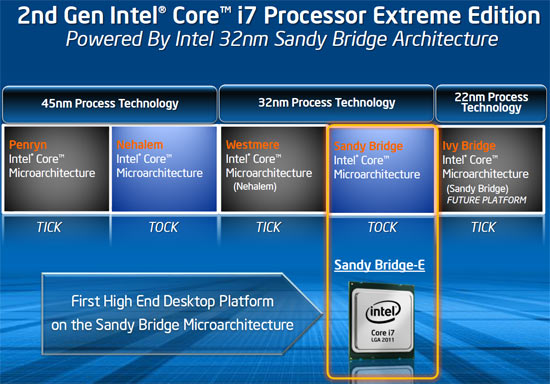 The 2nd generation Intel Core i7 3000 series of processors are the first high end desktop platform CPUs that have been designed with the Sandy Bridge 32nm microarchitecture. Intel code named these 32nm processors 'Sandy Bridge-E' and we are guessing that the "E" stands for extreme. The transition to Sandy Bridge-E for the high end platform means that the LGA1366 with the Intel X58 Express chipset and Bloomfield/Gulftown processors have finally been put out to pasture. Intel announced the LGA1366 platform back in November 2008, so this is the first platform change for enthusiast users in over three years!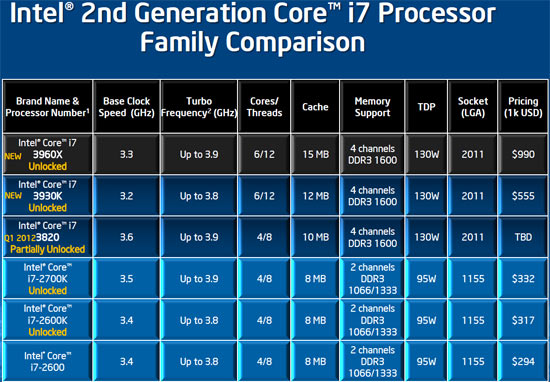 With the introduction of the LGA2011 socket comes new processors and today Intel announced the Core i7-3960X, Core i7-3930K and the Core i7-3820. The bad news is that only the Core i7-3960X and the Core i7-3930K are available for purchase today at $990 and $555, respectively. This means that if you wanted to upgrade your system to one of these new processors it isn't going to be cheap as the entry level processor is $555 and entry level Intel LGA2011 motherboards are right around the $300 mark. Those on a budget do have a light at the end of the tunnel, though, as the Intel Core i7-3820 will be released in early Q1 2012 for right around $290. This is going to be a high-volume part number and looks to take the place of the Intel Core i7-920 that Intel originally launched for the LGA1366 platform.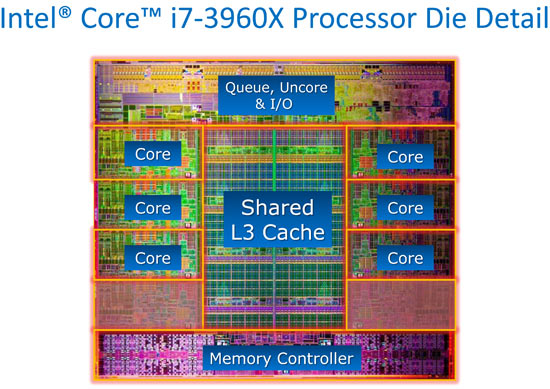 The Intel Core i7 Sandy Bridge-E core is built on the 32nm manufacturing processor and has a total transistor count of 2.27 Billion on a die that is just 20.8 by 20.9 mm square. The Core i7-3960X has 15MB of cache that is shared across all six cores. With a base clock of 3.3GHz and a top end Turbo clock speed of 3.9GHz, we are shocked that it has a TDP of just 130W!
Intel Sandy Bridge-E Processor Feature Details:
Up to 6 Execution Cores
Each core supports two threads (Intel Hyper-Threading Technology) for up to
12 threads
A 32-KB instruction and 32-KB data first-level cache (L1) for each core
A 256-KB shared instruction/data mid-level (L2) cache for each core
Up to 15 MB last level cache (LLC): up to 2.5 MB per core instruction/data last level cache (LLC), shared among all cores
Intel Sandy Bridge-E Supported Technologies:
Intel Virtualization Technology (Intel VT)
Intel Virtualization Technology for Directed I/O (Intel VT-d)
Intel Virtualization Technology Intel Core i7 processor family for the LGA-2011
socket Extensions
Intel 64 Architecture
Intel Streaming SIMD Extensions 4.1 (Intel SSE4.1)
Intel Streaming SIMD Extensions 4.2 (Intel SSE4.2)
Intel Advanced Vector Extensions (Intel AVX)
Intel Hyper-Threading Technology
Execute Disable Bit
Intel Turbo Boost Technology
Enhanced Intel SpeedStep Technology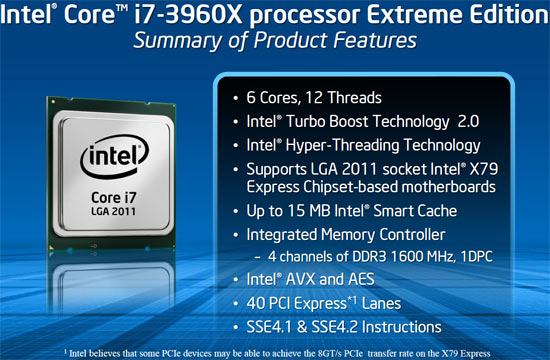 The processor that Intel sent to us to test is the Intel Core i7-3960X which is the flagship processor and the Extreme Edition part. This processor has 6 cores and Intel Hyper-Threading technology, so it has 12 threads! It runs with a base clock of 3.3GHz, but can reach 3.9GHz when in Turbo mode!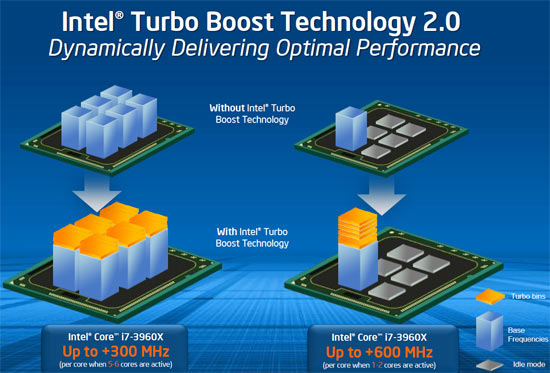 Speaking of turbo mode, the Intel Core i7-3960X runs 600MHz above its rated 3300MHz base clock if 1-2 cores are active! If the CPU has 5-6 cores under load it will run up to 300MHz above the base clock for improved performance.

The Intel socket LGA2011 processors are fairly large and you really have to see one in person to understand how large this new processor really is. We tried to put the size of the new processor and socket into perspective by placing it next to an Intel LGA1366 'Gulftown' processor and an LGA1155 ' Sandy Bridge' processor.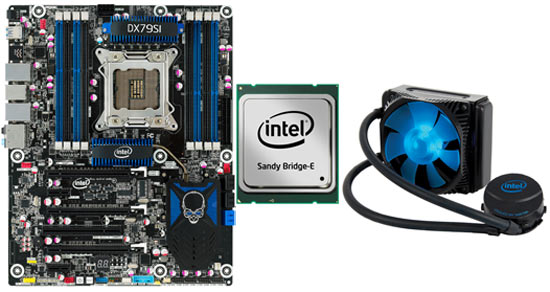 Intel also launched the DX79SI 'Siler' motherboard and the RTS2011LC sealed liquid cooling thermal solution today. We'll be using the DX79SI motherboard for today's test system and we'll also be taking a brief peek at the Intel RTS2011LC water cooler. We will have in-depth reviews on both of those products at a later date, but we wanted to at least include a preview on them in our launch day article!