Intel Core i3-2120 3.3GHz Sandy Bridge Processor Review
By
Intel Core i3-2120 CPU – BX80623I32120
Last week when we reviewed the AMD A-Series Llano A8-3850 APU we had a bunch of readers wanting to see performance compared to more Intel Sandy Bridge processors. One of the processors that we were asked about was the Intel Core i3-2120, which retails for $149.68 and is one of the most popular budget-minded processors in the Intel arsenal today. We heard you and have gotten our hands on a retail boxed Intel Core i3-2120 processor to see how it performs against the Intel Core i3-2105, Core i7-2600k and the AMD A8-3850 APU. Before we jump into the benchmarks and testing we should at least show you the basic features of this processor and what comes with the retail boxed version.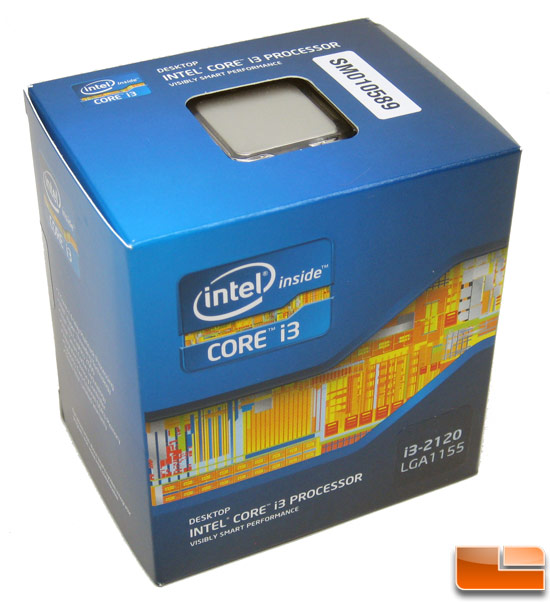 The Intel Core i3-2120 is based on the 32nm 'Sandy Bridge' architecture and is a 3.3GHz dual-core processor with Hyper-Threading. The CPU does have a GPU on it and that would be the Intel HD Graphics 2000, which runs between 850MHz and 1100MHz thanks to a dynamic clock cycle. The multiplier is locked on the Core i3-2120 processor as it is not part of the 'K-series' of processors that are aimed at enthusiasts with unlocked multipliers.
Intel Core i3-2120 CPU Specifications:
Model #: BX80623I32120
S-spec: SR05Y
Launch Date: Q1'11
Processor Number: i3-2120
Supported Socket: LGA1155
# of Cores: 2
# of Threads: 4
Clock Speed: 3.3 GHz
Intel Smart Cache: 3 MB
Bus/Core Ratio: 33
Instruction Set: 64-bit
Instruction Set Extensions: SSE4.1/4.2, AVX
Turbo Core: No
Hyper-Threading Technology: Yes
Lithography: 32 nm
Processor Graphics: Intel HD Graphics 2000
Graphics Base Frequency: 850MHz
Graphics Max Dynamic Frequency: 1100MHz
Max TDP: 65 W
Recommended Channel Price: $138.00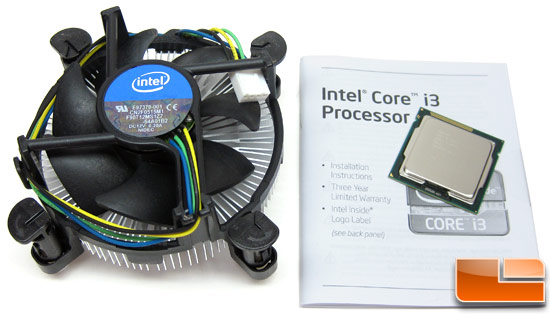 Since our review sample it the retail box Core i3-2120 (part number BX80623I32120) the processor comes with a CPU cooler along with a three year limited warranty. If you buy a tray processor you do not get the Heatsink Fan combo or the longer warranty.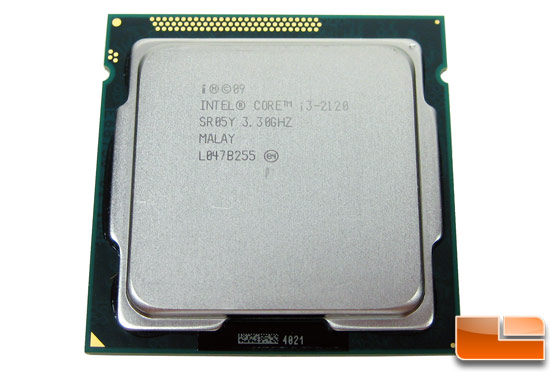 As you can see this Intel Core i3-2120 is not an Engineering Sample processor and batch number of L047B255. You can also see the S-Spec number SR05Y on the integrated heat spreader (IHS) and that it was made in the country of Malaysia.

The Intel Core i3-2120 processor is designed for LGA1155 platforms and has a slightly different arrangement of resistors on the bottom of the processor compared to some of the other Sandy Bridge processors since some use Intel HD Graphics 2000 and others use Intel HD Graphics 3000 graphics. In the image above you can see the difference between the Intel Core i3-2120 with Intel HD Graphics 2000 and the Intel Core i3-2105 and Core i7-2600K that use Intel HD Graphics 3000. If you want to use Intel Processor Graphics (PG) of the CPU you need to use a motherboard with the H67, or Z68 chipset that has video outputs and not the P67 based motherboards that don't support PG.