Intel Confims Mobile Focus Shift at IDF 2013 Keynote
By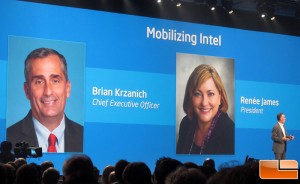 Intel CEO Brian Krzanich's kicked off the opening day keynote at the Intel Developer Forum this morning. This is his first year at the helm of the chip giant and his first major task is take Intel into the mobile sector to compete with competitors like ARM, Apple and Qualcomm. Certainly this will be no easy task, but Krzanich has been in the industry for over 30 years and plans on making Intel a mobility winner.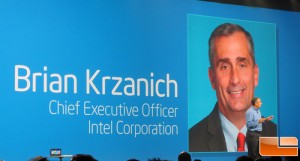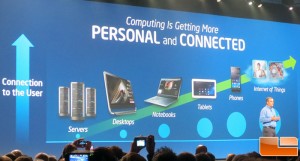 The opening day keynote started off talking about how computing is getting more personal and connected. There has been a shift from the CPU based architecture to the SOC architecture. Integration is driving system-centric solutions and Intel is confident that this is one of their strengths and that they can win on a system-centric environment. Intel exited the desktop motherboard market earlier this year and it is crystal clear that the company is headed in the mobile direction. Intel will soon be releasing a new Atom processor called 'Baytrail' that they hope will be a winner in the tablet market.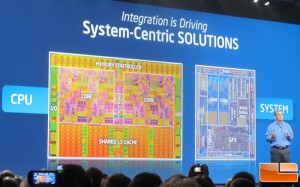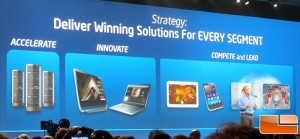 Intels plan is to lead in every segment of computing and not just focus in one area. Intel was a bit slow to embrace the mobile market, so it appears that Krzanich doesn't want that to happen while he is leading the company. This means that everything that is on the market now and emerging tech areas like wearable devices and the internet of things will be a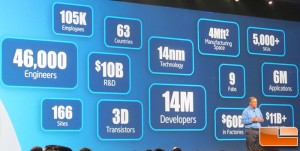 Krazanich believes that there is more innovation in the PC than ever before. The battery, the form factor and the capabilities are stronger than before. Today you have to build what people want and that is what Intel is doing.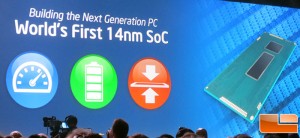 Intel also announced that 14nm is a reality and it is coming to a PC near you in 2014. They also showed off for the first time in public, a working 14nm SoC notebook!

They then moved right along to 2-in-1 or convertible PCs that are very popular right now. Intel will have over 60 2-in-1 devices on the market by the end of the year and with prices that start at $400.
Krzanich said that Intel this week will introduce "Bay Trail," Intel's first 22nm system-on-a-chip (SoC) for mobile devices. "Bay Trail" is based on the company's new low-power, high-performance Silvermont microarchitecture, which will power a range of innovative Android* and Windows* designs, most notably tablets and 2 in 1 devices.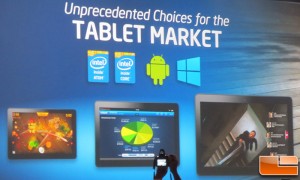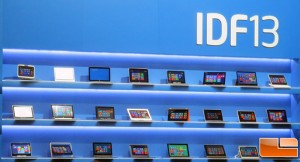 What about tablets? Intel is has tablets in the market already and customers can use both Windows and Android. Intel also announced that they will have Intel powered tablets coming this holiday that are under $100. No specifics were given as to the hardware specifics or brand names, but they are coming to market.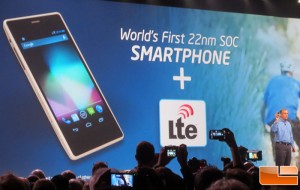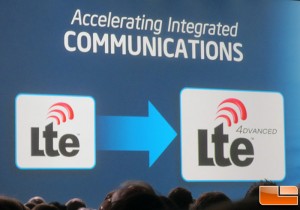 Intel then showed off the Worlds first 22nm SOC smartphone that has LTE. Intel is now shipping a multimode chip, the Intel XMM 7160 modem, which is one of the world's smallest and lowest-power multimode-multiband solutions for global LTE roaming. Intel has been behind in the smartphone market because they never had an LTE offering, so this is a big deal. Intel plans to continue accelerating their penetration in the mobile market and is already working on LTE Advance. The Intel XMM 7260 modem, is the LTE Advanced modem that is now under development. Krzanich showed the carrier aggregation feature of the Intel XMM 7260 modem successfully doubling throughput speeds during his keynote presentation.
He also demonstrated a smartphone platform featuring both the Intel XMM 7160 LTE solution and Intel's next-generation Intel Atom SoC for 2014 smartphones and tablets codenamed "Merrifield." Based on the Silvermont microarchitecture, "Merrifield" will deliver increased performance, power-efficiency and battery life over Intel's current-generation offering.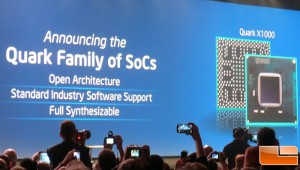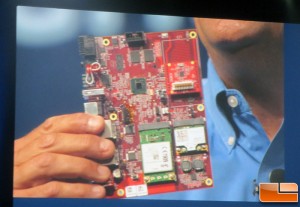 Intel announced the Quark family of SoCs today which are 1/5 the size of Atom and an impressive 1/10th the power! Intel Quark X1000 is the demo CPU. This is the open architecture that Intel hopes developers will use to create wearable designs and Intel has already begun making reference designs for such items. Quark is below Atom in terms of performance, but it is designed for the internet of things. It has an open software ecosystem and Intel hopes that developers will embrace the configurability and the Intel Quark product line. Quark can be made outside of the Intel fabs, but Intel wants to keep it in their fabs at the beginning.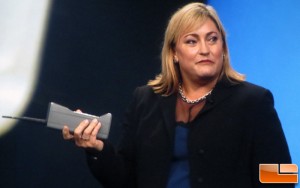 Intel President Rene James was up next and talked about how far we have come over the years.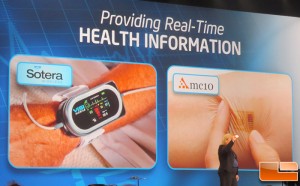 She highlighted smart cities and customized healthcare as examples of potential applications for technology that can turn computing theories into life-changing realities.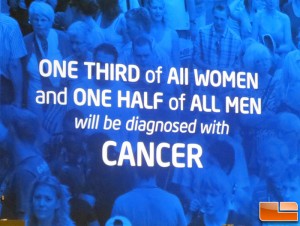 "For the first time in modern medicine, the computing and technology side of health care is as important as the biological side," James said. "The more computing power we can deliver at a feasible price point, the more lives are saved." Many people alive today will have to face cancer and Intel is helping create devices that will help doctors and ultimately us.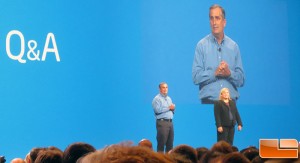 The pair then wrapped up the 60 minute keynote with a 30 minute Q&A period were the audience was allowed to ask any question that they wanted.