Intel Coffee Lake Stock Situation Looks Very Poor
By
Intel might have launched their Ryzen CPU killer today, but good luck finding the processor you want at your favorite retailer. If you get lucky and find a model in stock you will likely feel sucker punched when you see the price. It appears there is a shortage of parts and they went out of stock pretty much immediately.
One of our writers went to the St. Louis Microcenter store this morning when they opened and they discovered that they didn't have any Intel Core i7-8700K processors to sell today. They had one Intel Core i5-8600K and some Intel Core i5-8400 models and that was it. The prices of the four models that they have for sale are just slightly inflated.
Intel Core i7-8700K 6-core = $499.99 retail price ($359 tray price)
Intel Core i7-8700 6-core = $429.99 retail price ($303 tray price)
Intel Core i5-8600K 6-core = $349.99 retail price ($257 tray price)
Intel Core i5-8400 6-core = $249.99 retail price ($182 tray price)
Microcenter is asking $499.99 for the Intel Core i7-8700K and for as impressive of a chip that it is, we wouldn't advise paying a $140 premium to get it. The Intel Core i5-8400 feels like a good value for a 6-core processor at $182, but not so much at $250.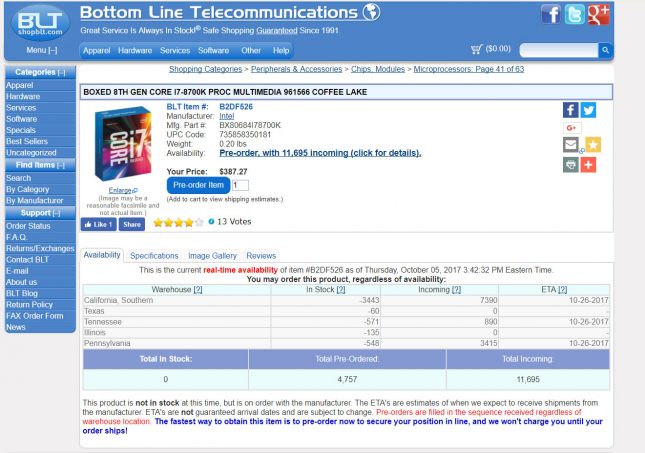 ShopBLT shows that nearly 4,800 Intel Core i7-8700K processors have been pre-ordered and the ETA for incoming units is 10/26/2017. They have 11,695 processors coming on that date, but that is 3 weeks away from today! Who wants to wait 3 weeks! The good news is that Bottom Line Telecommunications is only asking $387.27 for the Core i7-8700K, which is way better than the $499.99 that Microcenter is asking.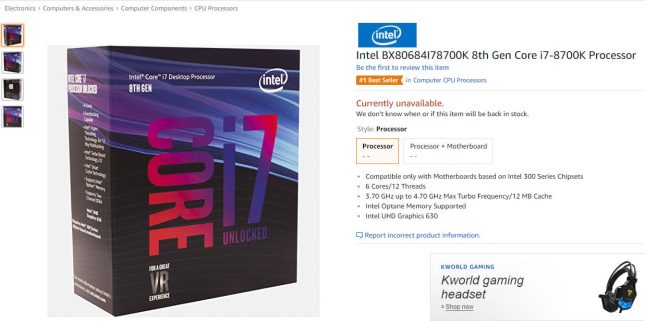 Amazon usually always stock of Intel processors on launch day, but the 8700K product page has nothing available for purchase and doesn't show when they'll come back in stock. That hasn't stopped Amazon from listing it as the #1 best seller though! Ssome sites are reporting that they only had 15 available for purchase this morning. If true that shows how low the levels of stock are. Many are happy to get a Coffee Lake processor, but are now left wondering if Intel moved up the launch to just put pressure on AMD. Coffee Lake retail boxed processors certainly aren't plentiful, so if you can find one at a decent price you might want to snag it!