Intel Coffee Lake H-Series Processor GeekBench Benchmark Appears
By
The upcoming Intel Coffee Lake H 6C/12T mobile processors are going to take laptops to the next level when it comes to performance and today we get to see what Intel is sitting on. An unknown 45W H-series mobile processor that is clocked a 2.60 GHz was benchmarked on Geekbench 3.4.1 for Windows x86 (32-bit) and scored 4,013 points on the single-core test and 19,129 points on the multi-core test.
The full processor details can be found here.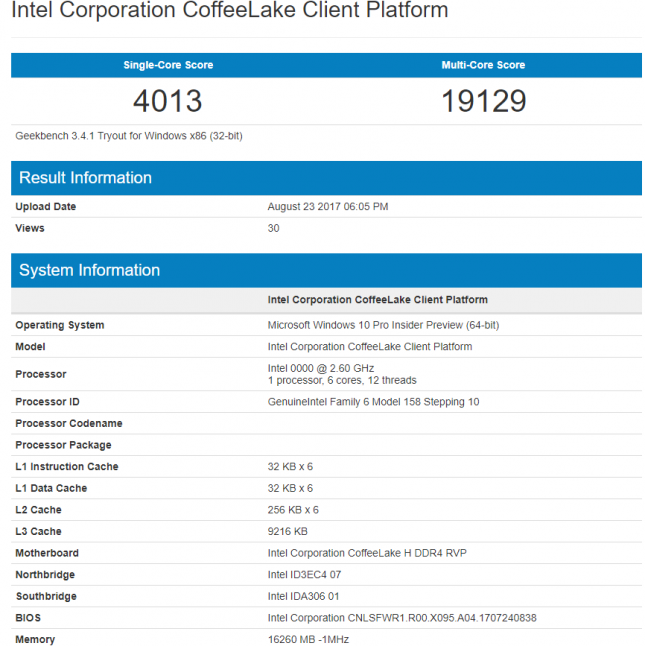 These are pretty impressive scores! The AMD Ryzen 5 1600 6-core desktop processor scores 3,883 points, the Ryzen 7 1700 scores 3,891 points and Intel Core i5-3570K desktop processor scores 4,006 points on the single-core performance test. When it comes to the multi-core performance test the Coffee Lake-H score of 19,129 beses the AMD Ryzen 5 1600 desktop processor score of 17,378 and is slightly behind the AMD Ryzen 7 1700 desktop processors 19,883 score.
The Kaby Lake H-Series of mobile processors consisted of the Core i7-7700HQ, Core i5-7300HQ or the Core i7-7820HK. The Core i7-7820HK is a 2.9GHz quad-core processors that scored 4,717 points in the single-core test and 15,379 points in the multi-core test. A better comparison might be the Intel Core i5-7300HQ as it is a 2.5GHz quad-core processor that scored 3,762 points on the single-core benchmark. The clock speeds are fairly close, but the Core i5-7300HQ doesn't have HyperThreading, so it scores just 10,328 on the multi-core test. You can look at the database of scores here.
This upcoming 6-core mobile part from Intel is able to outperform some popular desktop processors from years past, so 45W performance laptops are going to pack a mean punch! These 45W parts also end up in many small form factor multimedia and gaming designs like the Intel NUC, Gigabyte BRIX and Zotac ZBOX mini PCs to name just a few.