Intel Cascade Lake-X CPUs Launching Under $1000 For Up To 18 Cores
By
Another website that we shall not name has leaked information on the upcoming Intel X-series processor before we could even return from being briefed on it. Intel was gracious enough to lift the embargo on some of the information that we were briefed on as a result.
The partial embargo lift means that we can talk about the following:
X-series new and featured technologies
X-series SKU table with pricing
X-series availability in November
So, the cat is out of the bag. Intel is launching their new 10th Gen Core-X series 'Cascade Lake-X' processors for enthusiasts and content creators next week. Cascade Lake-X is the successor to Skylake-X from 2017 will be more than likely be the last time we see the 14nm++ process used.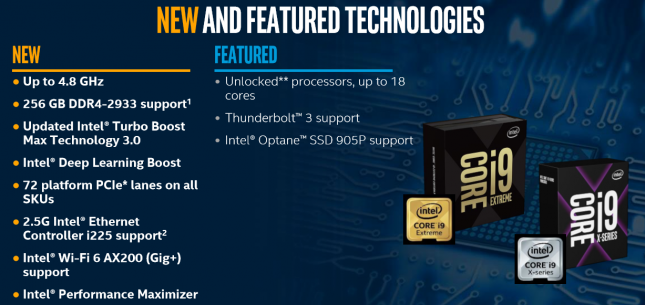 When it comes to new features and technologies there are some highlights that are worth noting. Intel has increased the Turbo Boost Max 3.0 clock frequency to 4.8GHz on Cascade Lake-X, which is 300 MHz higher than the 4.5GHz seen on Skylake-X. Intel also doubled the DDR4 memory capacity from 128GB to 256GB. This is great news for those wanting to buy 32GB DDR4 memory modules. DDR4-2933 memory is the fastest frequency officially supported, which is slight bump up from DDR4-2666 on the last generation. DDR4-2933 also just happens to be the same frequency supported by the AMD Ryzen Threadripper 2000 series.
Intel also updated their Turbo Boost Max Technology 3.0 to work with not only 2-cores, but also on 4-cores. Intel Deep Learning Boost (AVX-512) is now supported for The number of PCIe lanes on all skus has been bumped up to 72 now thanks to the unlocking of 4 PCIe lanes on the CPU. Intel also didn't forget connectivity and have included 2.5G Intel Ethernet Controller i225 and Intel Wi-Fi 6 AX200 (Gig+) support.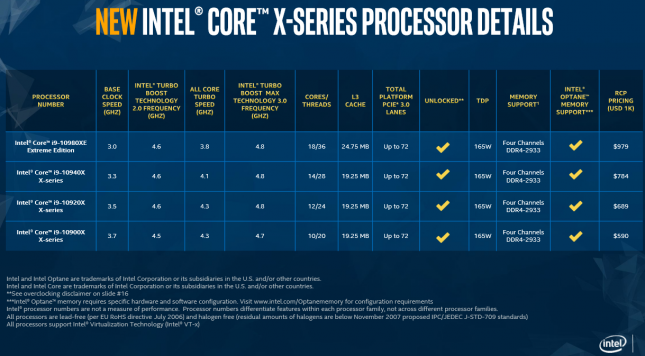 That brings us to the last slide that we are allowed to show you today and the one with the most information on it. Intel has announced four Cascade Lake-X SKUs today; Intel Core i9-10920X, Intel Core i9-10920X, Intel Core i9-10940X and the mighty Intel Core i9-10980XE. Pricing starts at $590 and then tops out at $979, which is a significant price reduction from the last generation. Intel has basically shaved off $1,000 off the price of their 18-core, 36-thread part! You get more for less, but we do feel really bad for those that might have recently invested in the X299 platform in recent months. The good news is tha the new 10th Gen X-Series parts should work on all current X299 boards as they remain 165W TDP parts. The kicker here is that the motherboard maker will have to update their BIOS/UEFI to allow these to drop in, so ultimately it is up to the motherboard makers to roll out the updates to support this new processor series.
The Intel Core i9-10980XE Extreme Edition is the flagship model and packed 18-cores and 36-threads under the soldered down Integrated Heat Spreader (IHS). The base clock of all cores is 3.0 GHz with an all core turbo speed of 3.8GHz. The Intel Turbo Boost Max Technology 3.0 Frequency for two cores is 4.8 GHz and for four cores will be 4.7 GHz. The 10980XE is a fully unlocked CPU with 24.75 MB of L3 cache and the TDP remains 165 Watts at base clock (around 198 Watts at all core load). Other notable features include up to 72 PCIe 3.0 lanes and quad-channel DDR4-2933 support with at most 256GB of memory (32GBx8) on boards with 8 DDR4 memory slots. That last CPU generation (SKL-X) supported 44 PCIe 3.0 lanes on the CPU and that has been increased up to 48 PCIe 3.0 lanes on this generation (CSL-X).
A lengthy laundry list of features for a flagship processor from Intel that costs under $999!
It feels really weird for Intel to have an Extreme Edition processor below $1,000. Do you remember what generation that flagship CPU from Intel cost less than $1,000?
Intel Core i9-9980XE Extreme Edition (Q4 2018) – $1979-$1999
Intel Core i9-7980XE Extreme Edition (Q3 2017) – $1979-$1999
Intel Core i7-6950X Extreme Edition (Q2 2016) – $1723-$1743
Intel Core i7-5960X Extreme Edition (Q3 2014) – $999 – $1059
Intel Core i7-4960X Extreme Edition (Q3 2013) – $1059
Intel Core i7-3960X Extreme Edition (Q4 2011) – $1059
Intel Core i7-990X Extreme Edition (Q1 2011) – $1059
Intel Core i7-980X Extreme Edition (Q1 2010) – $1059
We went back nearly a decade all the way to the first 6-core CPU and couldn't find one that was priced under $1,000. This is the first time we've seen a flagship X-Series sku priced this low.
We can more than likely thank AMD for this drastic price reduction and we can't wait to try out the Intel Core i9-10980XE Extreme Edition processor for the very first time. We are also really excited to see what Intel will price the Intel Core i9-9900KS at as Intel might be super aggressive on that processor as well!