Intel 6xx Series Processors Arrive
By
Individual Test Systems:
AMD Athlon 64 4000+, 3500+ — ASUS A8V (VIA K8T800 Pro w/ Hyperion Drivers), 1GB (2x512MB) Kingston PC3500 HyperX @ DDR400 (2-2-2-5), Geforce 6800GT 256mb (Forceware 68.21), 120GB Seagate SATA150 HDD, Windows XP w/SP2 and DX9C.
Intel P4 560, 3.4EE, 3.46EE — ABIT AA8XE Fatal1ty (Intel 925XE), 1GB (2x512MB) Crucial PC5300 @ DDR2 533 (3-3-3-8), Geforce 6800GT 256mb (Forceware 68.21), 120GB Seagate SATA150 HDD, Windows XP w/SP2 and DX9C.
Testing Procedure:
All testing was done on a fresh install of Windows XP Professional build 2600 with Service Pack 2 and DirectX 9.0c. All benchmarks were completed on the desktop with no other software programs running. No overclocking was done on the video card during any of this review. We did disable the Firewire, and LAN features if found in the BIOS menu for all the testing completed during this review.
3DMark2005 Version 1.2.0
Futuremark's 3DMark2005 is one of those benchmarks that you either love or hate. No matter what your feelings are on it you can't deny that it is the most used and it is free to download and use yourself. We like using it so you can compare your results to ours!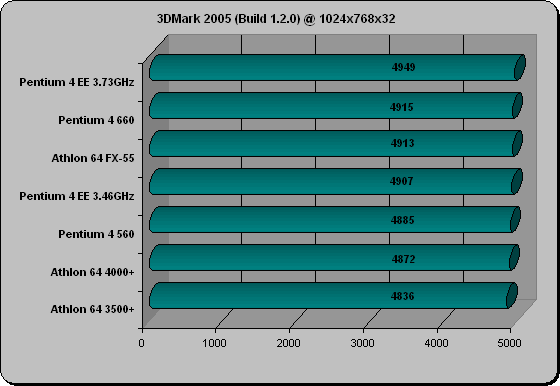 Results: Looks like the extra cache on the new Intel processors was just enough to put in the top two spots on 3DMark2005. Now let's take a look at the CPU specific tests and see if we can find some differences!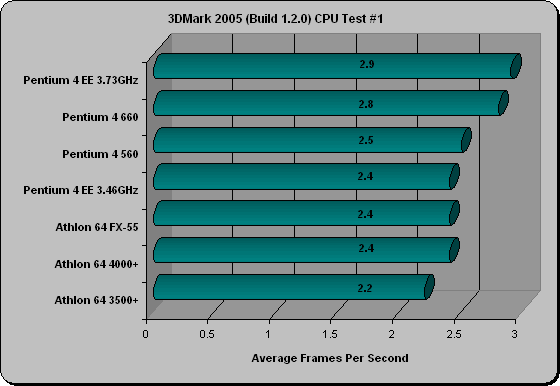 In CPU Test #1 it looks like it is clear that the extra MB of cache on the prescott core helps give the new Intel CPU's a boost in performance in 3DMark2005.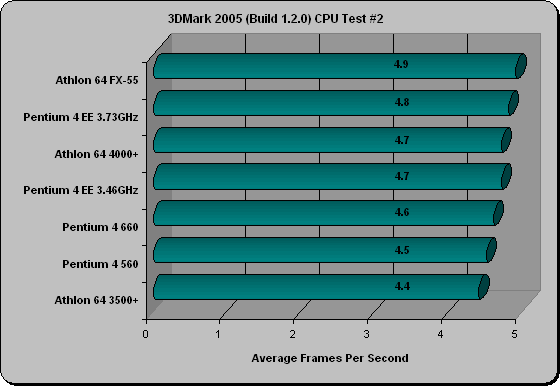 This time around it doesn't look like the extra cache can be used and the AMD processors take the lead and tie for the third spot.
DOOM 3
While the previous benchmark was all synthetic testing the following Doom 3 benchmark is the real deal. Doom 3 is still one of the most popular games today and is one of the best FPS benchmarks out there as game updates won't ruin your demos like on HL2. We ran the time demo benchmark at 640×480 to keep the GPU bottleneck out of the test results.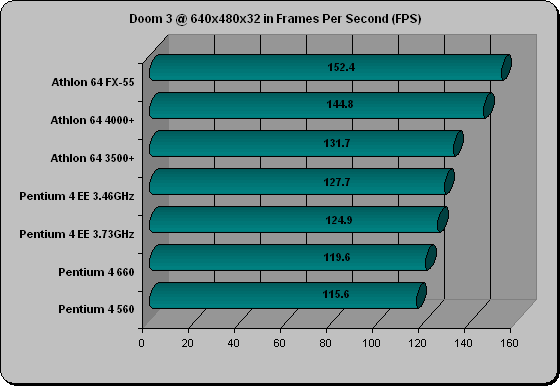 Results: AMD's Athlon 64 once again shows pure dominance when it comes to gaming. Taking first, second, and third place above both of Intel's 1066MHz FSB Extreme Edition Processors.