Inside NVIDIA's New $370 Million Headquarters & Star Wars Titan Xp Graphics Cards
By
Legit Reviews recently got the chance to swing by NVIDIA's new campus at San Tomas Expressway and Walsh Avenue in Santa Clara, California and wanted to give you a glimpse inside. NVIDIA broke ground on the 500,000 square foot building in 2015 and just started moving employees into the building this fall. NVIDIA calls the new building 'Endeavor' and helped design the massive two story building with technologies they invented, like Iray. This building was designed from the ground up to be energy efficient and have collaborative work spaces for inspiration and innovation. The price tag for something like that is pretty steep as the $370 million dollar building is situated on a 25-acre lot that they purchased in 2008 for what appears to be $183.8 million in cash. All those GeForce graphics cards the company has been selling over the past couple decades has allowed them to build a world class headquarters.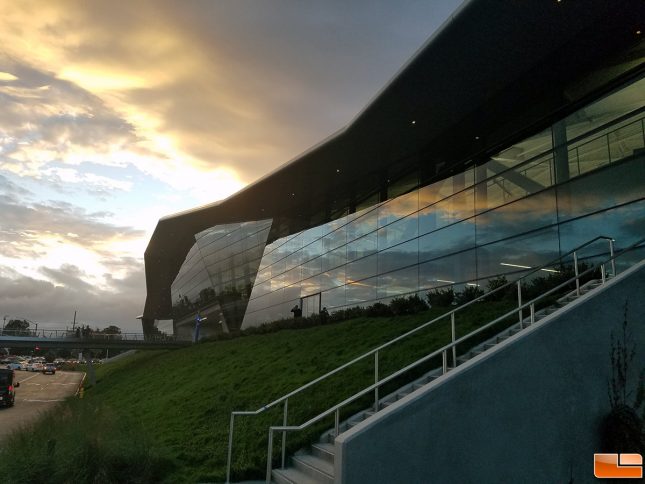 NVIDIA went with a triangle theme to show respect to the the basic element of computer graphics: the polygon. The outside of the building looks impressive as you can see the inner steel frame that is wrapped by more than a thousand 4 x 12 foot sheets of tinted double-paned tempered glass. NVIDIA co-founder and CEO Jen-Hsun Huang played a major role in the design of the building and we think it does a great job showcasing that NVIDIA is a leader in visual computing.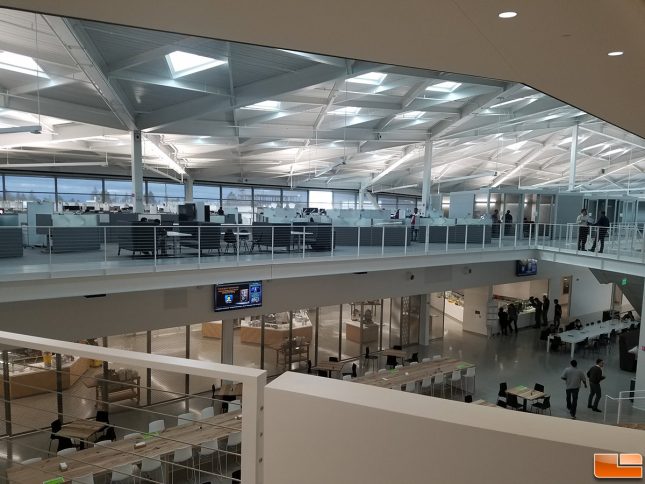 Inside you'll find upwards of 2,500 employees working on everything NVIDIA. The open floor plan gives the building a massive feel that we can only compare to an airport terminal due to how large the expanse is and the tall clean white ceiling. Speaking of the ceiling there are 245 triangular skylights above on the roof's unique undulating shape. Each employee desk had a fully adjustable sit-stand desks and no desk phone!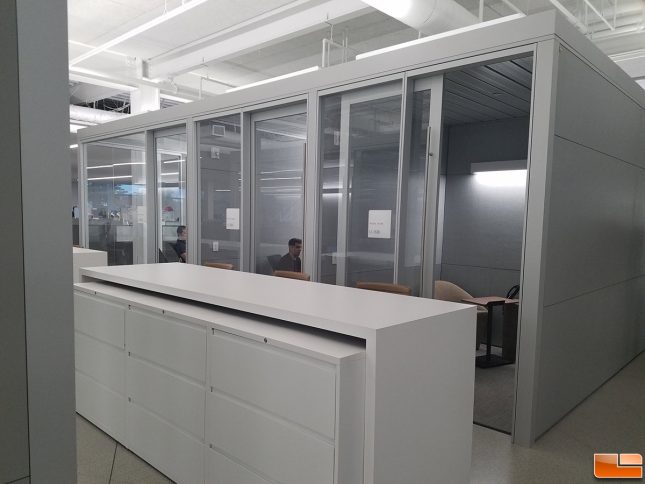 NVIDIA has placed 'phone booths' with hard lines phones for employees to use if one is needed. NVIDIA also has a sound proof 'library' that employees can work in solitude if so desired and tons of neat collaboration areas spread throughout the building.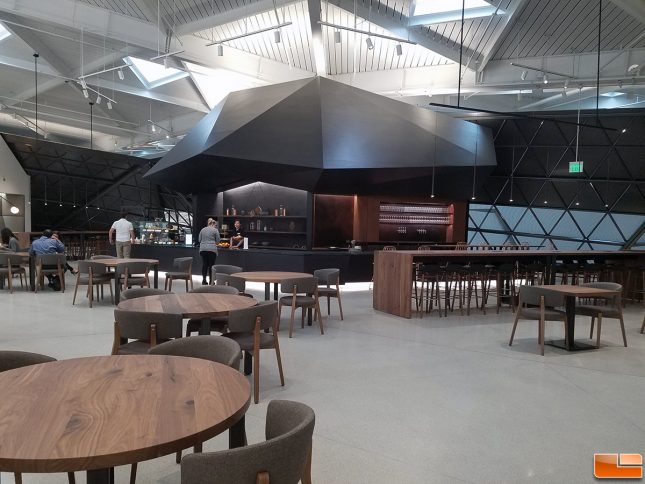 If you'd like to take a quick break and purchase an espresso or grab a draft beer (after work) you can head to the upper level and do just that!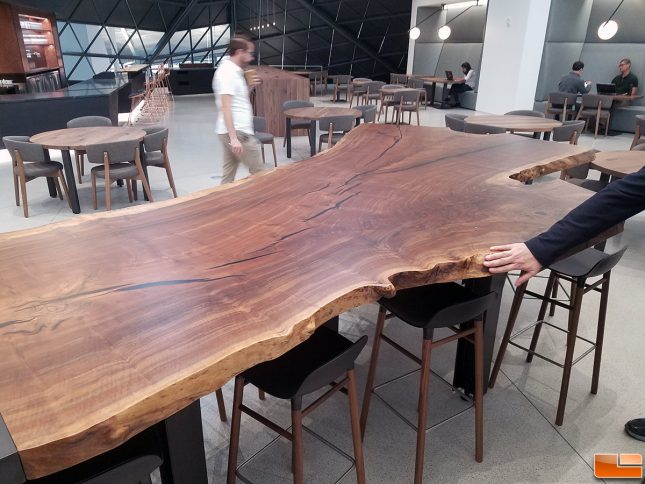 The bar area had a live edge wood table that was beautiful!
The building has many eye catching design features and all NVIDIA employees are free to visit the new HQ whenever they please. This is great for the folks across the street still in the older campus that might want to grab something at the cafe or enjoy some of the new work areas.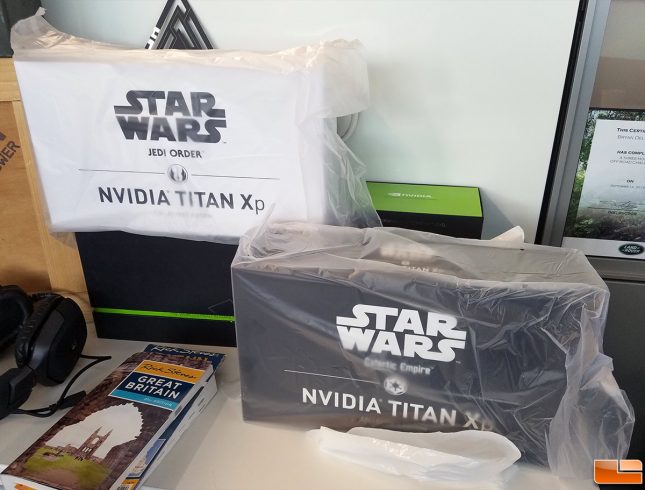 When we got to the PR department we noticed one very lucky individual that we won't name was rocking NVIDIA Titan Xp Star Wars Collector's Edition cards for both the light and dark side!
We really dig the Star Wars Jedi Order NVIDIA TITAN Xp COLLECTOR'S EDITION graphics card as the finish on it looks great in person and the green lighting when it is running screams NVIDIA. That said, the Star Wars Galactic Empire NVIDIA TITAN Xp COLLECTOR'S EDITION graphics card looks great in black and the red lighting looks amazing in the images we have seen. We weren't able to see either card running, but we are just glad to see both Titan Xp Collector's Edition cards in one place! You can pre-order either model now for $1,200. Expensive, but that is the same price as the standard edition card.
Did you ever think you'd see NVIDIA and Disney sharing space on the packaging of a retail product? Very cool!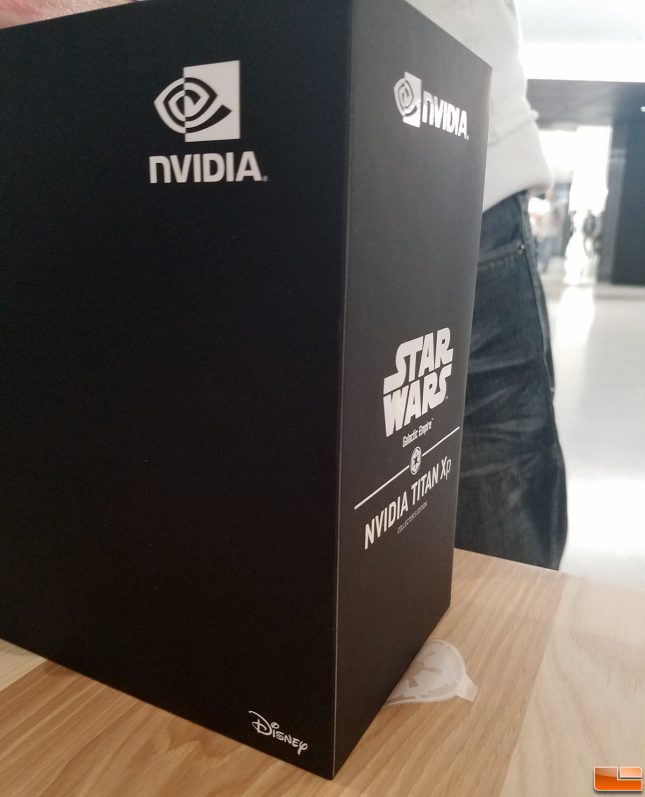 A big thanks to NVIDIA for letting up show up after randomly asking them if we could swing by since we were in town!