Inateck AL2011 2-Port USB Car Charger With MFi Lightning Cable Review
By
These days most people are longing for USB ports in their cars as most older cars don't have any or if they do its usually just a single USB charging port. The folks over at Inateck have come up with a 2-Port Car Charger that plugs into your cigarette lighter socket and it has an integrated 3-foot long MFi Lighting cable. This means you can charge three devices from this rapid car charger that has a combined 6.6A / 33 Watt power rating!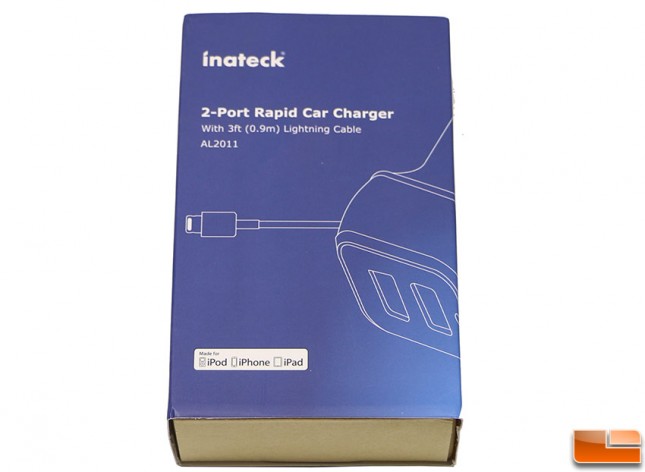 The Inateck AL2011 2-port USB car charger with Built-in MFi Lighting Cable runs $19.99 Shipped on Amazon in your choice of white or black. We are taking a look at the black version that is sold under part number AL2011B. It comes in a fairly simple cardboard box that clearly shows what you are buying and the key features are listed on the front and back of the packaging.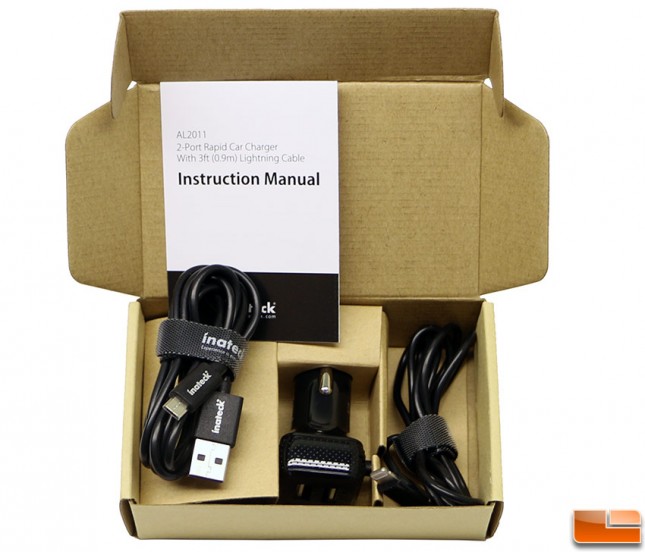 Inside the retail packaging you'll find the charger itself with the attached 3-foot long Lightning cable along with a 4-foot micro USB cable and the instruction manual. This charger is certified by Apple MFi, so you can rest assured you won't ruin your device! The two cables come with velcro strips for cable management, which is a nice touch for those that like to wrap up their cables and keep a tidy car.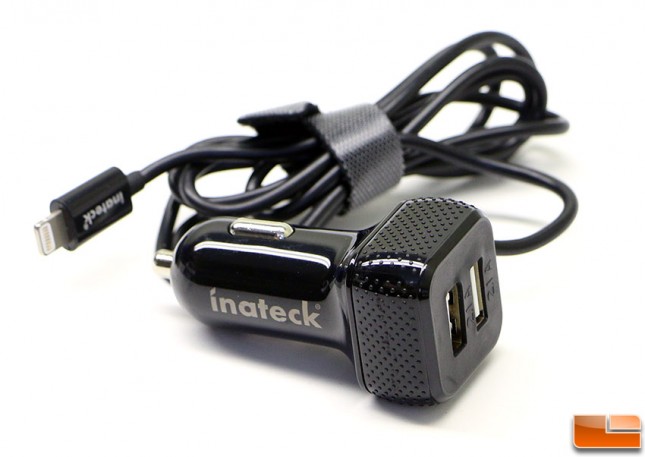 On the front of the charger are two standard USB charging ports that have an output rating of 5V/2.1A, which should be enough power for most mainstream digital devices. The Lighting cable included for Apple devices provides 5V/2.4A of power. If you are using all three at once you can pull an impressive 6.6A of power from your vehicles cigarette lighter! With all that power we were happy to see that the Inateck AL2011 was built with short circuit, over-watt, over-current and overheat protection. There is a small blue LED light on the front that is lit when you are charging. If that blue light goes out it means that you must have tripped the over-current protection and you'll need to remove it and re-plug it for it to charge again. It is also MFi, CE, FCC & RoHS certified to ensure its safety and reliability. Inateck is also proud of the fact and happy to point out that the positive spring plate is made from copper and the negative side plates are made from zinc alloy, so premium materials are used both inside and out!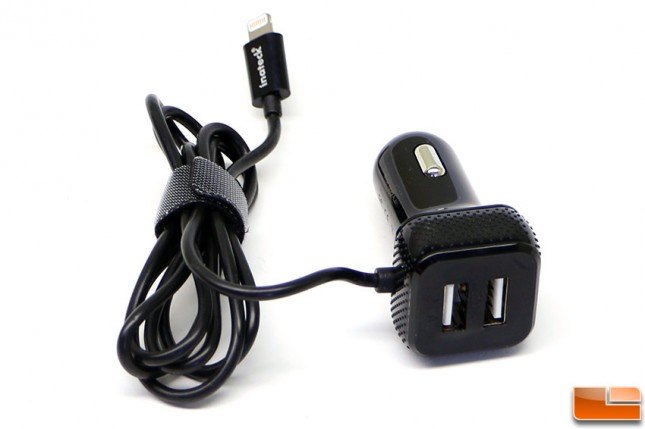 The Inateck AL2011 features a textured rubber ring on the ABS housing that aids in plugging in or removing the charger from your lighter socket. This charger is pretty slim and we had no fitment issues in any of the cars that we tired it out in. We plugged in an Apple iPhone 5S, Samsung Galaxy S6 and a Google Nexus 7 tablet and all three charged without any issues. We didn't expect any issues, but you never know!
If you need to expand the number of devices you can charge in your car be sure to give the Inateck AL2011 2-port USB car charger with Built-in MFi Lighting Cable a quick look. You can pick it up for $19.99 Shipped on Amazon, which is damn near what a 3-foot MFi Lighting cable will run you at your local Best Buy or Walmart!