Imak Mouse Cushion – Stop Wrist Pain From PC Use!
By
The Imak Mouse Cushion
Its that time of year again, when you know the Fathers Day 2009 date is coming up, but youre not quite sure how soon. This year Fathers Day 2009 lands on June 21st, which gives you just over one week to prepare. Today, Legit Reviews will be covering a product that would make a great gift for any father for under ten bucks!
Call it what you will, but I've been battling some wrist pain lately. I've just recently thrown away my trusty gel filled mouse wrist pad when it finally wore out and started leaking gel goop out. It was one of those things that I meant to replace right away, but got lost on the long laundry list of things to do. As time went by I began using a 10″ netbook more often and was longer using a mouse wrist pad on the office computer. At night my wrists would ache and hurt, so I figured a combination of the two computing activities was the the root of what was causing the pain. True to my American roots, I went searching for the instant cure, which
was heading straight to the local electronics store and to start looking for a
new wrist pad.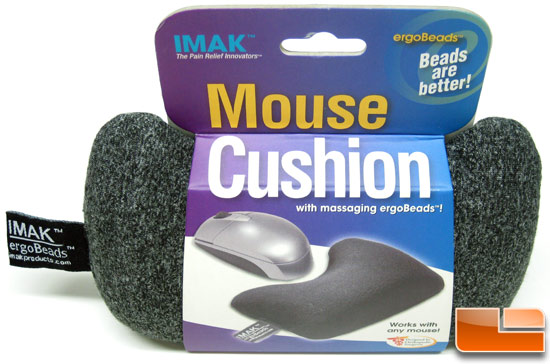 I ended up at the local Office Depot where I bumped into the IMAK Mouse Cushion with massaging ergoBeads for a cool $9.99. This wrist pad looked like it would breath pretty well and forms around your wrist due to its massaging ergoBeads. The unique "U" design is shaped for easy maneuvering of the mouse, while comfortably supporting your wrist and forearm to eliminate stress. The unique design works with any mouse while completely supporting your wrist in an ergonomically correct position. ergoBeads, the smooth plastic bead filling, gently support and massage your hands and wrists as you click and type, which is an added bonus and something the gel wrist pads can't offer.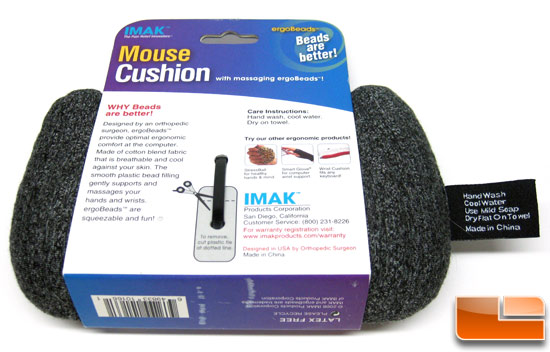 This cushion had a lot going for it, but the thing that sold me was the
fact that the front and back of the box says it was designed by an
orthopedic surgeon! Okay, maybe not, but it still looks and sounds
good. The IMAK Mouse Cushion is available in the colors black, gray and
blue, but my local Office Depot had just the gray version in stock. For ten bucks I figured, what the heck it's worth a shot. For those that are allergic to latex, the beads inside are latex free, so you don't have to worry about that.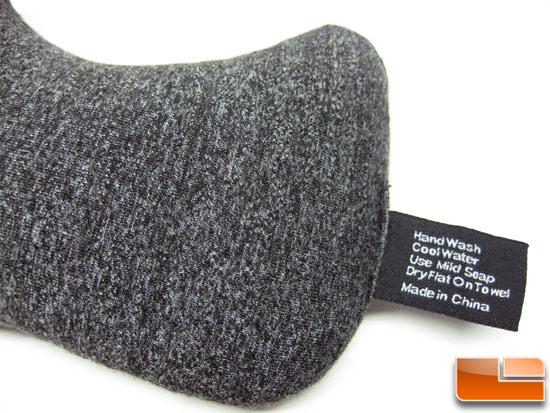 Made of a cotton blend fabric that is breathable and cool to the skin, the mouse cushion is comfortable for all day use at the office or at home. It even doubles as a stress ball as you can pick up and squeeze the snot out of the ergoBeads when your day isn't going quite right. One nice thing about this mouse cushion is that it is hand washable with cool water and mild soap. While I am on the subject of cleaning the mouse cushion it should be noted that IMAK Products Corporation warrants that all of their products are free from manufacturing defects under normal use for one year from the date of the original purchase as long as you have the original dated sales receipt. They also have a comfort guarantee! Meaning if you are unhappy with the comfort level of their products, they guarantee it for up to 1 year after the purchase date. If you do not find the IMAK product you purchased comfortable for its intended purpose, they ask you to return it to the store where you purchased it for a refund.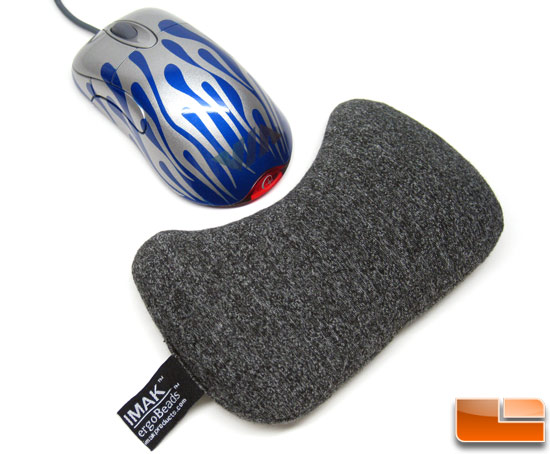 After using the IMAK Mouse Cushion with massaging egroBeads for a couple of weeks I have nothing negative to say about the product and my wrist is slowly feeling better now that I have changed my habits and invested in a new wrist pad. If you find yourself experiencing similar problems or want to help prevent wrist problems from happening this is one of those products you really can't go wrong with. Remember, if you don't like it IMAK has the one year comfort guarantee, so you can always return it if it doesn't help or isn't your cup of tea. It should also be noted that IMAK offers a non-skid version of this wrist pad as well that retails for just a dollar more.
Legit Bottom Line: For under ten dollars you really can't go wrong with the IMAK Mouse Cushion with massaging ergoBeads as that is a small price to pay to relieve wrist pain!