IDF 2012: Kingston Shows Off Windows To Go w/ Datatraveler Workspace
By
Microsoft Windows 8 – Windows To Go
Microsoft has designed Windows 8 for the diskless world, so it should not be much of a surprise that consumers will be able to install and operate in such environments. This could also help low cost systems as you could essentially boot and run Windows from external Flash drives. With Microsoft Windows 8 Enterprise comes a new feature called Windows to Go.
"Windows To Go is a fully manageable
corporate Windows 8 desktop on a bootable external USB stick. This will
allow IT organizations to support the Bring Your Own PC trend and
businesses can give contingent staff access to the corporate environment
without compromising security." – Microsoft
This means that with Windows 8 Enterprise that you'll be able to have your desktop and PC on an external storage devices that you can easily move around with you! As you can imagine this would be great on a USB Flash Drive, but not all storage devices are created equal and Microsoft has started a certification process for Windows to Go. This might sound like dj vu to many of our readers as this is very similar to what Microsoft did with ReadyBoost. You know, the thing where Windows 7 could use your flash memory device to add instant RAM to your PC? Back then devices had to reach a certain speed to be ReadyBoost certified. This time around speed isn't that big of a deal, but heat and drive partitions are. Windows 8 uses the new Unified Extensible Firmware Interface (UEFI) to speed up and modernize the OS booting process, but Windows 8 needs four partitions on a disk. One is for recovery purposes, a second for the system, while UEFI uses a third invisible 128MB partition and the fourth partition is for the OS and user data. Not all USB Flash Drives can be setup like this and run cool, so Microsoft has been working closely with the memory companies to develop a product that will work right for Windows To Go. With just over a month before the launch of Windows 8 only two companies have had products certified – Kingston Technology and Super Talent.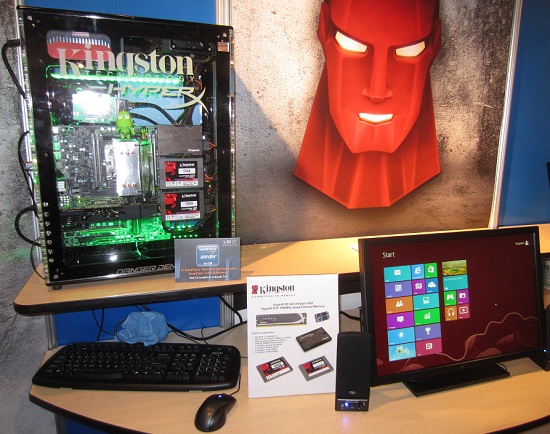 Kingston happened to be showing the new Windows to Go feature on Windows 8 at their booth at IDF 2012 on the Kingston DataTraveler Workspace USB Flash Drive series. The DataTraveler Workspace is certified for Windows To Go and will be available in capacities 32GB, 64GB, and 128GB. All models are backed by a two-year warranty.
Kingston DT Workspace Features:
Certified for Windows To Go – Administrators can easily deploy bootable corporate workspace on a specifically configured portable USB drive.
USB 3.0 SSD – capitalizes on USB 3.0 specifications by incorporating SSD controller technology in order to achieve high random read/write performance and low latencies
Fixed Drive – not designed for data storage
Easy to use – enables users to boot and operate form multiple PCs
Secure – supports BitLocker for data encryption and Trusted Boot for protecting boot processor and anti-malware software
Resilient – to accidental removal so the workspace can resume if the drive is plugged back in within 60 seconds
Compatible – with PCs certified for use with Windows 7 or Windows 8 operating systems
Backwards Compatible – with USB 2.0 to fit more systems while optimizing performance
The Kingston DataTraveler Workspace that was used in the demo for Legit Reviews was a 32GB version. This is a SuperSpeed USB 3.0 Flash Drive and it was cool to the touch, although we were mainly just sitting on the desktop and playing solitaire.

The Kingston DataTraveler Workspace measures 75.29 x 22.98 x 16.44mm and as we mentioned earlier is a USB 3.0 drive. Kingston hasn't set final specifications for speed, but right now they are seeing sequential Read/Write speeds while running Windows 8 of 250/150MB/s and sustained random 4K Read/Write while running Windows 8 of 3,750/6,000 IOPS. These are pretty impressive drive speeds and we were told this drive can score 22,000 points on the PCMark Vantage HDD test suite! No wonder Microsoft was having issues with some drives getting too hot as USB 3.0 Flash drives can really move some data! Hitting 250 MB/s sequential read speeds on a thumb drive is really impressive!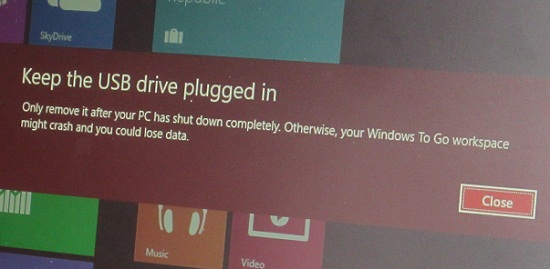 The Kingston DataTraveler Workspace looked like it was working great from what we could tell on the show floor and Windows 8 did not freak out or crash when the USB Drive when. At the end of the day we learned that Windows To Go is a feature in Windows 8 Enterprise that allows Windows 8 Enterprise to boot and run from mass storage devices such as USB flash drives and external hard disk drives. Microsoft is hoping that Windows to Go will be a big hit in the corporate world as the 'bring your own PC' era begins. IT administrators can also use Windows to Go for contingency staff, who need access to the corporate environment without security compromises.
We'll be taking a closer look at Windows To Go technology when Windows 8 comes out next month!