Huawei Mate 8 Review
By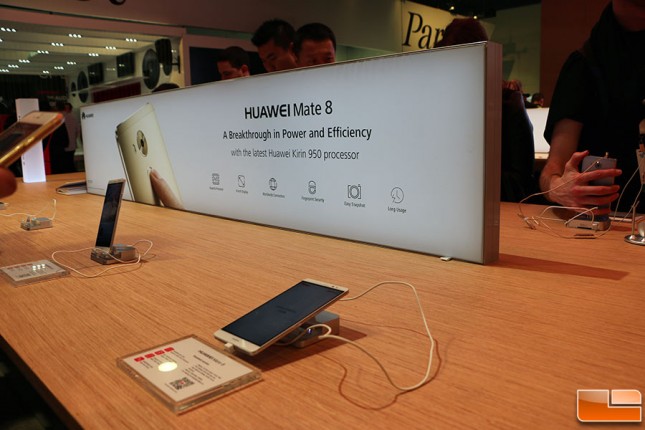 Huawei began selling the Mate 8 smartphone, the successor to the Ascend Mate 7, in China on December 9th, 2015 and the phone has been getting rave reviews and flying off store shelves. According to the companys CEO, Yu Chengdong, over one million units of the Mate 8 smartphone have already been sold in China! Huawei might not be a household name here in the Unites States, but the Chinese telecom recently partnered with Google to build the Nexus 6P and has gained much notoriety since that phone debuted in September 2015. At CES 2016, Huawei held a press conference to announce that the 6-inch Mate 8 will be coming to 30 other countries. The bad news is that the United States, Canada and the United Kingdom are not included in the first-wave of the Mate 8 product launch and that is where the bulk of our readers are.

Despite not being available in the United States we managed to get our hands on a Huawei Mate 8 at CES 2016 and have been using it for most of the past week. The Mate 8 features a 6-inch Full HD screen, an octa-core 2.3GHz Kirin 950 64-bit processor, 3GB of RAM, a massive 4000 mAh battery for 22 hours of talk time, and it runs Huaweis EMUI 4.0 (a slightly customized version of Android 6.0 Marshmallow).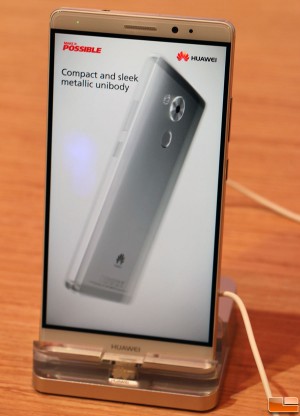 We were told at CES 2016 that the Huawei Mate 8 will be offered in two main versions: the standard 32 GB version with 3 GB of RAM for 600 Euros and a premium 64 GB version with 4 GB RAM for 700 Euros. It also comes in your choice of four colors: Champagne Gold, Moonlight Silver, Space Gray and Mocha Brown. The factory unlocked Mate 8 supports global connectivity and more bands than any other dual-SIM phone, including four 2G bands, nine 3G bands and 18 4G bands that should allow the phone to work in 217 countries and regions!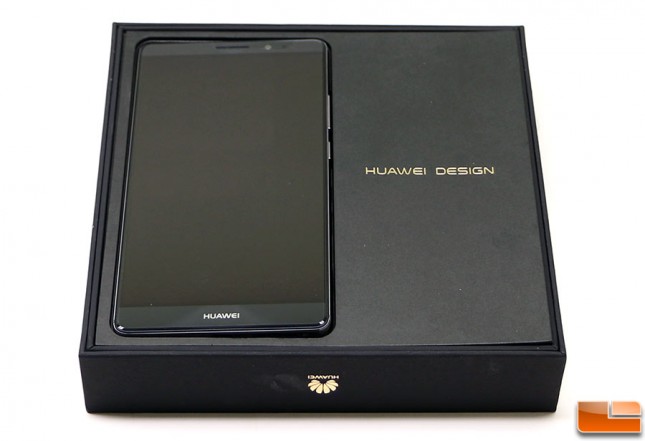 The model that we got to play with is the Mate 8 standard version in Space Gray. The Huawei Mate 8 features an octa-core processor by HiSilicon that uses ARM's big.LITTLE design that Huawei is calling the HiSilicon Kirin 950 processor. The big cores are comprised of the mighty ARM Cortex-A72 quad-core processor that runs at up to 2.3 GHz and the smaller cores are the ARM Cortex A53 quad-core processor running at 1.8 GHz. This is the latest and greatest processor from ARM as it features the ARMv8-A architecture and delivers energy-efficient 64-bit processing thanks to being built on the 16nm FinFET manufacturing process. This processor should be about 3.5X the performance of 2014 devices based on the Cortex-A15 processor, so if you haven't updated your phone in a couple years you should be in for a real treat. The GPU included in the SoC would be a Mali-T880 MP4. This is the first device to use the ARM Cortex-A72 SoC, so we can't wait to check out its performance!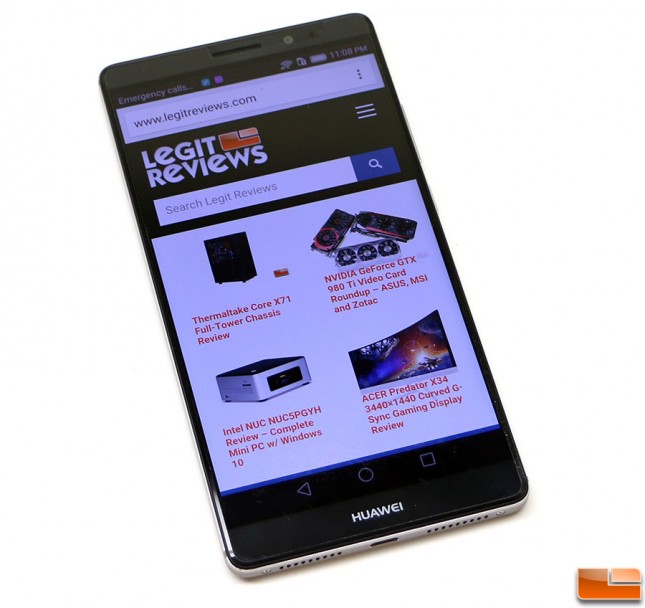 The first thing youll notice when you pick up the Mate 8 is that it has a heavy premium feel to it. This is because the Mate 8 is made from aerospace grade aluminum metal, so the 157.1mm 80.6mm 7.9mm phone weights in at 185g. The side 'bezel' around the 6-inch Full-HD display is extremely small and the phone has nice chamfered edges (2.5D curved glass is the technical term) for nice visually sloping lines and comfort. The 6-inch IPS-NEO negative LCD display sports a 1920×1080 screen resolution ( 368 PPI ) for Full HD viewing and is covered in Corning Gorilla Glass 4 to resist scratches and minor drops.
As noted in the introduction, the Huawei Mate 8 features EMUI 4.0, a modified version of Android 6.0 (Marshmallow). This is the first Huawei smartphone to ship with Marshmallow installed. It's a little different, but easy to get used to after a couple days of use. One of the big obvious differences on the Huawei Mate 8 is that it has a landscape mode for the homescreen, which is pretty neat. You can see more than a dozen screen captures that we took of the Android OS in the gallery above.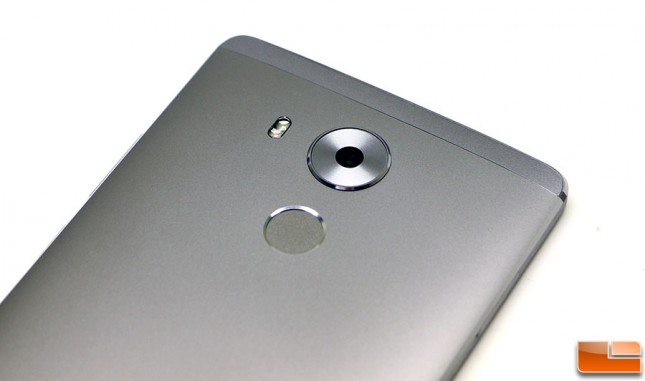 On the back you have the a 16-megapixel camera with optical image stabilization and dual-LED flash. Huawei is using a Sony IMX 298 image sensor for the re-facing camera that supports fast focusing, phase autofocus and has an aperture of f/2.0. The front camera is an 8-megapixel, f/2.4 camera that uses a Sony IMX 1709 sensor. The rear-facing photos are 4608×3456 (4:3) and the front-facing are 3264×2448 (4:3). Both cameras take FHD 1080p videos (16:9, stereo audio).
Below the rear-facing camera you'll find Huaweis much-improved circular fingerprint scanner that is similar to the one used on the Nexus 6P. The Mate 8 maintains two sets of fingerprint interface standards to improve smartphone payment experiencesthe Fast Identity Online (FIDO) and Android M standards. Besides scanning your index finger you can also use it to trigger the camera shutter, hanging up calls or for other tasks by going into the settings and making the changes you'd like.
The pictures that the Huawei Mate 8 take in auto mode can be seen in the gallery above. We found the camera to be adequate for your normal daily photos. The first five photos in the gallery above were taken at the shopping centers in Ceasers, Wynn and Palazzo hotels in Las Vegas in auto mode with no flash. The final two photos were just some random ones we took at a meeting with Zotac at CES 2016 where we used auto mode with the flash enabled. All of the images were shrunk to 1920×1440 and uploaded with no other changes being done.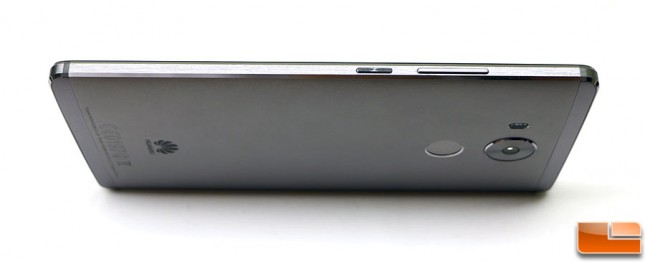 Along the right side edge of the phone you have volume rockers and then below that you have the power button.

On the left hand side you'll find a dual-SIM card slot is on the left. One of the SIM card slots doubles as a micro SD slot, so you are able to expand the memory by up to 128GB if you wanted to toss in a Micro SD card.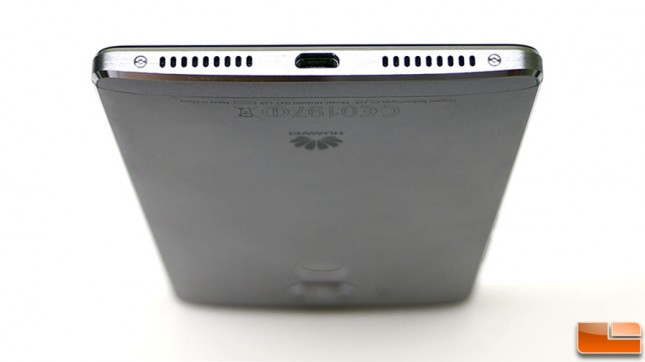 On the bottom of the phone you'll find two speakers that are located near the edges of the phone that are divided by the a microUSB port. It would have been nice to see the Mate 8 use USB Type-C for charging, but keep in mind that this phone came out in China back in 2015 and the reversible USB Type-C connector costs more money. At the price point Huawei is charging for this phone we feel that one should have been included and are disappointed by this design choice.
Antutu v6.01
Overall Score
Antutu v6.01
3D Score
3DMark
Ice Storm Unlimited
GFXBench 4.0 T-Rex
(Offscreen)
WebXPRT 2015
JetStream
iPhone 6S
Apple A9 SoC
126193
38475
27675
80 FPS
204
118.780
iPhone 5
Apple A6 SoC
31821
3154
5619
7 FPS
65
20.955
Mate 8
HiSilicon Kirin 950

80410
18925
19418
41 FPS
145
65.680
Galaxy S5
Qualcomm Snapdragon 801
54995
4666
19675
27 FPS
96
34.212
Droid Turbo 2
Qualcomm Snapdragon 810
80561
23918
25169
56 FPS
84
49.268
Zenfone 2 Laser
Qualcomm Snapdragon 410
32298
2546
7334
14 FPS
47
21.804
When it comes to industry standard benchmark performance tests the Huawei Mate 8 was found to be a very powerful smartphone, but was behind the Apple iPhone 6S in every single benchmark. We tested the phone in high performance mode. On the browser benchmarks WebXPRT 2015 and JetStream, the Mate 8 performed really well and placed second behind iPhone 6S. The other benchmarks are a combination of CPU and GPU performance and you can see that the Apple iPhone 6S is still dominant and the Motorola Droid Turbo 2 with the Qualcomm Snapdragon 810 SoC were both performing faster than the Mate 8. The performance of the Mali-T880 GPU on the Mate 8 was actually lower than we expected as the Mate 8 scored lower than the Samsung Galaxy S5 from 2015 in 3DMark Ice Storm Unlimited. There is no way that the Adreno 330 GPU on the Galaxy S5 should be out performing the Mali-T880 GPU on the Mate 8, but that particular benchmarks shows that it is. When you look at GFXBench 4.0 T-Rex (Offscreen) the Mate 8 scores 52% higher than the Galaxy S5, so it's odd that it loses in one GPU heavy test and then wins by a long shot in another.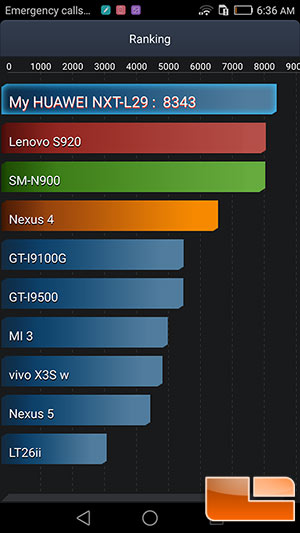 To test the non-removable Li-Po 4,000mAh battery in the Mate 8 we used the battery test benchmark in AnTuTu tester and found that the phone scored very well in high performance mode. In fact the score of 8,343 was the highest that we have ever seen in high-performance mode! That is pretty dang impressive and it's no wonder that we were getting through two work days on normal use before needing to charge the phone. Heavy phone users should still find that they have enough power to last them a full day. Charging the Mate 8 is also a painless experience as you can get to about a 35% charge in just 30 minutes. Huawei says that you can get a full days charge in 30 minutes thanks to the phones rapid charging technology and that appears to be true for light users.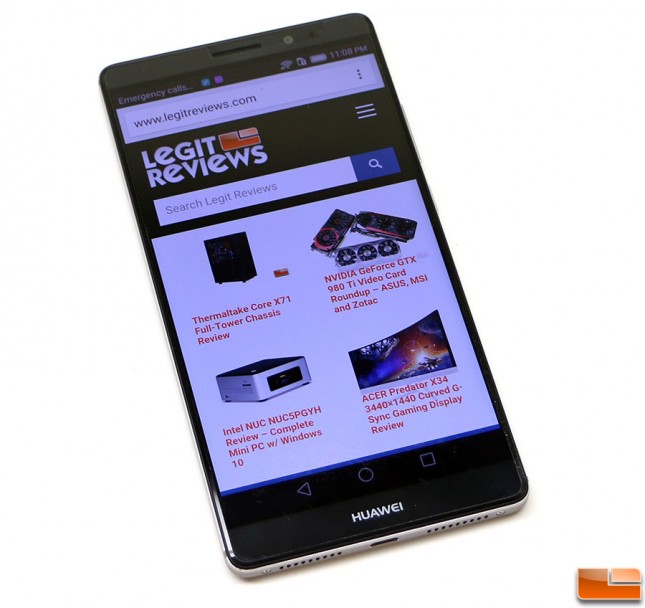 Final Thoughts and Conclusions:
Huawei is the third largest smartphone manufacturer in the world, as well the largest in China, so be sure to keep an eye on smartphones from Huawei as this is a growing company. Huawei shipped 108 million smartphones in 2015 a 44 percent increase from the previous year becoming the leading Chinese smartphone manufacturer thanks to products like the P8, Mate 7, Mate S and Nexus 6P.
We were impressed by the Huawei Mate 8 as it features a solid all-metal design, powerful HiSilicon Kirin 950 SoC, huge 6-inch display, a long-lasting battery and it runs Android 6.0. On the downside we wish it had a higher screen resolution as premium smartphones have been running Full HD now for several years and we are ready for Ultra HD displays on flagship smartphones here in 2016. We also wish that Huawei went with a USB Type-C connector to help future proof the Mate 8 and we are tired with fiddling with the power connector when we charge our phone.
The Huawei Mate 8 isn't the perfect end-all smartphone on the market, but it's pretty solid on both paper and when tested in the real world. The fact that you can't buy it in many countries is a bummer as is the fact that it costs 600 for the Huawei Mate 8 standard version. At ~$650 USD that puts this phablet in a rather crowded premium market. The Google Nexus 6P, also made by Huawei, is priced 23% lower at $499.00 shipped when purchased at Amazon. The Nexus 6P might have a smaller battery, screen, and less powerful 12MP camera, but it also runs Android 6.0 and even sports a USB Type-C connector. You also have the Xiaomi Mi 5 powered by the Qualcomm Snapdragon 820 SoC coming out next month that appear like they will be competitive.