Huawei Mate 20 Pro Smartphone Review
By
Huawei Mate 20 Pro – Packed With Cool Features
When the Huawei Mate 20 Pro showed up to be reviewed back in October I went straight to using the smartphone to see how I liked it. Well, it's been two months and I'm still using the Huawei Mate 20 Pro as it has the best battery life, camera and performance of any phone that I've used to date. That is good news as the Mate 20 Pro is Huawei's flagship phone and has been packed full of features to justify the devices flagship pricing (899, AU$1,599, 1,049, or roughly $1,150 USD). The Mate 20 Pro is available with either 6GB RAM and 128GB of storage or 8GB of RAM and 256GB of internal storage. Both models are available in your choice of five colors. The colors available are Black, Pink Gold, Twilight, Emerald Green and Midnight Blue.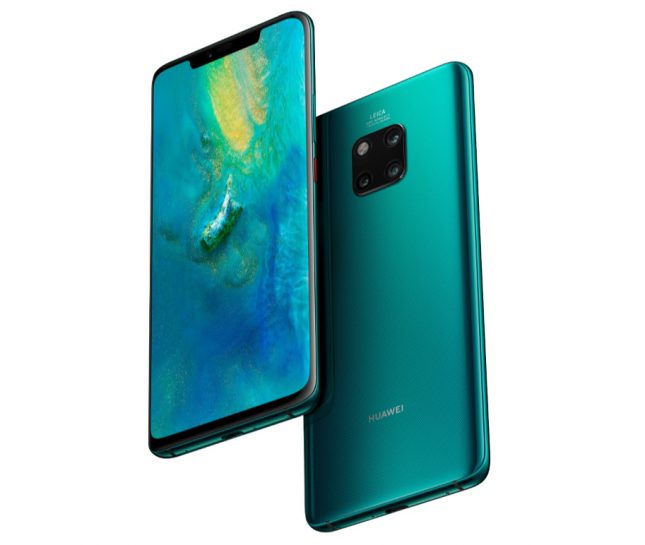 Huawei asked me what color I wanted and I told them to surprise me. The color that they sent over ended up being Emerald Green and I couldn't be happier with the color. Emerald Green is a color that I likely wouldn't have picked on my own, but it looks stunning in person. I haven't been impressed by smartphone designs in recent years as they are all so similar, but Huawei managed to leave me impressed. The back of the Mate 20 Pro has a textured back that helps resist fingerprint smudges and accidental slips. The Mate 20 Pro is IP68 water and dust rated, so if you happen to drop it into water or on the beach it will survive.
Another beautiful aspect of the Huawei Mate 20 Pro is its 6.39-inch, 19.5:9 OLED HDR screen. The panel is rounded at the corners, curved at the sides and packs a sharp 3120 x 1440 resolution with a 60Hz refresh rate. I've never been a fan of curved edges as I tend to scratch up the middle of the front display quicker as phone cases only extend past the top and bottom of the device. The pixel density is 538 PPI and the contrast ratio is 254000:1 (nominal) and 4.965 (sunlight). The AMOLED capacitive multitouchscreen is nice and I have no complaints about it.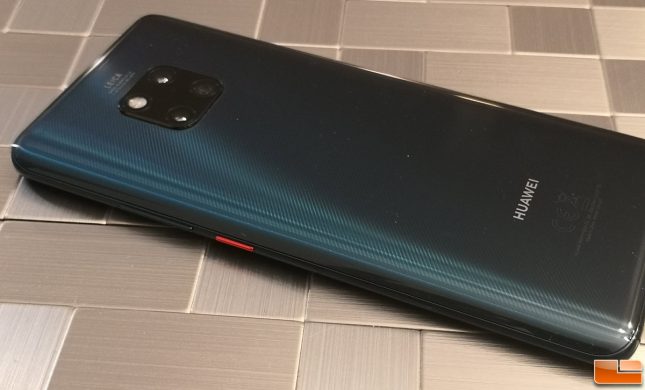 The Huawei Mate 20 Pro is powered by the Kirin 980 SoC based on ARM Coretex-A76 architecture built on the 7nm manufacturing process. Huawei was the first company to release a mobile phone with an SoC chipset on the 7nm node, which is impressive. Apple quickly followed with A12 Bionic silicon being made at 7nm and the next-generation Qualcomm Snapdragon 855 SoC will be made at 7nm as well. The move from 10nm to 7nm helped improve performance by 20% and power efficiency by an impressive 40%. All manufacturers are moving to 7nm as it offers chip engineers to get more performance and, more importantly, better efficiency. Huawei didn't skimp on graphics performance either as they went with the ARM Mali-G76 GPU as well as 2133 MHz LPDDR4X memory.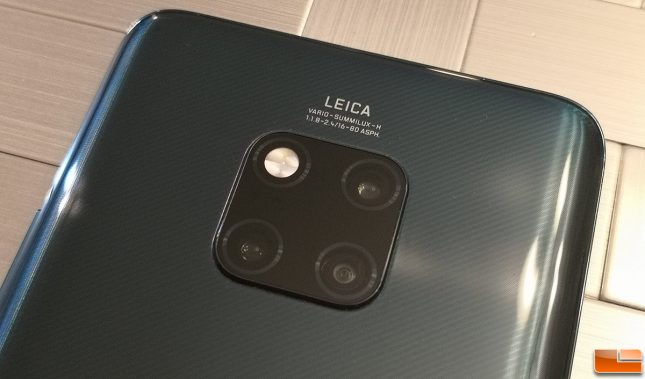 When it comes to cameras the Mate 20 Pro shouldn't let anyone down. Arranged in a 22 grid on the rear of the smartphone is the main 40-megapixel wide angle (27mm) f/1.8 lens, 8-megapixel 3x (80mm) f/2.4 telephoto lens for zooming and a 20-megapixel f/2.2 ultra-wide (16mm) lens. The final location holds the LED flash. Each of these lenses is from German camera manufacturing company Leica. The macro mode allows you to shoot objects that are just 25mm or just under 1-inch away from the lens!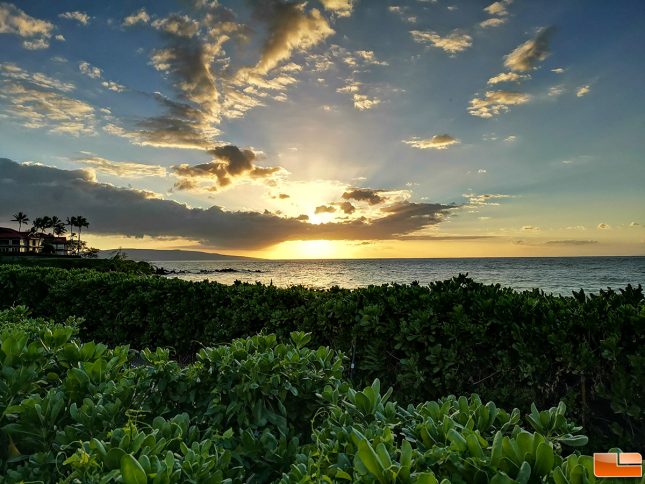 The images from this camera design are nothing short of amazing. The Master AI system is on by default on the Mate 20 Pro and this enables use of the dual neural engines inside the Kirin 980 SoC. AI is now used to detect scenes and objects allowing some sharpening to take place on landscape scenes, smoothing of faces and so on. The Huawei AI database recognizes more than 1,500 scenarios in 25 categories. If you dislike the AI editing you can disable the feature in the settings.
Low-light and night nights on the Mate 20 Pro are most impressive and you'll see massive improvements if you are upgrading from last years flagship devices. The dedicated night picture mode takes a few seconds to run, but it takes multiple images at varying depths and exposure values and combines them for a beautiful photo if you can hold still. I was able to capture the Hawaiian sunset above with the Mate 20 Pro in night mode. Notice how bright the foliage in the front is despite the still rather strong setting sun. Due to how night mode works, you'll not want to use it for moving objects unless you want something to be blurred.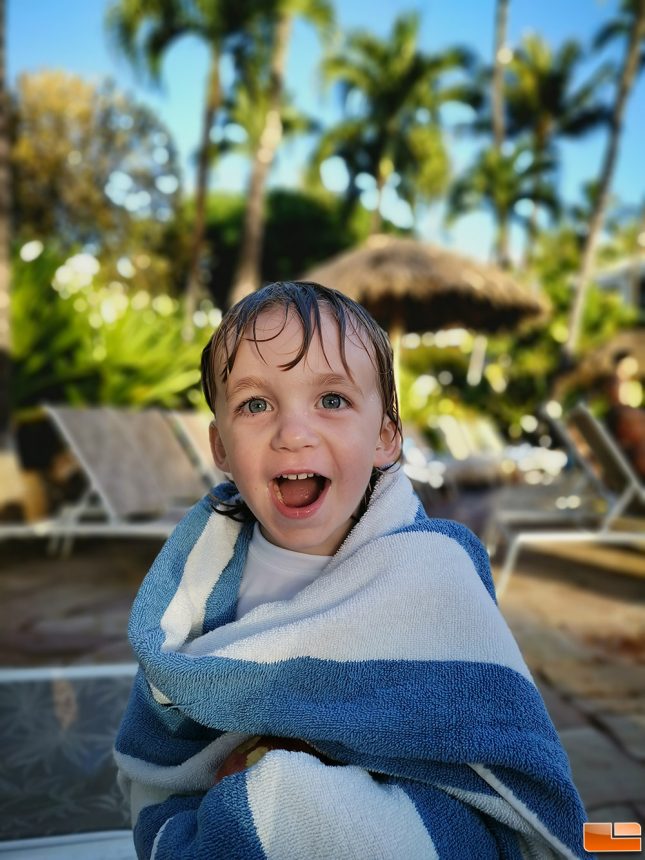 Portrait mode works amazingly well and you can go into the advanced settings to help thin the face and smooth things out if you'd like. The macro mode allows you to shoot objects that are just 25mm or just under 1-inch away from the lens! We could show hundreds of images and talk about the cameras for days, but you get the point that it is good.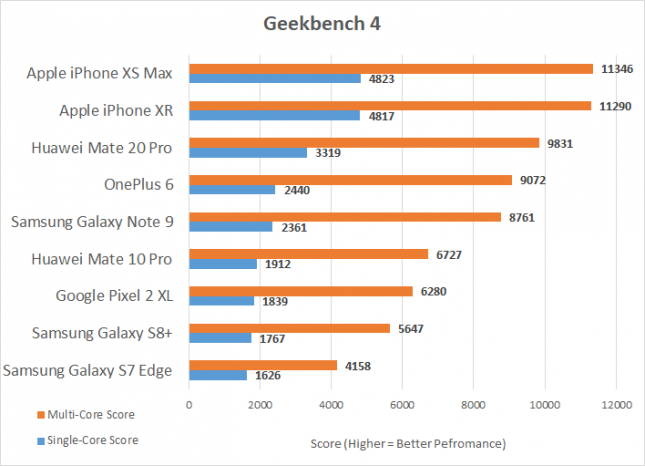 When it comes to benchmark performance the Huawei Mate 20 Pro is faster than any other Android smartphone that I have ever used. Our review unit scored 9,831 points on the multi-CPU test and 3,319 on the single-core test. This is an improvement of 46% on the multi-CPU score and 74% on the single-core CPU score over last years flagship Huawei Mate 10 Pro. Real world use on the Mate 20 Pro is good as applications load quicker and it does feel faster than competing devices.
When it comes to LTE performance the HUAWEI Mate 20 Pro is the Worlds first 1.4 Gbps LTE Cat.21 smartphone and the Wi-Fi speeds are rated at up to 1733 Mbps for downloads. Those are blistering speeds and are far faster than what we've seen from the first mobile 5G networks. 5G networks are here now, but they are slower than many anticipated and 5G-ready devices are far and few between right now.

The only port on the Huawei Mate 20 Pro is a lone USB-C connector at the bottom of the smartphone. Huawei removed the 3.5mm headphone jack this time around, but did keep the IR blaster on the top for controlling various devices. Those that must have a 3.5mm headphone jack will be happy to know that Huawei does include a 3.5mm dongle in the box along with a pair of USB-C earbuds. The speaker is in the body of the phone with the audio coming out the USB-C connector, which works surprisingly well if you don't have something plugged into the USB-C port. If you a USB-C cable plugged it and have the speaker playing it will lower the audio level.
You can hook up a keyboard and mouse to the Mate 20 Pro with the Bluetooth 5 functionality and enable wireless desktop mode over Miracast. The Huawei Mate 10 Pro had to be physically connected to a display for this functionality, so this is a new feature for the Mate 20 Pro as well.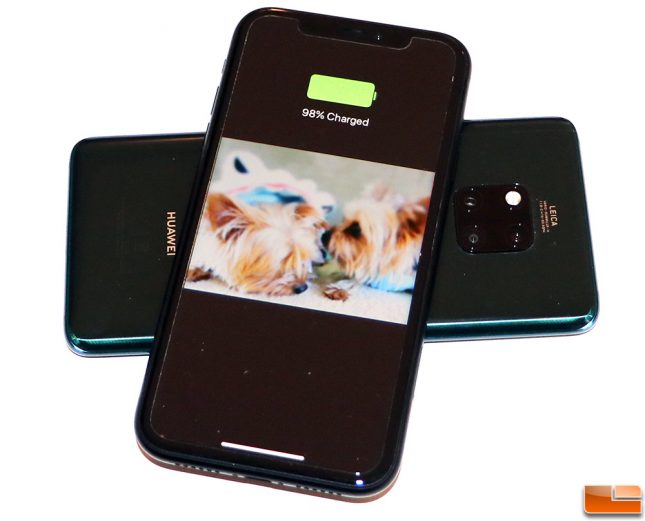 One of the new features of the Huawei Mate 20 Pro that not everyone knows about is the fact that it can do reverse wireless charging to any device that supports the Qi wireless charging standard. The Huawei Mate 20 Pro has a massive 4,200mAh battery that should last more than a day with normal usage, so you can give other devices a charge. To activate reverse wireless charging you just need to go to the battery menu under the settings app and turn it on. Charging speeds aren't fast, but I was able to top off the charge on our Apple iPhone XR wirelessly as you can see in the image above. If you enable the feature, but stop using it, the Mate 20 Pro will automatically detected that a Qi-enabled device is not present and will disable reverse charging. I don't charge too many phones like this, but it is great for charging Qi-enabled wireless earbuds and certainly a neat feature.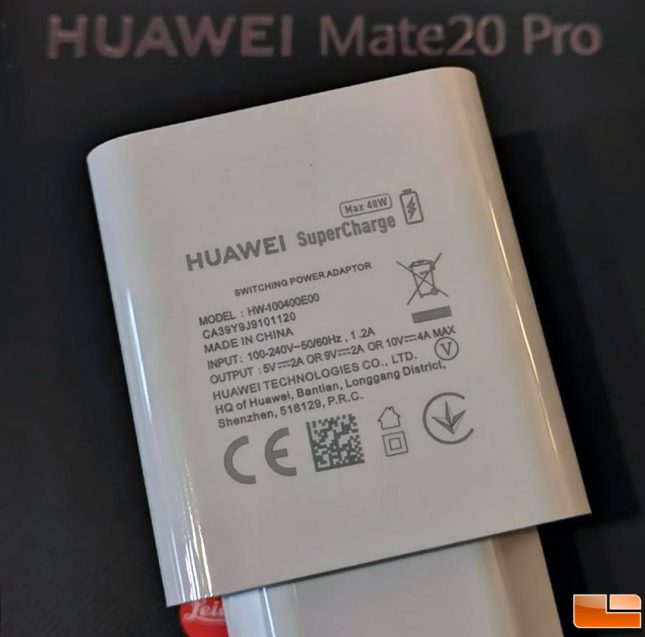 When you do manage to drain the 4,200mAh battery on the Mate 20 Pro you'll be happy to know that it comes with a quick charger. Included in the box is a 40 Watt SuperCharge that will give you up to a 70% charge in just 30 minutes. That means you'll be able to get a days use from the Mate 20 Pro with just a 30 minute charge and that is an amazing feature. Wireless charging fans will be happy to know that the Mate 20 supports the Qi standard and is compatible with chargers up to 20W!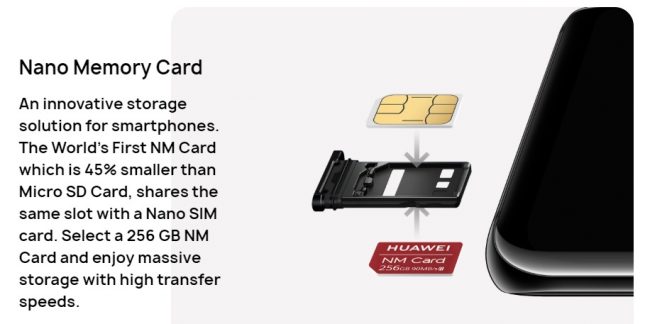 Another new feature on Huawei's Mate 20 and Mate 20 Pro is a Nano Memory card slot. Huawei came up with their own memory card standard to replace the microSD card. Huawei has tapped Toshiba to manufacture NM Cards under their brand name. The card fits into the Nano SIM slot and is available in sizes up to 256GB that top out at 90 MB/s. The NM Card is 45% smaller than the micro SD card, but the real magic here is that Huawei doesn't need to give up design space to a dedicated micro SD card slot. NM Cards are not readily available and the only review on the sole listing on Amazon says that the 256GB NM Card ($149.99 shipped) didn't work in a Mate 20 Pro. I've never seen an Huawei NM Card in person, so I can't comment on how the expandable memory performance actually performs.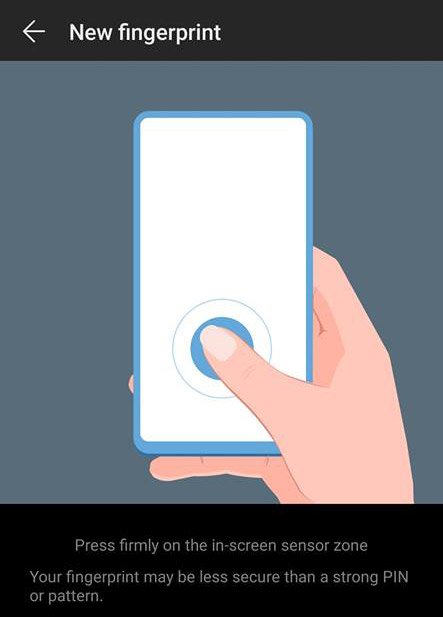 One of the last really clever features on the Mate 20 Pro is that it has an in-display or in-screen fingerprint sensor. You have to press down harder than traditional fingerprint sensors, but it does the trick. You can also use a 6-pin lock screen password or enable face recognition. The face recognition system on the Mate 20 Pro builds a 3D depth map of your face using an IR emitter, dot projector and the 24-megapixel front-facing camera.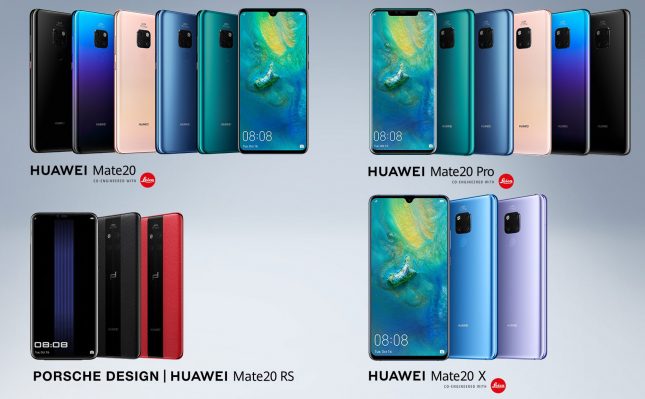 Final thoughts and Conclusions
The Huawei Mate 20 Pro is a feature-packed phone and that is what I expect from a flagship device from any company. Huawei shows that they are able to pack a large number of cutting edge features into a flagship phone and show how they became the number two phone maker in the world. The Mate 20 Pro is able to stand out from the crowd when it comes to performance, battery life, camera quality, LTE connectivity and the crisp OLED screen. Huawei did a great job on this phone as it really doesn't leave you feeling like you are missing out on any key features.
The Huawei EMUI 9 software takes a little getting used to, but it's not nearly as bad as some people make it out to be. After a few days you'll figure out the Mate 20 Pro and have an exceptional phone that should last for some time. At 899, AU$1,599, 1,049, or roughly $1,150 USD the Mate 20 Pro doesn't come cheap, but you'll have arguably the best Android phone on the market right now. Huawei announced at the end of December 2018 that they have sold over 5 million Mate 20 series phones since being introduced in October 2018. After reading this review it should be clear why they are selling millions of high-end phones like this.
You can find the Huawei Mate 20 Pro (6GB RAM / 128GB Storage) for $999 on Amazon from 3rd party sellers with no warranty.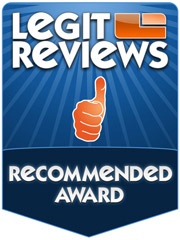 Legit Bottom Line: The Huawei Mate 20 will have to be imported into North America if you want one, but could be worth the hassle. If the Mate 20 Pro is widely available in your country then we highly suggest giving it a closer look.
P.S. All testing was done with EMUI firmware update 9.0.0.146 (Dec 2018) installed that included speed improvements of the fingerprint scanner and 3D Face Unlock features.