Huawei FreeBuds 3 Review – Competition for AirPods?
By
During IFA 2019 the major product announcement from Huawei wasn't a fancy new smartphone, but rather the Huawei FreeBuds 3 – its third generation of wireless earbuds. The wireless earbud market is becoming more crowded by the day, but Huawei thinks they have a winner here with very good sound quality, active noise cancelling, and fast charging capabilities at a good price point of around 179 Euros or $199 USD.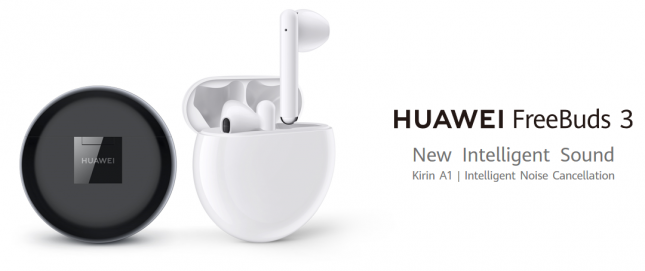 The Huawei FreeBuds 3 are available in two colors – carbon black or ceramic white. The first thing you'll notice is that Huawei went with a stem design that allows the FreeBuds 3 to be comfortably worn. If you wear silicon based earbuds for a significant amount of time, you end up feeling a little bit uncomfortable inside your ear. With the open fit design of course that doesn't happen, so these can be worn for a long time without the discomfort that you may be used to.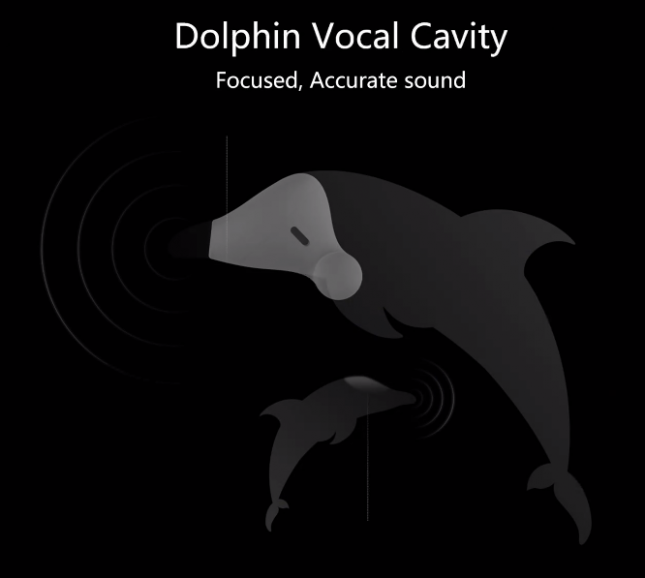 At first glance the Huawei FreeBuds 3 might seem like the designers tried to copy what Apple is doing on their AirPods series, but they say that is not the case. Huawei said the FreeBuds 3 was inspired by nature and if you look at the slide they provided Legit Reviews above you'll see quite clearly what animal inspired this products shape. Huawei said that we humans have an opening into our ear canal that is very reminiscent of the vocal cavity of a dolphin. Huawei believes that dolphins have perfected sound interaction since they exist on sound alone. So, with this design shape Huawei believes that sound waves flows directly down your ear canal better with a good fit. This is the first time in the sites 17+ years that we've talked about dolphins on a product briefing call, so we just had to share that with you.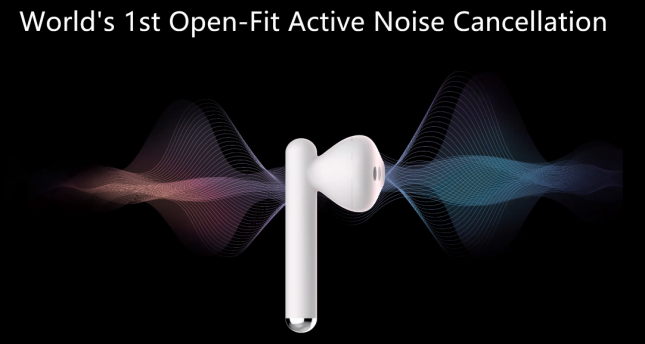 Huawei told us that the FreeBuds 3 are the world's first open-fit earbuds with Active Noise Cancelling (ANC) technology. The slightly elongated design helps with ANC as it allows the sound waves to come out much further inside your ear canal. Enabling ANC will allow the FreeBuds 3 to produce sound waves to cancel out the environmental noise around you by up to 15dB.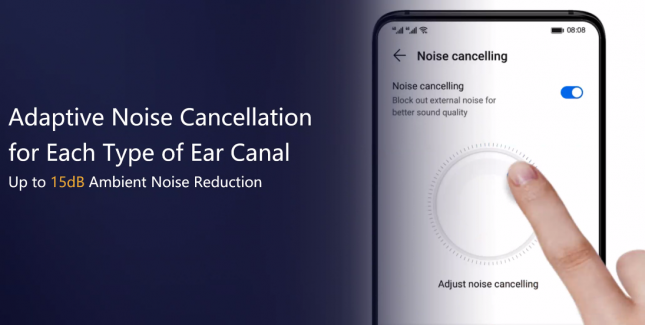 You'll need to use the Huawei AI life app to get the most of FreeBuds 3. Inside AI Life you can actually tune your Active Noise Cancelling specifically to your own audio experience. So, this is actually adaptive Active Noise Cancelling whereas many ANC devices are simply on or off.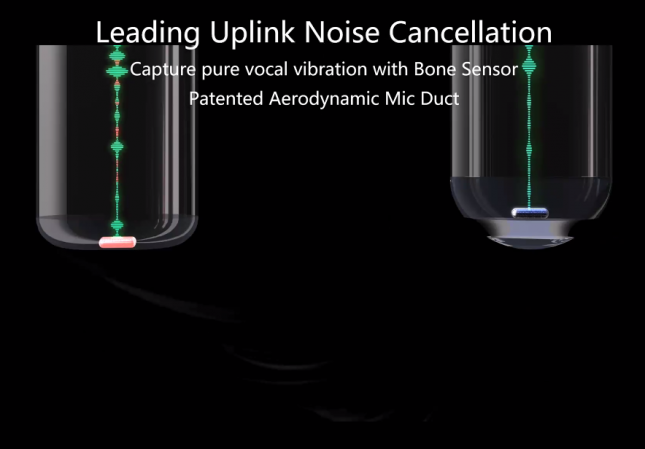 Audio quality is only half the battle with a product like this as people also use the microphone for a variety of things. One of the other unique features of the FreeBuds 3 is the fact that they include a bone conductivity sensor. So, when you're talking the FreedBuds 3 will take the audio form the microphone as well as the vibrations of the bones in your inner ear to produce the best digital output of what you are saying.
Huawei also created a patented microphone duct design to help reduce interference from things like wind noise. To reduce this interference the design team created a little shelter that goes over the top of the microphone to better protect it from external noises. Huawei claims that they have tested this feature and it works up to 20 kilometers an hour. So, if you are out and about running or cycling around town, you'll still be able to be heard clearly by your FreeBuds 3.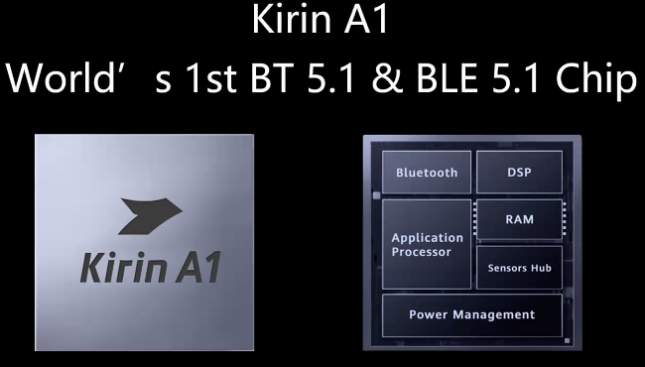 To handle all the compute requirements the Huawei FreeBuds 3 are powered by the Kirin A1 SoC. This ARM-based processor runs at 356 MHz and is also used on other devices like the recently announced Huawei Watch GT 2 that came out this fall. Huawei told Legit Reviews that this SoC is the worlds 1st certified BT/BLE dual-mode Bluetooth 5.1 solution. Having dual-channel Bluetooth 5.1 is a big deal for wearables as it offers up to 30% lower latency and 50% lower power consumption. Let's take a look at how the FreeBuds 3 perform when it comes to game audio latency.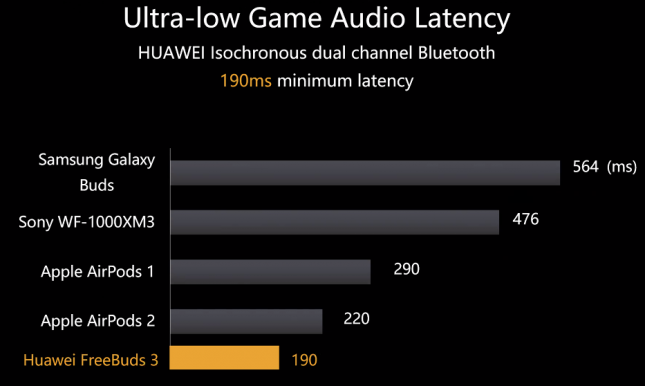 The numbers provided by Huawei show the FreeBud 3s have a latency of just 190ms compared with over half a second (564ms) on the Samsung Galaxy Buds or even 220ms on the Apple AirPods 2. The bottom line here is that you'll get less audio lag than on competing products and that could be the difference between winning and losing while gaming.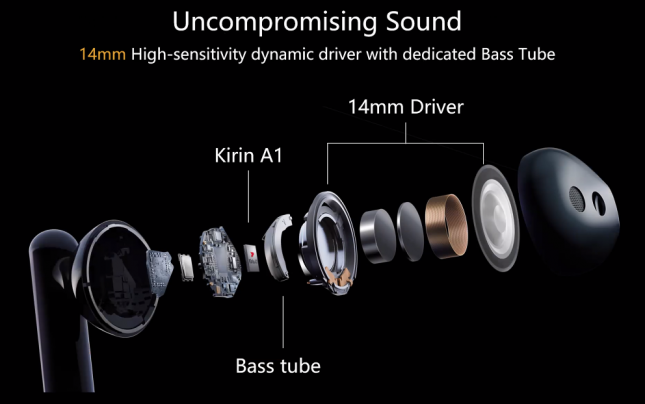 The Sound for the FreeBuds 3 user is produced by a 14.2mm high-sensitivity dynamic driver with dedicated bass tube as you can see from the image above. Huawei says the FreeBuds 3 are capable of 2.3mbps of data transfer and that means you'll be able to have high-res audio.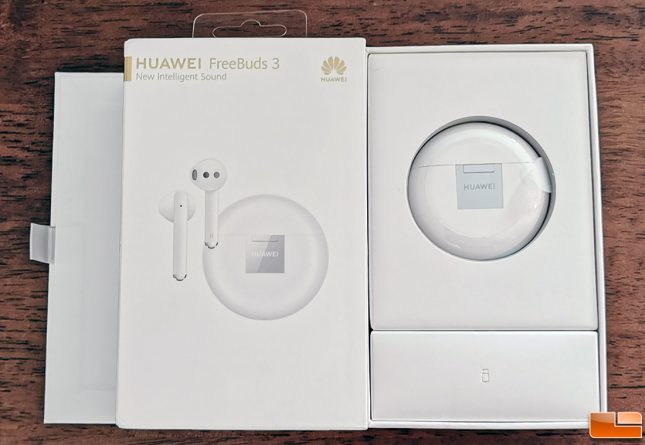 So, that finally brings us to actually using and giving our own subjective thoughts on the FreeBuds 3 that Huawei sent over for us to review. We didn't get a choice in color and ended up getting the ceramic white version. Oh, and before we forget, the FreeBuds 3 are indeed IPX4-certified. This means that it is resistant to water splashes from any direction and solid particles larger than 1mm. IPX4 is considered a minimum for speakers in a wet environment like a shower, so the FreeBuds 3 shouldn't be damaged in say the rain.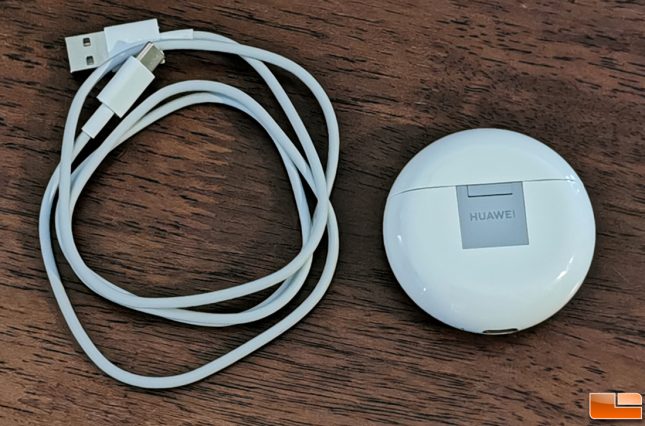 Inside the box our sample came with a USB Type-C charging cable and the charging case with the FreeBuds 3 earbuds inside. There was a spot for a user guide inside the packaging, but it was empty as it wasn't likely printed by the time review samples were shipped out to media.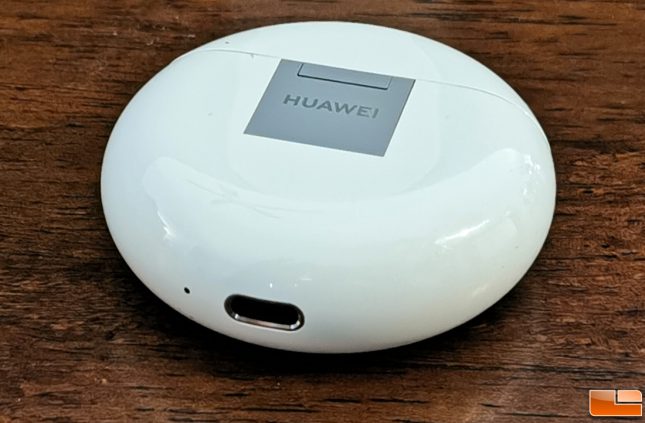 Here you can take a closer look at the USB Type-C port at the bottom of the enclosure. Just to the left of that you have the LED light that shows charging status. It should be noted that the FreeBuds 3 come with Huawei fast charge technology that allows the FreeBuds to charge up 100% faster than AirPods 2. The charging time is just 30 mins and that will get you four hours of playback time. The battery in the storage case will give you up to an extra 20 hours. So, if everything is fully charged you are looking at roughly 24-hours of total playback time before the unit needs to be charged back up. The case hold a 410mAh battery and the earbuds have a 30 mAh battery in each earbud. Huawei claims the earbuds are capable 6W wired charging and 2W wireless charging. The FreeBuds 3 also support reverse charging, which we tried out on our wireless-charging capable Huawei phone and it worked fine.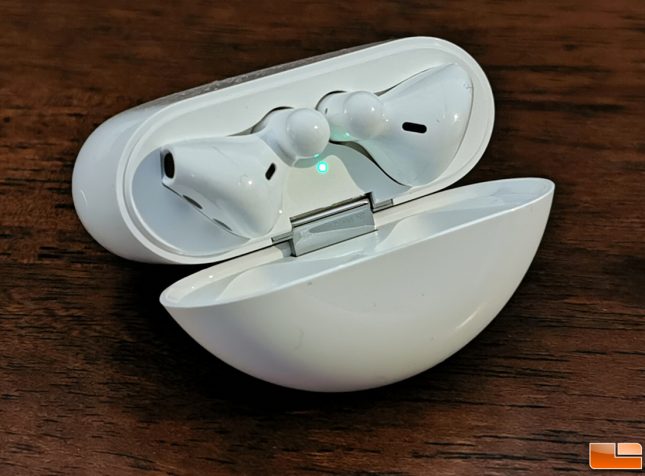 The enclosure flips open to reveal the two earbuds that are magnetically held inside to keep them from falling out. To pair the FreeBuds 3 you'll just need to open the case and press and hold the pair button on its side. After a couple seconds the FreeBuds 3 should show up in your list of available Bluetooth devices. if you happen to own a Huawei smartphone and have the AI Life app installed just open the case and you'll get an immediate prompt from your phone asking if you'd like to connect to the FreeBuds 3.
They are extremely comfortable to wear for the four hours that the battery last and the sound quality is good. One of the reasons they are so comfortable to wear is that each earbud only weighs 4.5 grams, and you almost forget that you are wearing them after a few minutes. Audio quality is very subjective, but they sound good for an open-fit design. Control of the FreeBuds 3 functions is done with a series of taps – a double tap on the left earbud enables/disables active noise-cancellation and a double tap on the right starts/stops playback. ANC performance was decent and it helped remove the fan on our HVAC unit and dehumidifier that was running during testing. It won't make other peoples conversations or keyboard clicks go away, but it does help mask many of the mundane background noises in your environment. The open-fit design doesn't isolate all outside noise to begin with, so you can't expect miracles from the ANC solution here.
If you have Huaweis AI Life app installed you'll be able to adjust the level of noise cancellation, update the firmware or change the double tap gestures. Installing the AI Life app is not required, but does make life easier. We tested the FreeBuds 3 on a Huawei P30 Pro with the EMUI 10 interface with the AI Life app installed and was happy with user experience.
When it comes to call/mic quality the FreeBuds 3 sounded pretty good on our end for regular phone calls. The person we were talking to also said that the call was quite clear. We both agreed that it didn't sound the same as using the handset, but would not describe the call as being too tinny or sparse sounding.
FreeBuds 3 Availability
The Huawei FreeBuds 3 will become available for purchase in Western Europe on November 14th, 2019 for around 179.99 Euros. CEE/Nordics will get them on November 18th and the Middle East will get them on November 22nd. APAC and LATAM countries will get them later this month. Those in the United States will have to wait for a bit as there is no guidance on an actual launch date.
So, at the end of the day the Huawei FreeBuds 3 are an interesting alternative for Android users to the Apple AirPods 2 series that happen to work surprising well on Android devices. They worked really well with our high-end Huawei smartphone and delivered a good user experience.