How To Report Cheaters on PUBG
By
PlayerUnknowns Battlegrounds (PUBG) is a wildly popular 'battle royale' and really fun game to play, but recently the numbers of cheaters and hackers has gotten pretty bad. Just one week ago BattlEye, the third-party anti-cheat solution used by PUBG, announced that as of October 12th that 322,000 cheaters have been banned from PUBG and then followed that up by saying 42,000 accounts were banned in one day just over a week later! PUBG Corp. is doing their best to ban cheaters and on top of BattlEye banning an average of 6,000-13,000 accounts per day and they also recently added in a custom cheat detection tool on top of that. According to Steamdb, the most recent figures show that sales have topped 18.7 million, so based on the numbers released it would be safe to assume that right around half a million or 3% of PUBG game owners have been busted for cheating thus far.
Despite PUBGs anti-cheat system doing some serious banning, we've still ended up with cheaters in a good number of the solo, duo and squad matches that we have recently played. Reporting someone as a cheater in PUBG after you are killed by them doesn't instantly get them flagged for banning like one might think. That is just a statistic that PUBG Corp. uses internally and won't actually lead to someone getting banned.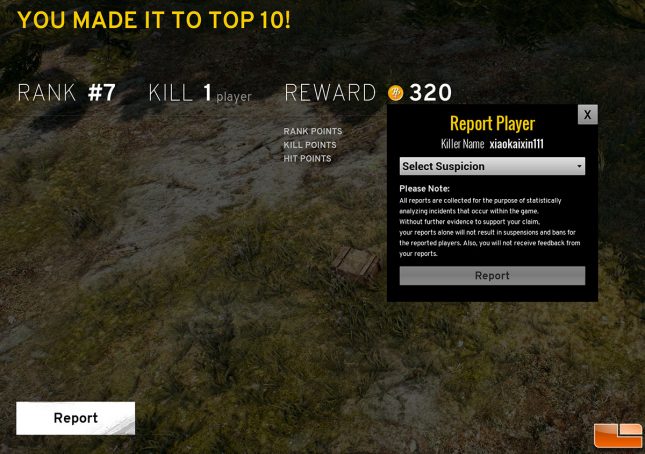 The cheating hacks that you can find online allow you to run super fast, aimbot, remove gun recoil, get unlimited ammo, do wall hacks and more. One of the best examples of cheating was the one that DrDisRespect posted up this week that showed a speed cheater running around him. Just mild cheating right?
How do you get someone banned for cheating in PUBG?
Cheating is the bane of gamers existence. What once was a source of enjoyment can quickly be turned into a source of frustration when cheaters target your favorite game title. The good news is that there is something you can do about it. To begin you'll need to report a cheater or hacker on the PUBG Forums and in order to make a post you must register as a user. Once you get done registering you'll need to create a new topic to report the cheater. All posts will only be visible to forum administrators and you need to supply them with the player name of the offender, video evidence of the offense and the date, time and timezone of the offense.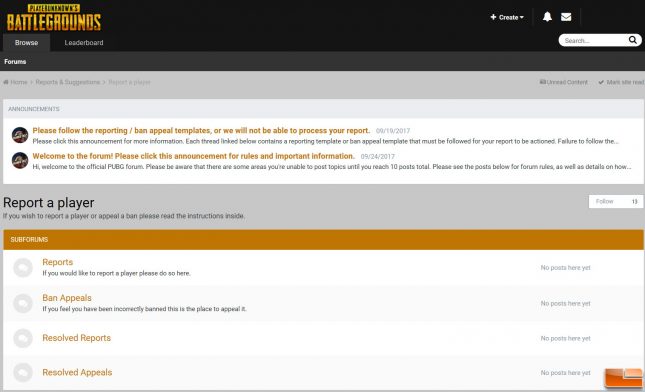 Videos are pretty much required to get a ban and it will need to be posted on a service like Twitch or Youtube showing evidence of the rules of conduct violation. So, reporting a cheater is isn't exactly a quick and simple process like one would hope.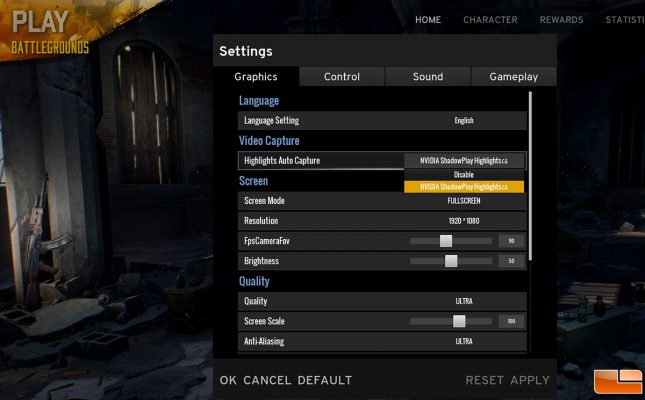 The good news is that if you happen to own an NVIDIA GeForce GTX graphics card, reporting a cheater isn't going to be too much trouble. Back in August 2017 PUBG added support for NVIDIA ShadowPlay Highlights. So, if you have an NVIDIA GeForce GTX graphics card and the NVIDIA GeForce Experience application installed on your PC you can enable NVIDIA ShadowPlay Highlights in the game to automatically capture knockouts, kills, deaths and the end of the round.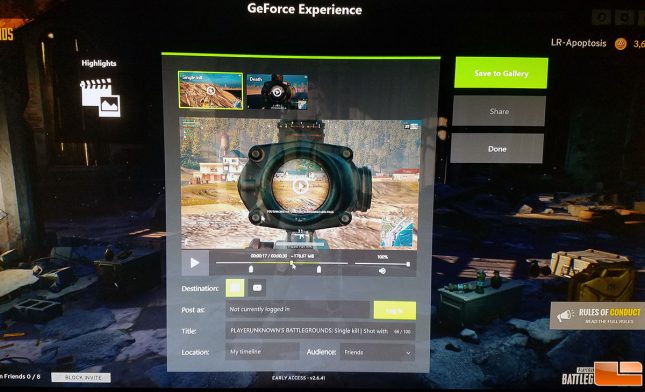 After the round is over you'll have all the clips in front of you and you can select the ones you want to save and edit the video clips down. You have to save each one to the gallery or they won't save on your local storage drive. The GeForce Experience editor will allow you to trim the video clip down, but that is all the video editing that can be done. You can also share your clip straight to YouTube or Facebook from GeForce Experience.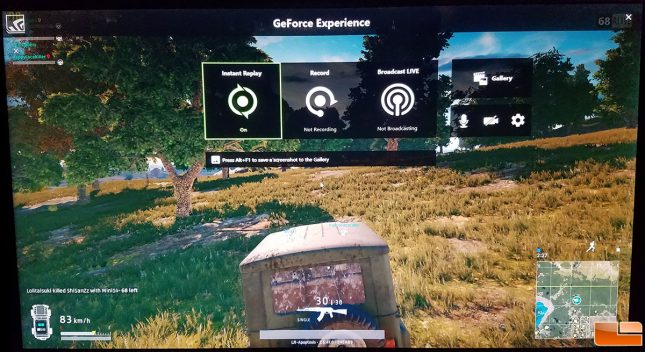 One can also manually record gameplay with GeForce Experience by entering the menu by hitting ALT+Z and enabling the record feature. Once enabled this recording is always-on, so if you play multiple rounds it will capture everything until you disable the recording or close the game. NVIDIA has a great guide on how to use ShadowPlay Highlights in PUBG located here for those that might need help getting it going.
We recently had back-to-back solo North American rounds where a cheater in each game killed easily over 30 players. After that we figured it was time to start to get some folks banned.
The NVIDIA Shadowplay Highlights feature saved our rather boring death while we were camping and managed to capture the speed hack even though it was only for a split second. It would have been nice to have a little extra time after the death recorded as it showed him flash across the screen, but at least we had something.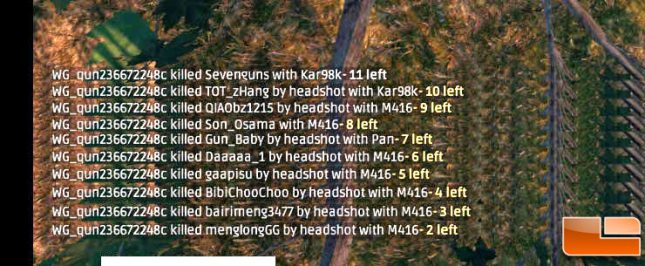 After we died we recorded the round and watched as he killed every single remaining player. Anyone that has played PUBG knows that when you get down to the last 10-15 players that it gets pretty tough and when you see one player methodically and quickly wipe out every remaining player. Also notice that 80% of the kills that we recorded was a headshot and one was even with a pan!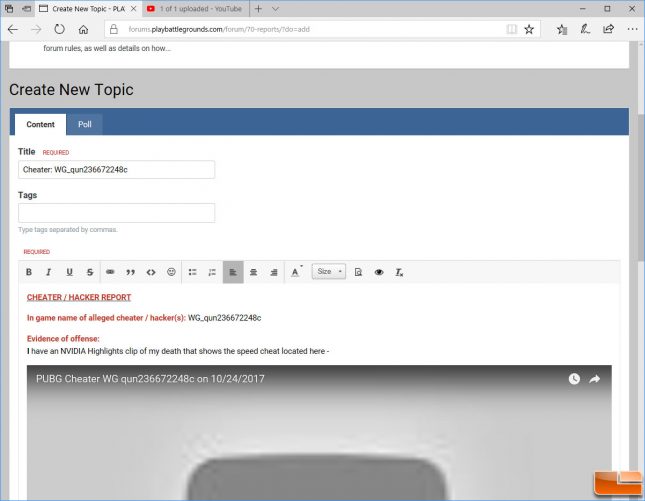 So, with the NVIDIA ShadowPlay highlight video clip uploaded to Youtube we went ahead and filled out a new forum topic to report the cheater. Submit the post and just sit back and wait for the ban hammer to come down on some cheating fool.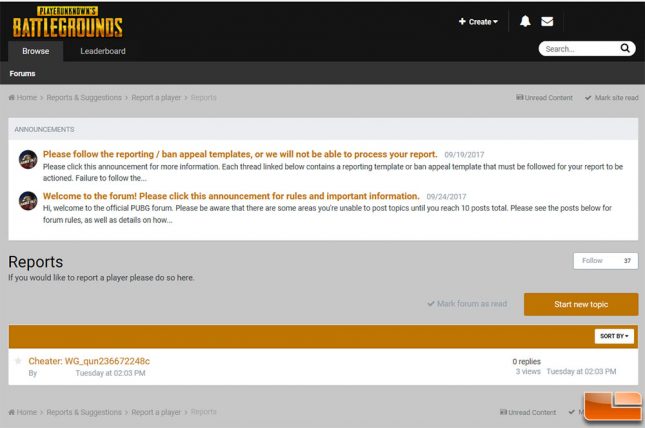 PUBG Corp. doesn't respond to every forum post and since they are banning up to tens of thousands of people a day that is understandable. Our cheater report was viewed by someone other than ourselves and he/she hasn't played a round in 7 days. We'll take that as a sign that PUBG Corp. banned this user and that the manual reporting of a cheater does work.
Reporting a cheater in PUBG can be a pain in the butt, but it was likely done that way to prevent people being banned from false reporting. Thanks to NVIDIA ShadowPlay Highlights we have found the process is rather smooth. We've also gotten to save hundreds of knockouts, kills and deaths since enabling the feature that are fun to share. We are happy to see that PUBG Corp. is actively seeking ways to keep cheaters at bay. It's a constant battle for a developer to stay ahead of those that create hacks, but with the new anti-cheat measures by PUBG and the monitoring by BattleEye we are hopeful that they'll be able to squash those that want to cheat before the game gets a bad reputation. The really exciting news is that PUBG v1.0 is being tested by PUBG Corp. on the test servers this week for the very first time and will be rolling out a new system to proactively ban cheaters!
"Regarding the use of cheats, we will be doing everything we can and use all resources available to detect and impose penalties on users who use cheats. Recently, we have implemented new measures to better identify and track their usage. We have designed reliable systems to do this more efficiently than before.

For a very long time, our development team has been analyzing data from a large pool of users who show abnormal gameplay behavior to build a system that helps us positively identify cheaters. We are now able to use the system to identify and ban these users more proactively. Using this system, we have already identified and banned about 20K additional users in only one day.

This is only a start. On top of BattlEye, we will use a monitoring system to strengthen our efforts to prevent use of cheats and impose penalties on them. We promise you that we will continue to do our best to quickly find and ban people who use cheats. We hope you will start to see an improvement going forward." – The PUBG Development and Community Team
Kudus to the PUBG development team for fighting the good fight and hopefully this guide will help you easily report those cheaters that managed to slip through the cracks!
One hour maintenance is scheduled for tomorrow to implement further changes to a backend system needed for an anti-cheat measure. Thank you.

— PLAY BATTLEGROUNDS (@PUBATTLEGROUNDS) November 1, 2017
This morning just hours before this anti-cheating article was posted PUBG also announced that they'll be implementing some changes to prevent cheating during a scheduled maintenance session.
Good luck getting those Chicken Dinners and report those cheaters!