How To Build A Sonoma Notebook
By
Building an Intel 915PM Sonoma Notebook Yourself
Building a notebook computer has never been easier or cheaper than it is right now. An average computer enthusiast can assemble a whitebox notebook chassis in less than 15 minutes! You might also be surprised to find that a notebook is actually easier to order and build than a desktop computer.
One reason building a notebook is so easy is that there are not many brands to pick from, as only a handful of ODM?s have notebooks in the channel. The hardest step in building a notebook is finding the chassis that is right for you. ASUS, MSI, and AOpen are some companies that offer whitebox notebooks that should be familiar.
When building our Sonoma platform we wanted to go with a chassis that offers a wide screen WSXGA+ monitor, Geforce 6600 or better graphics, and dual channel DDR2 memory. With specific wants like those mentioned one can really narrow the choices down to a select few whitebox notebooks. To finalize your selection consider your brand loyalty and the aesthetics of the notebook.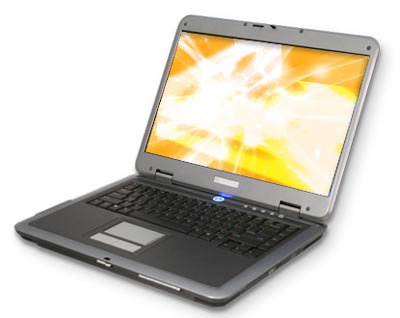 Legit Reviews decided to use the ASUS Z71V notebook chassis for our mobile gaming platform and had a goal of making it happen for under $1750 for everything. The notebook features a 15.4? WSXGA+ (1680X1050) TFT widescreen display, PCI Express Graphics with an MXM slot, and Dual Channel DDR2 memory operating at 533MHz. Best of all the graphics are delivered from the 128mb Geforce 6600 video card for a rich mobile gaming experience.
After a bit of research it was found out that this is the same exact notebook chassis that Voodoo PC uses on their ENVY N:532 notebook. The base price for the N:532 on the Voodoo PC website is a mind staggering US $2950. After upgradingto the 770 Pentium M for an additional $489.16, the 80GB hard drive for $10.32, and paying a flat rate of $116.76 for shipping the grand total for the Voodoo notebook jumped up to US $3509!
Time to see what the Do-It-Yourself (DIY) builder can get the same system for minus the cool paint, metal carrying case and free t-shirt.
Legit Reviews DIY ASUS Z71V Price List (Includes Shipping):
Grand Total: $1690
After adding up the prices we find that building your own notebook actually cuts the cost of a "luxury" gaming computer in half. Since the same notebook chassis and name brand parts are used no corners are being cut. If a builder wants to reduce some of our high end luxury items (the processor and dual layer DVD burner) they can shave off hundred more on the price. Many of the above components on the price list can be changed to fit your needs. The entire point of listing the parts and showing the prices is to show that building your own notebook will give you the ability to save $1819 over purchasing one from an expensive computer boutique.
Doesn't seem too bad now does it? Let's go on and see how easy it is to put one together.