Hands On With The AppliedMicro X-Gene X-C1 Server Development Kit
By
AppliedMicro is showing X-Gene X-C1 Server Development Kit at ARM TechCon show floor and we stopped by to get take a look at the development kit in person. We were told by the booth staff that the X-Gene development platform is available for ordering now for $5,000 and will be made available in Q1 2014. It is the worlds first enterprise-grade 64-bit Server on a Chip silicon, the X-Gene Development Kit includes a hardware reference system and software development kit featuring production quality BIOS, compiler, LAMP stack, virtualization and cloud applications such as open source search and publishing engines. AppliedMicro is one of the first companies to bring ARM 64-bit SoCs to market. Using ARM processors in servers is a hot topic right now as they can be optimized for the specific operating environment and use far less energy than Intel and AMD x86 servers that currently dominate the market.
AppliedMicro had a number of X-Gene X-C1 server development platforms on the ARM TechCon show floor!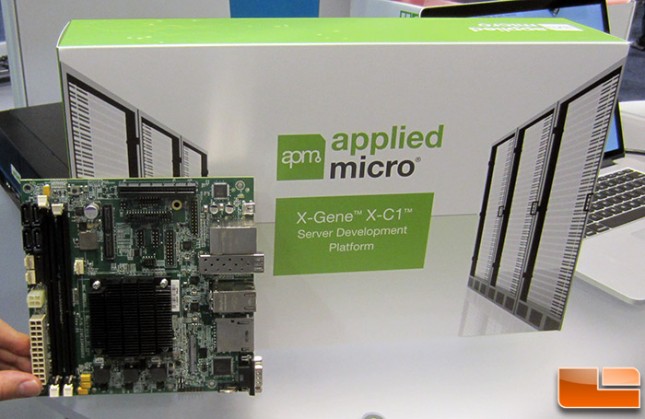 After a little persuasion and finding out we were media, AppliedMicro opened up a kit took the board out of the static bag for some photos.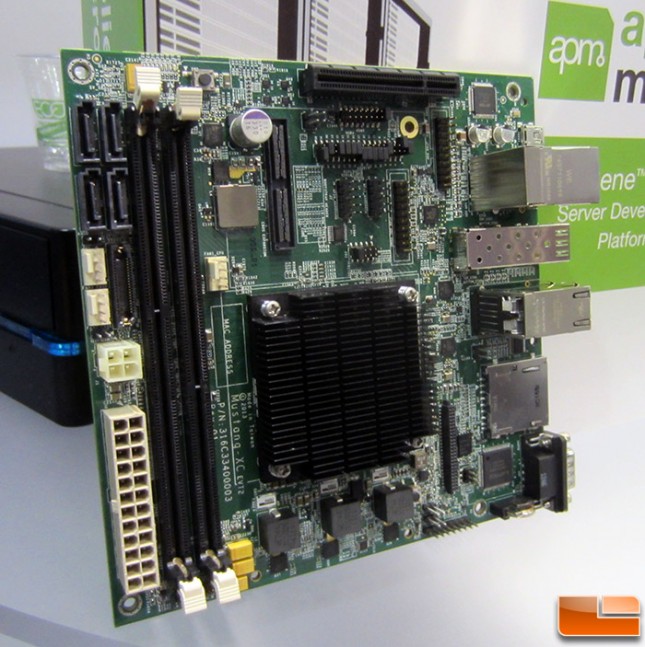 The X-Gene Development Kit features integrated 10 Gb Ethernet, high performance DDR3, SATA 2/3, PCIe Gen 3 and SuperSpeed USB 3.0. We'll try to get some more information on this board during our time at ARM TechCon 2013!