Gogo Inflight Internet Speed Tested and Used
By
Gogo Inflight Internet
Last August, American Airlines (AA) made history by becoming the first airline in the United States to offer internet access on domestic flights. The wireless service that is being used on AA flights is Gogo Inflight Internet which turns a commercial airplane into a Wi-Fi hotspot. This service is not exclusive to AA though, as Air Canada, AirTran, Delta, United and Virgin America flights all use the same wireless service. Currently there are 572 aircraft in the nation that offer the Gogo Inflight service. It took roughly a year for American Air to roll out Wi-Fi service on most of their Boeing MD-80 (S80) airplanes, and currently American Airlines has 150 airplanes running wireless service. As you will see, Wi-Fi access on airplanes is quickly becoming the norm and we can consider American Air one of the leaders offering this service.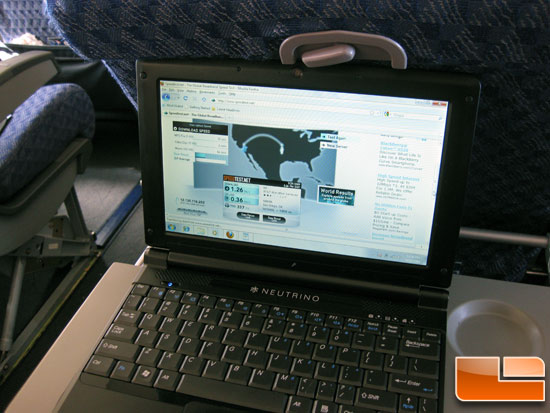 Gogo Inflight Internet works by using cell tower communications with ground-based phones that are owned by parent company Aircell. Aircell has built a mobile broadband network of ground towers covering the entire sky above the continental US. Equipment onboard the plane continuously selects the best signals from the towers below. With nothing but air between these towers and your plane, you're always getting the best connection no matter where your flight is in North America. Aircell has nearly 100 ground towers in their network, so service is generally said to be good when traveling to most big cities. So in a nut shell, while you are flying at ~550 MPH, Aircells Gogo service uses the antennas at the bottom plane to connect to the 3Mbps data stream (that is basically a modified version of Qualcomms EVDO Rev. A standard) to the ground towers to get you online.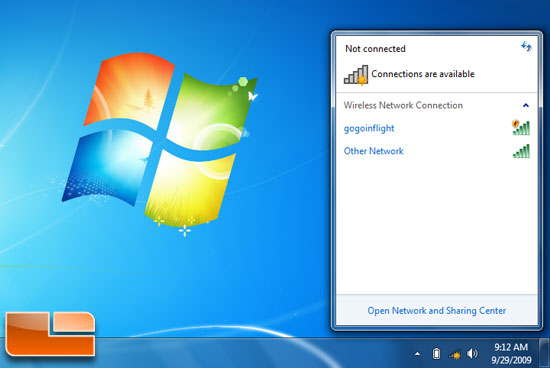 We were able to recently try out the Gogo Inflight Internet service on an American Airlines flight from St. Louis (STL) to Los Angeles (LAX). The plane was a Boeing MD-80 (S80) airplane that was equipped with wireless service. We fired up our OCZ Neutrino netbook that was running Microsoft Windows 7 and easily found the Gogo Inflight Wireless network connection and connected to it.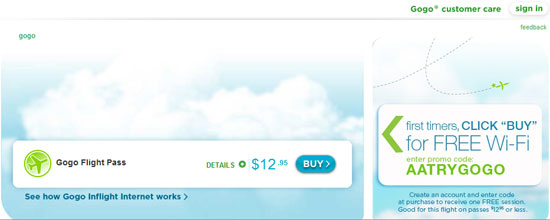 Access to Aircells gogo service costs $12.95 for cross-country flights, while data access on short-haul flights of 3 hours or less will cost $9.95. Since this flight is over 3 hours the cost for laptop internet access was $12.95 as you can see in the image above. It must have been our lucky do though as American Airlines was giving first timers free Wi-Fi access by entering the promotion code AATRYGOGO!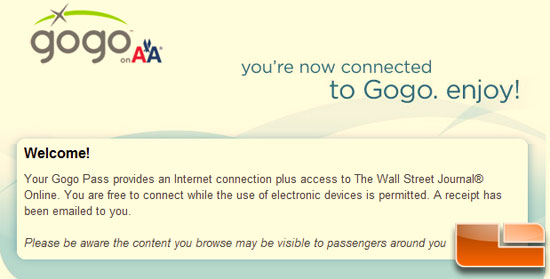 We skipped entering in our credit card information as the service was free!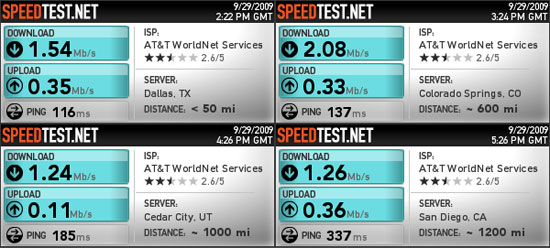 As soon as we got the Gogo Inflight Internet service up and running, we went to speedtest.net and ran a broadband internet speed test and then did three more at roughly one hour intervals. The results showed that we were getting anywhere from 1.2 to 2.1 Mb/s when it comes to download speeds and 0.1 to 0.36 Mb/s for upload speeds.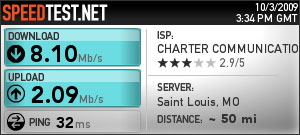 Not as good as what we see at home on our Charter Cable Plus (10 Mb/s) service, but not bad for being the first generation of Wi-Fi service in an airplane. The service was found to be great for most internet tasks, but when we tried to show the person next to us the 320×180 low-resolution movie trailer for Zombileand on RottenTomatoes.com, the result was choppy video playback. At home in battery save mode on the Charter Communications wireless connection shown above the same movie trailer played smooth, so it was definitely the connection on the airplane causing the issue. This is also the same flight that was having some wireless service issues though.

The wireless service was up for the entire flight on our way to the west coast, but on the return flight we had some issues. While flying from San Jose (SJC) to Dallas (DFW) we were unable to connect to the wireless service and kept getting a several different error messages.

Just over half-way into the flight the service started working again and this screen was shown when you tired to access the internet. It appears that the service knew about the problem and gave everyone on the flight access to Gogo free of charge for the rest of the flight. As you can see, the service is not perfect, but it sure is nice having internet during long flights!
Legit Bottom Line: If you want to do basic web surfing the Gogo Inflight Internet service is great, but if you want to do video streaming or online gaming you won't be a happy camper.