GlobalFoundries 2010 Overview – Doubling Capacity and 28nm Ramping
By
The New GLOBALFOUNDRIES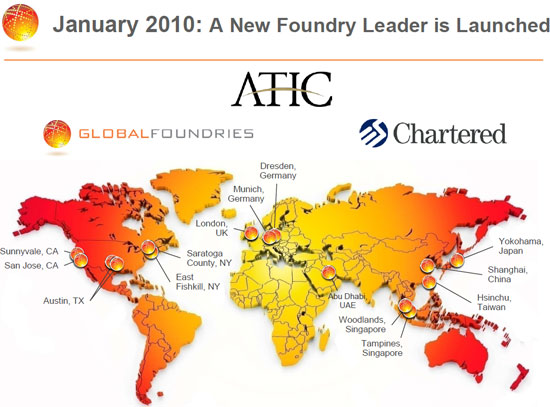 GLOBALFOUNDRIES is one of the world's largest independent semiconductor foundries and was created by the divestiture of the foundry business of AMD on March 2, 2009. The new company instantly became a joint venture between AMD and the Advanced Technology Investment Company of Abu Dhabi (ATIC). ATIC then acquired Chartered Semiconductor, one of the worlds top dedicated semiconductor foundries.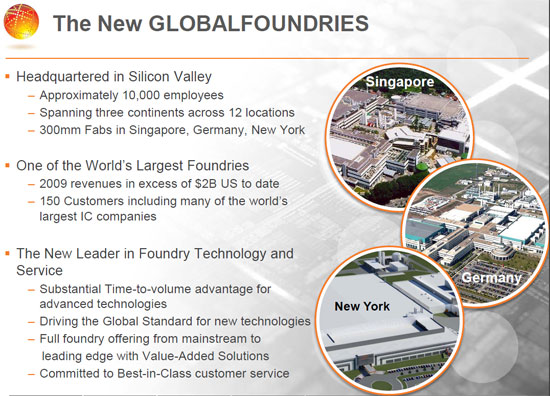 It appears that GLOBALFOUNDRIES is happy with their current
infrastructure and announced this morning it has officially integrated
operations with Chartered Semiconductor and started functioning as one
company under the GLOBALFOUNDRIES brand. The announcement marks the
emergence of the new GLOBALFOUNDRIESthe worlds first full-service
semiconductor foundry with a truly global manufacturing and technology
footprint across Asia, Europe and the United States. It appears that GlobalFoundries is ready to compete with Taiwan Semiconductor Manufacturing Co.'s (TSMC's) dominance of the contract wafer manufacturing market now that they have an impressive worldwide network in place.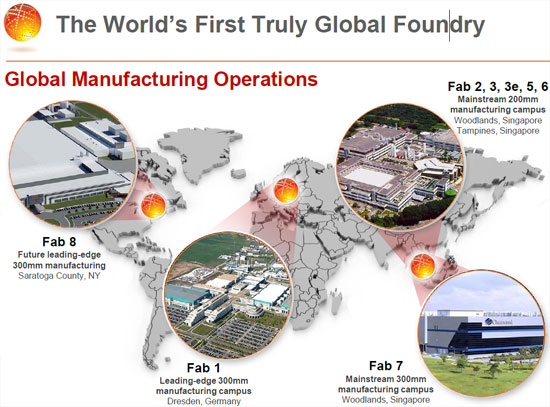 The combined company employs approximately 10,000 people around the
world, anchored by headquarters in Silicon Valley and advanced
manufacturing operations in Singapore; Dresden, Germany; and a new
leading-edge fab under construction in Saratoga County, New York.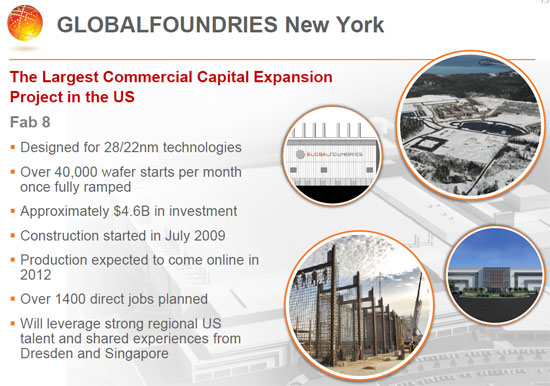 Speaking of New York that facility has been renamed as Fab 8, is on
track to begin ramping initial production in 2012. It was previously
known as Fab 2. When completed the facility in Saratoga County, New York will be producing over 40,000 cutting-edge 300mm wafers and employ over 1400 workers.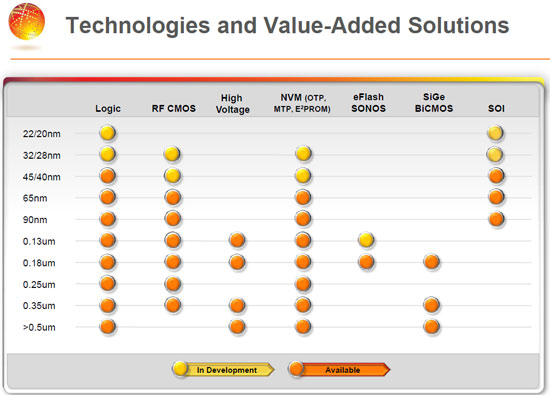 GLOBALFOUNDRIES currently has more than 150 customers across the semiconductor ecosystem, with plans to deepen existing relationships and to aggressively pursue new customers. Current customers include many of the worlds top fabless and fab-lite companies, such as AMD, Qualcomm, STMicro, IBM, and Toshiba. As you can imagine these customers all have different needs and as you can tell from the slide above GLOBALFOUNDRIES has the technology to supoort them.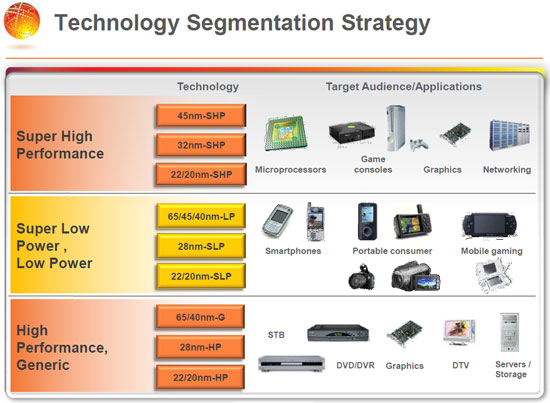 As a result the target audience for the technologies being used is huge and differing technologies are available to suit the needs of nearly all electrical components. Let's take a look at the roadmap on the next page.