GlideTV Navigator HTPC Remote Review
By
Can GlideTV Change the HTPC Experience?
Over the past few years the internet has been making it's way to the living room and one of the biggest complaints about having a home theater PC (HTPC) hooked up to your TV is how do you go about easily controlling it. Many users find wireless RF to have bad signal strength and having a bulky keyboard and a separate mouse a major pain in the butt to use. You'll quickly find out that your mouse won't work on your glass table or that the signal strength isn't strong enough to work from your couch that is twelve feet away. Today we have a fairly inexpensive remote control whose sole purpose in life it to make PC use from the couch easier. In fact the GlideTV Navigator was dubbed the worlds first couch mouse. GlideTV was founded in 2008 and has spend the past two years marketing and promoting the GlideTV Navigator as a comfortable and easy way to control a Mac or Windows PC from the couch. When the device was first launched back in October 2009 it could be found online for $150, which is a bit on the expensive side. Today the same device can be found for $69.99 from GlideTV on any given day or for just $49.00 with their holiday sale that is still active after Christmas! This is a much better price range and something we felt our readers would be interested in checking out.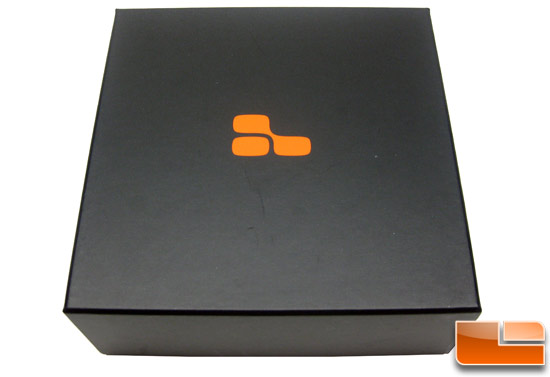 The GlideTV connects your laptop, netbook, nettop, HTPC or Mac mini to the TV and allows for easy access your favorite movies, TV shows, music services or radio stations, it's all there at a click of a mouse. Services like Hulu, YouTube, Amazon VOD, Netflix and many others are just a click away. The GlideTV works great with any Home Theater PC (HTPC), CarPC and just about any PC that supports standard Human Interface Device (HID) protocols. The company says it also works with Intel Wireless Display laptops. The retail box from GlideTV is simplistic, but features the companies logo that you can't ignore seeing.
When you lift the top of the box off you'll be greeted by the GlideTV Navigator itself. You can see that theres a trackpad that replaces the mouse, and plenty of buttons that you can set up to do various buttons. It comes with special software that has a virtual keyboard and other TV functions so you have 'full' keyboard functionality.
GlideTV Features:
Clickable touchpad mapped to your TV screen — precise cursor control, one-thumb scrolling, single and double-click selection.
Backlit AV buttons to control volume and playback.
Directional buttons for easy two-axis navigation.
Dedicated Esc, Enter, Back, and Function keys to control applications.
On-screen keyboard — requires download, Windows only.
Integrated search menu with links to Google, Amazon Video on Demand, Hulu, Netflix, YouTube and more — requires download, Windows only.
Rechargeable battery.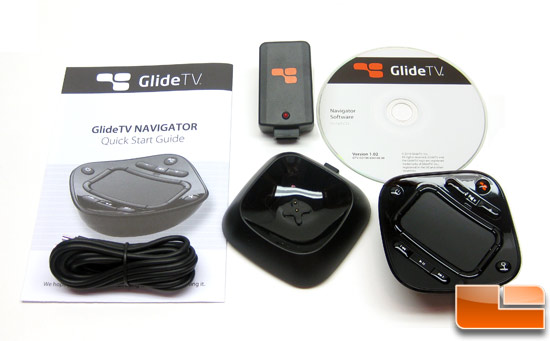 The GlideTV Navigator comes with the GlideTV Navigator, Charging station, USB Wireless Receiver (not pictured),
6ft USB 2.0 A-Mini-B cable, USB AC power adapter, software disc and the quick start guide. Everything you need to get the GlideTV Navigator up and running is included. No batteries need to be bought as the GlideTV uses rechargeable batteries that are already inside the unit.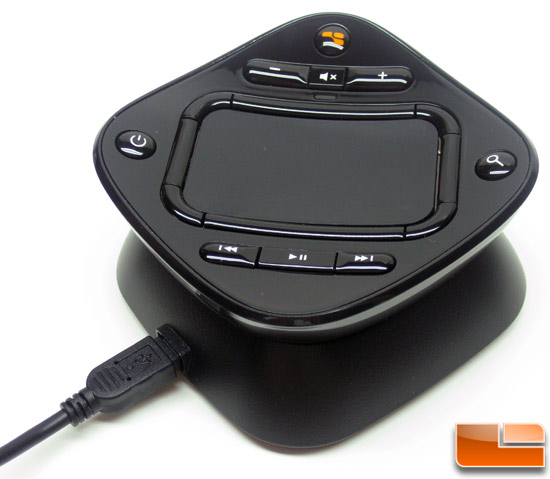 Here is a closer look at the GlideTV Navigator on it's charging base. You can see that some of the buttons are labeled, but the ones around the track pad are not. This makes it difficult to learn at first, but after using the device 3-4 times you quickly learn which ones are enter and escape for example. The Navigator really does bring simplicity to the living room and if you wanted to fire up a Blu-ray disc or get online to watch Netflix or Youtube it is the perfect device. It really does replace the keyboard and mouse from our experience. The base of the Navigator is rounded and while it doesn't look like it would fit in the palm of your hand, it does so and feels comfortable.