Gigabyte AORUS Motherboards and GeForce GTX Video Cards Coming – AORUS Z270 Boards Teased
By
It appears that Gigabyte will be expanding their premium gaming brand for gamers known as AORUS to internal PC components such as motherboards and video cards very soon. Gigabyte created the Aorus name back in 2014 and made headlines by releasing the slimmest and lightest NVIDIA GeForce GTX SLI Gaming Laptop at CES 2014. Over the past three years the AORUS brand has expaneded beyond laptops into gaming keyboards, gaming mice, headphones, gaming backpacks and most recently VR gaming backpacks.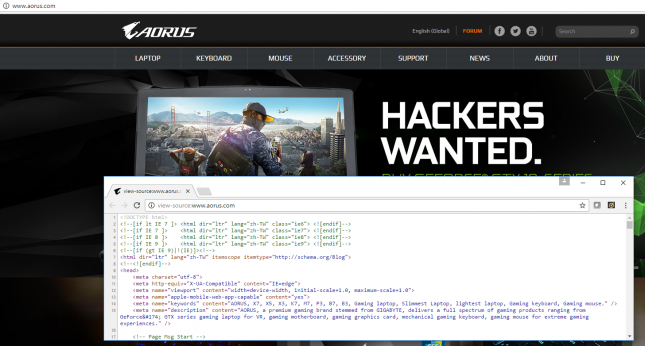 Rumors that Gigabyte was going to begin pushing AORUS motherboards and graphics cards starting floating around last month, but it doesn't appear to be a rumor any more. We noticed that the AORUS website meta description has been updated to include motherboards and video cards.
AORUS, a premium gaming brand stemmed from GIGABYTE, delivers a full spectrum of gaming products ranging from GeForce GTX series gaming laptop for VR, gaming motherboard, gaming graphics card, mechanical gaming keyboard, gaming mouse for extreme gaming experiences.
It appears that Gigabyte will use the AORUS branding to create a premium gaming line much like what ASUS has done with the Republic of Gamers (ROG) and STRIX series as well as what MSI has done with the simply named Gaming series. Digitimes has reported that Gigabyte will begin selling AORUS branded motherboards in January 2017, so we can only assume that the brand will be kicked off during CES 2017 when Intel launched the new Intel 200-series chipsets and 7th Generation Core 'Kaby Lake' desktop processors. Get ready for Gigabyte AORUS Z270 motherboards and here are several teaser images of an upcoming AORUS LGA1151 motherboard that Gigabyte posted on Facebook back on November 11th, 2016. Can't wait to see what the new boards look like and what features will separate them from the others. We also can't wait to find out with Gigabyte will be doing with their G1 and Xtreme product lines.