Gamescom 2015: KLEVV To Launch SSDs and First Low-Profile DDR3 Kits
By
Gamescom 2015: Essencore launches the premium brand KLEVV to up the ante in the European memory market
Company launching its first low-profile DDR3 modules and SSD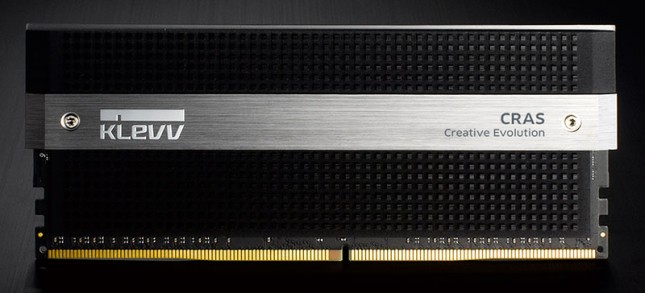 Seoul, Korea, 21st of July 2015 Essencore Limited is announcing the companys European launch of their premium brand KLEVV to take place at Gamescom in Cologne, Germany from August 5th to August 9th 2015. The company Essencore, an emerging challenger in the DRAM and NAND market, including gaming memory modules, SSDs, USB Flash Drives and Micro SD cards, launched its house brand KLEVV in early 2015 in the US and now turns its focus to Europe with the Gamescom as the ideal platform. Besides the existing DRAM gaming modules the company will also unveil additional new products at the exhibition in Cologne.

In an attempt to meet its potential European customers, gamers and enthusiasts face to face, KLEVV announced it will be attending this years Gamescom, Europes largest gaming event. KLEVV will not only expose its current line-up of gaming modules, but the full line-up of SSDs, USB Flash drives and Micro SD cards will also be displayed. The new low-profile DDR3 module named Fit is the companys response to requests from existing customers and fans for a low-profile model and will be introduced along with the companys first SSD, the Urbane SSD, which will be the very first model to start KLEVVs SSD line-up.

We want to take the opportunity at Gamescom 2015 to meet our fans and customers face-to-face and celebrate our official European launch with them. Offering solutions to the European gamers and enthusiasts and their ever growing standards, in terms of design and performance, is what they truly deserve and what KLEVV is dedicated to., Sung Soo Roh, VP of Essencore and Director of KLEVV division comments.

Starting this summer, KLEVV products will be available in Germany and the UK. UK gamers and enthusiasts can expect to be able to order KLEVV modules in a matter of a few weeks. Availability in Germany will be given soon as well. In the meantime, KLEVV is also looking into other European territories, trying to reach as many European fans in every corner as soon as possible.

Visitors joining Gamescom 2015 are all invited to the KLEVV booth in hall 10.1, booth B73. On-site visitors will have the opportunity to test out the latest KLEVV products as well as participate in various events to have a go at winning KLEVV products and additional prizes.

About Essencore Limited www.essencore.com

Established in March 2014, Essencore Limited, a company founded by a group of key figures from the major Memory IDMs, is sought to become the worlds top vendor of DRAM Modules and NAND Flash application products. The company behind is SK Group, the third largest conglomerate in South Korea that owns SK Hynix (2nd largest memory supplier). With its premium brand KLEVV, Essencore has introduced Gaming Memory Modules, Micro SDs, USB Flash Drives, and Solid State Drives. Committed to deliver the world-class products with first-rate quality, all products are manufactured in South Korea, a country known to own two of the largest Memory IDMs. KLEVV Memory has been internationally recognized by Germanys Red Dot Award and its company has been spotlighted by mass media for its relation to SK Group and SK Hynix.